Sucheta Jayantilal Doshi MBBChB
Adjunct Instructor, General Internal Medicine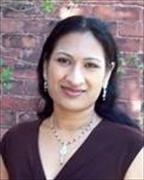 Sections
General Internal Medicine
Biography
Dr. Doshi is a Certified Lifestyle Medicine specialist and CDC trained medical epidemiologist with a background in global health, vaccines, vaccine preventable diseases, women's health, maternal child health, and infectious disease prevention. She has worked closely with multiple international organizations on many technical assignments related to measles elimination, polio eradication, and immunization surveillance reviews and campaigns in multiple countries, including India, Eastern Europe, Ghana, and Pacific Islands. She is board certified in Preventive Medicine/General Public Health, Family Medicine, and Lifestyle Medicine.
Publications
Published on 6/1/2021
Gupta K, O'Brien WJ, Bellino P, Linsenmeyer K, Doshi SJ, Sprague RS, Charness ME. Incidence of SARS-CoV-2 Infection in Health Care Workers After a Single Dose of mRNA-1273 Vaccine. JAMA Netw Open. 2021 06 01; 4(6):e2116416. PMID: 34132795.
Published on 7/1/2011
Doshi SJ, Sandhu HS, Venczel LV, Hymbaugh KJ, Deshpande JM, Pallansch MA, Bahl S, Wenger JD, Cochi SL. Poliomyelitis-related case-fatality ratio in India, 2002-2006. Clin Infect Dis. 2011 Jul 01; 53(1):13-9. PMID: 21653297.
Published on 1/1/2009
Doshi S, Khetsuriani N, Zakhashvili K, Baidoshvili L, Imnadze P, Uzicanin A. Ongoing Measles and Rubella Transmission in Georgia, 2004-2005: Implications for the National and Regional Elimination Efforts. Int J Epidemiol. 2009; 38(1):182-91.
Published on 12/15/2008
Doshi S, Khetsuriani N, Zakhashvili K, Baidoshvili L, Imnadze P, Uzicanin A. Ongoing measles and rubella transmission in Georgia, 2004-05: implications for the national and regional elimination efforts. Int J Epidemiol. 2009 Feb; 38(1):182-91. PMID: 19074954.
View full list of 4 publications.