Steven V Lord MD, MSc
Assistant Professor, General Internal Medicine
801 Massachusetts Ave | (617) 414-5013

lordsv@bu.edu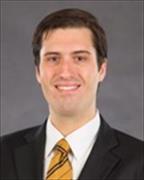 Sections
General Internal Medicine
Websites
Education
Medicine, MD, University of Miami School of Medicine, 2018
MSc, University of Miami School of Medicine, 2018
BS, University of Illinois, 2013
Publications
Published on 1/1/2018
Lord SV, Jimenez JE, Kroeger ZA, Patrick CS, Sanchez-Pena I, Ziga E, Bademci G, Tekin M. A MECOM variant in an African American child with radioulnar synostosis and thrombocytopenia. Clin Dysmorphol. 2018 Jan; 27(1):9-11. PMID: 29200407.
Published on 3/29/2017
Atchaneeyasakul K, Tipirneni A, Khandelwal P, Saini V, Ronca R, Lord S, Sur S, Guada L, Ramdas K, Peterson E, Yavagal D. Utilizing CT with Maximum Intensity Projection Reconstruction Bypassing CTA Improves Time to Groin Puncture in Large Vessel Occlusion Stroke Thrombectomy. Interv Neurol. 2017 Oct; 6(3-4):147-152. PMID: 29118791.
Published on 4/15/2014
Royston SE, Yasui N, Kondilis AG, Lord SV, Katzenellenbogen JA, Mahoney MM. ESR1 and ESR2 differentially regulate daily and circadian activity rhythms in female mice. Endocrinology. 2014 Jul; 155(7):2613-23. PMID: 24735329.
View full list of 3 publications.