Sonia Ananthakrishnan MD
Assistant Professor, Endocrinology, Diabetes, Nutrition & Weight Management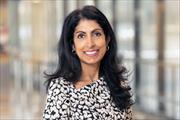 Sections
Endocrinology, Diabetes, Nutrition & Weight Management
Centers
Amyloidosis Center
Biography
Dr. Ananthakrishnan has been active in medical student and resident education at Boston University since 2008. She also practices in clinical endocrinology and has a focus in Neuroendocrinology.

Dr. Ananthakrishnan has served as an Evans Student Educator since 2009. She currently serves as the Director of Student Education in the Department of Medicine and is the clerkship director to 3rd year students in the Medicine 1 clerkship. Her area of focus is in feedback and assessment. She is an active national member of Clerkship Directors in Internal Medicine. Dr. Ananthakrishnan has served as the faculty mentor for the Internal Medicine Interest Group at BUSM since 2012, the student-led group that plans activities designed to educate the student body on the field of Internal Medicine and its various subspecialties.

Dr. Ananthakrishnan's outpatient practice is in the Section of Endocrinology, Diabetes and Nutrition at Boston Medical Center. Her focus is in neuroendocrinology, and she works as the Endocrine director of a multidisciplinary Neuroendocrine group. She is a Spanish-speaking provider.

Dr. Ananthakrishnan received her BA in Latin American Studies from Northwestern University and her MD from Northwestern University School of Medicine. She completed her Categorical Internal Medicine residency at the Hospital of the University of Pennsylvania in Philadelphia followed by a chief residency year at Lankenau Hospital in Wynnewood, PA. She completed her fellowship in Endocrinology at Boston Medical Center.
Education
MD, Northwestern University School of Medicine
MSc, Boston University School of Public Health
BA, Northwestern University
Publications
Published on 4/4/2022
Malik A, Ananthakrishnan S. Diabetes Physical Examination. Med Clin North Am. 2022 May; 106(3):483-494. PMID: 35491068.
Published on 2/17/2021
Ananthakrishnan S, Eyllon M, Noronha C. Can You Hear Me Now? Helping Faculty Improve Feedback Exchange for Internal Medicine Subspecialty Fellows. MedEdPORTAL. 2021 02 17; 17:11099. PMID: 33644304.
Published on 6/16/2020
Pinardo H, Rubin SJ, Hashemi S, DePietro J, Pearce EN, Ananthakrishnan S, Alexanian SM, Steenkamp DW, Noordzij JP. The use of vitamin D in preventing post-thyroidectomy hypocalcemia: An endocrinologist survey study. Clin Endocrinol (Oxf). 2020 11; 93(5):598-604. PMID: 32469425.
Published on 2/27/2020
Ananthakrishnan S. Gestational diabetes insipidus: Diagnosis and management. Best Pract Res Clin Endocrinol Metab. 2020 09; 34(5):101384. PMID: 32205050.
Published on 2/3/2017
Ananthakrishnan S. THE DARK SIDE TO DOPAMINE AGONIST THERAPY IN ROLACTINOMA MANAGEMENT. Endocr Pract. 2017 Feb 03. PMID: 28156150.
Published on 8/30/2016
Karantanos T, Karanika S, Obiokoye K, Sullivan M, Phillips C, Ananthakrishnan S. Pyogenic Liver Abscess Due to Fusobacterium nucleatum in a Patient With Liver Hemangiomas. Am J Med Sci. 2017 Apr; 353(4):417-418. PMID: 28317637.
Published on 2/16/2016
Ananthakrishnan S. Diabetes insipidus during pregnancy. Best Pract Res Clin Endocrinol Metab. 2016 Mar; 30(2):305-15. PMID: 27156766.
Published on 8/1/2015
Palermo NE, Ananthakrishnan S. Re-examining Nelson's syndrome. Curr Opin Endocrinol Diabetes Obes. 2015 Aug; 22(4):313-8. PMID: 26087343.
Published on 3/30/2013
Reddy S, Ananthakrishnan S, Garg A. A prospective observational study evaluating hypothalamic-pituitary-adrenal axis alteration and efficacy of intramuscular triamcinolone acetonide for steroid-responsive dermatologic disease. J Am Acad Dermatol. 2013 Aug; 69(2):226-31. PMID: 23545370.
Published on 10/1/2011
Levine D, Ananthakrishnan S, Garg A. Iatrogenic Cushing syndrome after a single intramuscular corticosteroid injection and concomitant protease inhibitor therapy. J Am Acad Dermatol. 2011 Oct; 65(4):877-8. PMID: 21920248.
View full list of 13 publications.