Shoumita Dasgupta PhD
Assistant Dean, Admissions
Professor, Biomedical Genetics
72 East Concord Street | (617) 358-3555

dasgupta@bu.edu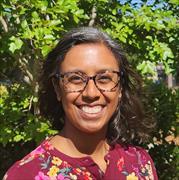 Sections
Biomedical Genetics
Biography
Dr. Dasgupta is a scientist educator whose significant scholarly contributions center around curriculum design, teaching, and service. She is a Professor of Medicine and an Assistant Dean of Admissions with a demonstrated history of working in a diverse and inclusive higher education environment. Dr. Dasgupta has leveraged her expertise in basic and medical genetics and genomics, graduate education, and medical education to transform and advance the clinical and scientific training of MD and PhD students at Boston University, nationally, and internationally. Her passion for genetics, genomic medicine, diversity and inclusion, and mentoring allow her to serve as a supportive and creative leader in the field.
Other Positions
Websites
Education
Biochemistry, PhD, University of California San Francisco, 2002
Biochemistry, MS, University of California San Francisco, 1999
Biology, BS, Massachusetts Institute of Technology, 1997
Publications
Published on 11/23/2021
Green KA, Wolinsky R, Parnell SJ, Del Campo D, Nathan AS, Garg PS, Kaplan SE, Dasgupta S. Deconstructing Racism, Hierarchy, and Power in Medical Education: Guiding Principles on Inclusive Curriculum Design. Acad Med. 2022 Jun 01; 97(6):804-811. PMID: 34817407.
Published on 8/5/2021
Vaimberg E, Demers L, Ford E, Sabatello M, Stevens B, Dasgupta S. Project Inclusive Genetics: Exploring the impact of patient-centered counseling training on physical disability bias in the prenatal setting. PLoS One. 2021; 16(8):e0255722. PMID: 34352009.
Published on 8/13/2020
Dasgupta S. An Anti-Racism Toolkit for the Genetics Educator. Genet Med. 2020 11; 22(11):1911-1912. PMID: 32788666.
Published on 6/18/2020
Dasgupta S, Feldman GL, Powell CM, Toriello HV, Westman J, Wilson WG, Waggoner DJ. Training the next generation of genomic medicine providers: trends in medical education and national assessment. Genet Med. 2020 10; 22(10):1718-1722. PMID: 32555416.
Published on 1/24/2020
Hoffman JD, Thompson R, Swenson KB, Dasgupta S. Complexities of Clinical Genetics Consultation: An Interprofessional Clinical Skills Workshop. MedEdPORTAL. 2020 01 24; 16:10869. PMID: 32342009.
Published on 5/21/2019
Campion M, Goldgar C, Hopkin RJ, Prows CA, Dasgupta S. Genomic education for the next generation of health-care providers. Genet Med. 2019 11; 21(11):2422-2430. PMID: 31110330.
Published on 5/1/2019
Hyland K, Dasgupta S. Medical genetics and genomics education and its impact on genomic literacy of the clinical workforce. Genet Med. 2019 05; 21(5):1259-1260. PMID: 31048815.
Published on 11/29/2018
Hyland K, Garber K, Dasgupta S. From helices to health: undergraduate medical education in genetics and genomics. Per Med. 2019 05 01; 16(3):211-220. PMID: 30489214.
Published on 5/1/2018
Wilcox RL, Adem PV, Afshinnekoo E, Atkinson JB, Burke LW, Cheung H, Dasgupta S, DeLaGarza J, Joseph L, LeGallo R, Lew M, Lockwood CM, Meiss A, Norman J, Markwood P, Rizvi H, Shane-Carson KP, Sobel ME, Suarez E, Tafe LJ, Wang J, Haspel RL. The Undergraduate Training in Genomics (UTRIG) Initiative: early & active training for physicians in the genomic medicine era. Per Med. 2018 05 01; 15(3):199-208. PMID: 29843583.
Published on 4/3/2018
Park HY, Berkowitz O, Symes K, Dasgupta S. The art and science of selecting graduate students in the biomedical sciences: Performance in doctoral study of the foundational sciences. PLoS One. 2018; 13(4):e0193901. PMID: 29614110.
View full list of 32 publications.