Shivda Pandey
Assistant Professor, Cardiovascular Medicine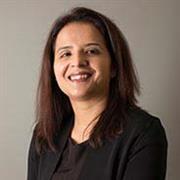 Sections
Cardiovascular Medicine
Education
Medicine, MBBS, Maulana Azad Medical College, 2007
Publications
Published on 12/10/2021
Pandey S. Quantitative SPECT in PYP imaging: Ready for prime time or too early to tell? J Nucl Cardiol. 2022 Oct; 29(5):2691-2693. PMID: 34893962.
Published on 5/19/2021
Poterucha TJ, Elias P, Ruberg FL, DeLuca A, Kinkhabwala M, Johnson LL, Griffin JM, Pandey S, Einstein AJ, Maurer MS. False Positive 99mTc-Pyrophosphate Scanning Leading to Inappropriate Tafamidis Prescriptions. JACC Cardiovasc Imaging. 2021 10; 14(10):2042-2044. PMID: 34023264.
Published on 7/27/2018
Pandey S, Siddiqi OK. Tc-99m pyrophosphate imaging for transthyretin cardiac amyloidosis: Importance of estimation of cancer risk with the modality. J Nucl Cardiol. 2020 02; 27(1):225-227. PMID: 30054791.
Published on 9/1/2017
Salinaro F, Meier-Ewert HK, Miller EJ, Pandey S, Sanchorawala V, Berk JL, Seldin DC, Ruberg FL. Longitudinal systolic strain, cardiac function improvement, and survival following treatment of light-chain (AL) cardiac amyloidosis. Eur Heart J Cardiovasc Imaging. 2017 Sep 01; 18(9):1057-1064. PMID: 27965280.
Published on 3/14/2013
Pandey AK, Pandey S, Blaha MJ, Agatston A, Feldman T, Ozner M, Santos RD, Budoff MJ, Blumenthal RS, Nasir K. Family history of coronary heart disease and markers of subclinical cardiovascular disease: where do we stand? Atherosclerosis. 2013 Jun; 228(2):285-94. PMID: 23578356.
Published on 11/24/2010
Shen J, Johnson VM, Sullivan LM, Jacques PF, Magnani JW, Lubitz SA, Pandey S, Levy D, Vasan RS, Quatromoni PA, Junyent M, Ordovas JM, Benjamin EJ. Dietary factors and incident atrial fibrillation: the Framingham Heart Study. Am J Clin Nutr. 2011 Feb; 93(2):261-6. PMID: 21106919.
Published on 5/13/2008
Hamirani YS, Pandey S, Rivera JJ, Ndumele C, Budoff MJ, Blumenthal RS, Nasir K. Markers of inflammation and coronary artery calcification: a systematic review. Atherosclerosis. 2008 Nov; 201(1):1-7. PMID: 18561934.
Published on 2/20/2008
Musunuru K, Nasir K, Pandey S, Campbell CC, Carvalho JA, Meneghello R, Budoff MJ, Blumenthal RS, Santos RD. A synergistic relationship of elevated low-density lipoprotein cholesterol levels and systolic blood pressure with coronary artery calcification. Atherosclerosis. 2008 Oct; 200(2):368-73. PMID: 18243213.
Published on 1/1/2008
Michos ED, Santos RD, Narla V, Pandey S, Meneghelo R, Carvalho JA, Budoff MJ, Blumenthal RS, Nasir K. Favorable cardiovascular risk factor profile is associated with reduced prevalence of coronary artery calcification and inflammation in asymptomatic nondiabetic white men. Prev Cardiol. 2008; 11(4):189-94. PMID: 19476570.
View full list of 9 publications.