Shirin Haddady MD, MPH
Assistant Professor, Endocrinology, Diabetes, Nutrition & Weight Management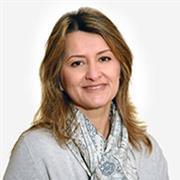 Sections
Endocrinology, Diabetes, Nutrition & Weight Management
Biography
Dr. Shirin Haddady, MD, MPH is an Assistant Professor of Medicine in Endocrinology for the Chobanian and Avedisian School of Medicine. Dr. Haddady received her MPH from the University of Massachusetts Medical School and her MD from Tehran University. She completed her residency at Georgetown University Hospital and her Fellowship in Endocrinology at the University of Massachusetts. Dr. Haddady is affiliated with Boston Medical Center and her areas of interest include Thyroid Cancer, Thyroid Nodule, Hyperthyroidism, calcium and mineral disorders including bone loss and Paget's disease of the bone.
Education
Medicine-Internal, MD, Tehran University, 1992
Public Health, MPH, University of Massachusetts Medical School, 2014
Publications
Published on 12/15/2020
Haddady S, Pinjic E, Lee SL. Prognostic Value of Serum Thyroglobulin Measured at 48 Hours Versus 72 Hours after Second Dose of Recombinant Human Thyrotropin in Surveillance of Well-Differentiated Thyroid Cancer. Endocr Pract. 2021 Mar; 27(3):216-222. PMID: 33779554.
Published on 11/1/2018
Mathew HM, Lee CW, Haddady S. RAPIDLY PROGRESSIVE AND SEVERE HIRSUTISM FROM HYPERREACTIO LUTEINALIS WITHIN A BACKGROUND OF POLYCYSTIC OVARY SYNDROME. AACE Clin Case Rep. 2019 Mar-Apr; 5(2):e86-e90. PMID: 31967008.
Published on 1/1/2018
C. A. Sullivan, R. Gedik and S. Haddady . An Atypical Presentation of Insulin Amyloidosis: An Uncommon but Important Complication of Insulin Therapy. Case Report. 2018; 4:e80 - e83.
Published on 1/1/2018
S. Haddady, A. P. Farwell. IRWIN & RIPPE'S INTENSIVE CARE MEDICINE. Non-Thyroidial Illness Syndrome (Sick Euthyroid Syndrome) in the Intensive Care Unit. Lippincott Williams & Wilkins. 2018; 1311-1324.
Published on 3/1/2010
Haddady S, Low HP, Billings-Gagliardi S, Riskind PN, Schwartz WJ. Pregnancy modulates precursor cell proliferation in a murine model of focal demyelination. Neuroscience. 2010 May 19; 167(3):656-64. PMID: 20197083.
Published on 3/1/2000
Gardner RE, Tuttle RM, Burman KD, Haddady S, Truman C, Sparling YH, Wartofsky L, Sessions RB, Ringel MD. Prognostic importance of vascular invasion in papillary thyroid carcinoma. Arch Otolaryngol Head Neck Surg. 2000 Mar; 126(3):309-12. PMID: 10722002.
View full list of 6 publications.