Shadi Tarazi MD
Voluntary Clinical Assistant Professor, General Internal Medicine
72 East Concord Street, L-315 | (617) 789-3000

tarazis@bu.edu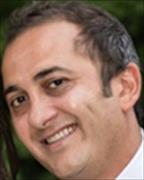 Sections
General Internal Medicine
Websites
Education
Medicine, MBBS, Jordan University, 2003
Publications
Published on 10/20/2022
Viukov S, Shani T, Bayerl J, Aguilera-Castrejon A, Oldak B, Sheban D, Tarazi S, Stelzer Y, Hanna JH, Novershtern N. Human primed and naïve PSCs are both able to differentiate into trophoblast stem cells. Stem Cell Reports. 2022 Nov 08; 17(11):2484-2500. PMID: 36270280.
Published on 8/1/2022
Tarazi S, Aguilera-Castrejon A, Joubran C, Ghanem N, Ashouokhi S, Roncato F, Wildschutz E, Haddad M, Oldak B, Gomez-Cesar E, Livnat N, Viukov S, Lokshtanov D, Naveh-Tassa S, Rose M, Hanna S, Raanan C, Brenner O, Kedmi M, Keren-Shaul H, Lapidot T, Maza I, Novershtern N, Hanna JH. Post-gastrulation synthetic embryos generated ex utero from mouse naive ESCs. Cell. 2022 Sep 01; 185(18):3290-3306.e25. PMID: 35988542.
Published on 12/6/2021
Sheban D, Shani T, Maor R, Aguilera-Castrejon A, Mor N, Oldak B, Shmueli MD, Eisenberg-Lerner A, Bayerl J, Hebert J, Viukov S, Chen G, Kacen A, Krupalnik V, Chugaeva V, Tarazi S, Rodríguez-delaRosa A, Zerbib M, Ulman A, Masarwi S, Kupervaser M, Levin Y, Shema E, David Y, Novershtern N, Hanna JH, Merbl Y. SUMOylation of linker histone H1 drives chromatin condensation and restriction of embryonic cell fate identity. Mol Cell. 2022 01 06; 82(1):106-122.e9. PMID: 34875212.
Published on 4/28/2021
Bayerl J, Ayyash M, Shani T, Manor YS, Gafni O, Massarwa R, Kalma Y, Aguilera-Castrejon A, Zerbib M, Amir H, Sheban D, Geula S, Mor N, Weinberger L, Naveh Tassa S, Krupalnik V, Oldak B, Livnat N, Tarazi S, Tawil S, Wildschutz E, Ashouokhi S, Lasman L, Rotter V, Hanna S, Ben-Yosef D, Novershtern N, Viukov S, Hanna JH. Principles of signaling pathway modulation for enhancing human naive pluripotency induction. Cell Stem Cell. 2021 09 02; 28(9):1549-1565.e12. PMID: 33915080.
Published on 3/17/2021
Aguilera-Castrejon A, Oldak B, Shani T, Ghanem N, Itzkovich C, Slomovich S, Tarazi S, Bayerl J, Chugaeva V, Ayyash M, Ashouokhi S, Sheban D, Livnat N, Lasman L, Viukov S, Zerbib M, Addadi Y, Rais Y, Cheng S, Stelzer Y, Keren-Shaul H, Shlomo R, Massarwa R, Novershtern N, Maza I, Hanna JH. Ex utero mouse embryogenesis from pre-gastrulation to late organogenesis. Nature. 2021 05; 593(7857):119-124. PMID: 33731940.
Published on 12/29/2016
Almaaytah A, Ajingi Y, Abualhaijaa A, Tarazi S, Alshar'i N, Al-Balas Q. Peptide consensus sequence determination for the enhancement of the antimicrobial activity and selectivity of antimicrobial peptides. Infect Drug Resist. 2017; 10:1-17. PMID: 28096686.
Published on 6/21/2014
Al-Khateeb SN, Tarazi SJ, Al Maaitah EF, Al-Batayneh OB, Abu Alhaija ES. Does acid etching enhance remineralisation of arrested white spot lesions? Eur Arch Paediatr Dent. 2014 Dec; 15(6):413-9. PMID: 24952017.
Published on 4/25/2014
Almaaytah A, Tarazi S, Abu-Alhaijaa A, Altall Y, Alshar'i N, Bodoor K, Al-Balas Q. Enhanced Antimicrobial Activity of AamAP1-Lysine, a Novel Synthetic Peptide Analog Derived from the Scorpion Venom Peptide AamAP1. Pharmaceuticals (Basel). 2014 Apr 25; 7(5):502-16. PMID: 24776889.
View full list of 8 publications.