Satish K. Singh MD
Associate Professor, Gastroenterology
Graduate Faculty (Primary Mentor of Grad Students)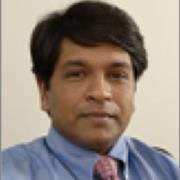 Biography
Dr. Singh is currently affiliated with the VA Boston Healthcare System. He completed his postdoc at the Yale School of Medicine and earned his medical degree at Boston University, where he also teaches.
Other Positions
Education
MD, Boston University School of Medicine, 1987
BA, Boston University, 1983
Publications
Published on 3/24/2021
Rodriguez-Diaz E, Jepeal LI, Baffy G, Lo WK, MashimoMD H, A'amar O, Bigio IJ, Singh SK. Artificial Intelligence-Based Assessment of Colorectal Polyp Histology by Elastic-Scattering Spectroscopy. Dig Dis Sci. 2021 Mar 24. PMID: 33761089.
Published on 11/12/2020
Mashimo H, Gordon SR, Singh SK. Advanced endoscopic imaging for detecting and guiding therapy of early neoplasias of the esophagus. Ann N Y Acad Sci. 2020 12; 1482(1):61-76. PMID: 33184872.
Published on 9/16/2020
Rodriguez-Diaz E, Baffy G, Lo WK, Mashimo H, Vidyarthi G, Mohapatra SS, Singh SK. Real-time artificial intelligence-based histologic classification of colorectal polyps with augmented visualization. Gastrointest Endosc. 2021 03; 93(3):662-670. PMID: 32949567.
Published on 11/6/2019
Taunk P, Atkinson CD, Lichtenstein D, Rodriguez-Diaz E, Singh SK. Computer-assisted assessment of colonic polyp histopathology using probe-based confocal laser endomicroscopy. Int J Colorectal Dis. 2019 Dec; 34(12):2043-2051. PMID: 31696259.
Published on 10/1/2018
Vennelaganti S, Vennalaganti P, Mathur S, Singh S, Jamal M, Kanakadandi V, Rai T, Hall M, Gupta N, Nutalapati V, Alsop B, Hornung B, Sharma P. Validation of Probe-based Confocal Laser Endomicroscopy (pCLE) Criteria for Diagnosing Colon Polyp Histology. J Clin Gastroenterol. 2018 10; 52(9):812-816. PMID: 28885303.
Published on 10/1/2017
Taunk P, Singh S, Lichtenstein D, Joshi V, Gold J, Sharma A. Improved classification of indeterminate biliary strictures by probe-based confocal laser endomicroscopy using the Paris Criteria following biliary stenting. J Gastroenterol Hepatol. 2017 Oct; 32(10):1778-1783. PMID: 28294404.
Published on 2/1/2017
Di Leo M, Leandro G, Singh SK, Mariani A, Bianco M, Zuppardo RA, Goni E, Rogger TM, Di Mario F, Guslandi M, De Cobelli F, Del Maschio A, Testoni PA, Cavestro GM. Low Alcohol and Cigarette Use Is Associated to the Risk of Developing Chronic Pancreatitis. Pancreas. 2017 Feb; 46(2):225-229. PMID: 27846144.
Published on 3/2/2016
Atkinson C, Singh S, Fisichella PM. Volumetric laser endomicroscopy in the detection of neoplastic lesions of the esophagus. Dig Liver Dis. 2016 Jun; 48(6):692. PMID: 26976783.
Published on 10/26/2015
Dubey SR, Singh SK, Singh RK. Local Wavelet Pattern: A New Feature Descriptor for Image Retrieval in Medical CT Databases. IEEE Trans Image Process. 2015 Dec; 24(12):5892-903. PMID: 26513789.
Published on 7/23/2015
Rodriguez-Diaz E, Baffy G, Singh SK. Probe-based confocal laser endomicroscopy quantitative morphometric markers associated with portal hypertension in duodenal mucosa. Liver Int. 2016 Feb; 36(2):223-31. PMID: 26133980.
View full list of 41 publications.