Sarah L. Kimball MD
Assistant Professor, General Internal Medicine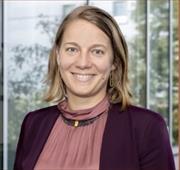 Sections
General Internal Medicine
Biography
Sarah Kimball, MD is a board-certified internist and is an Assistant Professor at Boston University School of Medicine. She completed her medical school training at Harvard University Medical School and did residency training in Internal Medicine at the Brigham and Women's Hospital Residency Program in Primary Care and Population Medicine. She joined the faculty at Boston University School of Medicine in 2014.

Dr. Kimball has a expertise in immigration-informed medical care, where she has helped to research and build health systems that are responsive to the needs of im/migrant patients. She is currently the Director of the Immigrant & Refugee Health Center (IRHC) at Boston Medical Center, a comprehensive medical home that addresses the barriers that immigrants face to being holistically healthy. She has served previously as the Medical Director of the Boston Accountable Care Organization (BACO) Complex Care Management (CCM) program at Boston Medical Center. In addition to a love of primary care, Dr. Kimball's main interest is in teaching social justice and advocacy skills. She is an associate editor at the Journal of Immigrant and Minority Health, with an expertise in Health Services Research. She was a founding member of the Society of Refugee Health Providers, and serves at the co-Chair of the Research, Evaluation and Ethics Committee.
Websites
Education
Medicine-Internal, MD, Harvard Medical School, 2011
Biology, BSc, Brown University, 2005
Publications
Published on 9/21/2021
Zhang M, Gurung A, Anglewicz P, Subedi P, Payton C, Ali A, Ibrahim A, Haider M, Hamidi N, Atem J, Thang J, Wang S, Kim C, Kimball SL, Karaki F, Nazhat N, Abouagila M, Yun K. Acceptance of COVID-19 Vaccine Among Refugees in the United States. Public Health Rep. 2021 Sep 21; 333549211045838. PMID: 34546812.
Published on 9/19/2021
Payton C, Kumar GS, Kimball S, Clarke SK, AlMasri I, Karaki FM. A Logic Model Framework for Planning an International Refugee Health Research, Evaluation, and Ethics Committee. Health Promot Pract. 2021 Sep 19; 15248399211035703. PMID: 34541906.
Published on 3/11/2021
Saadi A, Anand P, Kimball SL. Traumatic brain injury and forensic evaluations: Three case studies of U.S. asylum-seekers. J Forensic Leg Med. 2021 Apr; 79:102139. PMID: 33740607.
Published on 1/7/2021
Neufeld MY, Kimball S, Stein AB, Crosby SS. Forensic evaluation of alleged wrist restraint/handcuff injuries in survivors of torture utilizing the Istanbul Protocol. Int J Legal Med. 2021 Mar; 135(2):583-590. PMID: 33409560.
Published on 12/7/2020
Payton C, Kimball S, Ahrenholz NC, Wieland ML. Preventive Care and Management of Chronic Diseases in Immigrant Adults. Prim Care. 2021 Mar; 48(1):83-97. PMID: 33516426.
Published on 10/22/2020
Poulson M, Neufeld M, Geary A, Kenzik K, Sanchez SE, Dechert T, Kimball S. Intersectional Disparities Among Hispanic Groups in COVID-19 Outcomes. J Immigr Minor Health. 2021 Feb; 23(1):4-10. PMID: 33090300.
Published on 10/1/2020
Kimball S. Combatting Fear Through Timely, Participatory Approaches to Immigrant Health Research: Response to Byhoff et al. J Immigr Minor Health. 2020 10; 22(5):879-880. PMID: 32333288.
Published on 3/1/2019
Kimball S, Maju M, Singh N, Sonis L. Embedding an Immigration Legal Navigator in a Primary Care Clinic. Ann Fam Med. 2019 Mar; 17(2):177. PMID: 30858264.
Published on 4/29/2014
Kimball SL, Soldz S. Medical professionalism and abuse of detainees in the war on terror. BMJ. 2014; 348:g2947. PMID: 24780388.
Published on 6/1/2007
McMurry JA, Kimball S, Lee JH, Rivera D, Martin W, Weiner DB, Kutzler M, Sherman DR, Kornfeld H, De Groot AS. Epitope-driven TB vaccine development: a streamlined approach using immuno-informatics, ELISpot assays, and HLA transgenic mice. Curr Mol Med. 2007 Jun; 7(4):351-68. PMID: 17584075.
View full list of 10 publications.