Sandeep Ghai MD
Assistant Professor, Nephrology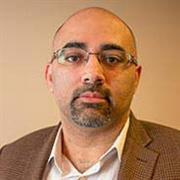 Biography
Sandeep Ghai, MD is an Assistant Professor of Nephrology at Chobanian and Avedisian School of Medicine. He received his medical degree from the Wayne State University School of Medicine and completed a residency and Nephrology Fellowship at Boston University Medical Center. Dr. Ghai is board certified in Internal Medicine and Nephrology. His interests includes Kidney Transplantation, Bone Mineral Disease, and Peritoneal Dialysis.
Education
Medicine-Internal, MD, Wayne State University School of Medicine, 2006
Biochemistry, BSc, University Windsor, 2001
Publications
Published on 1/25/2023
Claudel SE, Valente C, Serafin H, Hassan Kamel M, Ghai S. Structured handoff to improve communication from inpatient to outpatient dialysis units: A quality improvement project. Hemodial Int. 2023 Apr; 27(2):146-154. PMID: 36696233.
Published on 1/26/2021
Levin SR, Farber A, Eslami MH, Tan TW, Osborne NH, Francis JM, Ghai S, Siracuse JJ. Association of Medicaid Expansion with Tunneled Dialysis Catheter Use at the Time of First Arteriovenous Access Creation. Ann Vasc Surg. 2021 Jul; 74:11-20. PMID: 33508455.
Published on 10/21/2020
Zimmerman A, Rogers R, Tan CS, Pavlakis M, Bodziak K, Cardarelli F, Francis J, Gabardi S, Germain M, Ghai S, Gilligan H, Goyal N, Malinis M, Patel H, Rodig N, Theodoropoulos NM, Walshe E, Wood E, Chobanian M. Expecting the unexpected: COVID-19 in Kidney Transplant Recipients within United Network for Organ Sharing Region 1. Transpl Int. 2020 12; 33(12):1843-1844. PMID: 33000866.
Published on 9/25/2020
Liu CK, Ghai S, Waikar SS, Weiner DE. COVID-19 Infection Risk Among Hemodialysis Patients in Long-term Care Facilities. Kidney Med. 2020 Nov-Dec; 2(6):810-811. PMID: 33015605.
Published on 3/9/2020
Angel-Korman A, Stern L, Angel Y, Sarosiek S, Menn-Josephy H, Francis J, Ghai S, Sloan JM, Sanchorawala V, Havasi A. The Role of Kidney Transplantation in Monoclonal Ig Deposition Disease. Kidney Int Rep. 2020 Apr; 5(4):485-493. PMID: 32274452.
Published on 5/9/2019
Singh P, Chen H, Gordon CE, Ghai S, Sloan JM, Quillen K, Moradi S, Chitalia V, Gautam A, Henderson J, Francis JM. Monoclonal IgG4/2? Deposition Following Eculizumab Therapy for Recurrent Atypical Hemolytic Uremic Syndrome in Kidney Transplantation. Kidney Med. 2019 May-Jun; 1(3):139-143. PMID: 32734194.
Published on 11/3/2015
Al-Rabadi L, Francis JM, Henderson J, Ghai S. Proliferative glomerulonephritis with monoclonal immunoglobulin in renal allografts. Clin Kidney J. 2015 Dec; 8(6):722-8. PMID: 26613031.
Published on 3/8/2014
Garg N, Weinberg J, Ghai S, Bradauskaite G, Nuhn M, Gautam A, Kumar N, Francis J, Chen JL. Lower magnesium level associated with new-onset diabetes and pre-diabetes after kidney transplantation. J Nephrol. 2014 Jun; 27(3):339-44. PMID: 24609888.
View full list of 8 publications.