Sammy Elmariah MD, MPH, FACC, FAHA
Adjunct Assistant Professor, Cardiovascular Medicine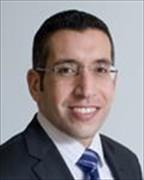 Sections
Cardiovascular Medicine
Biography
Dr. Elmariah graduated from the University of Pennsylvania School of Medicine and completed his internal medicine residency training at the Hospital of the University of Pennsylvania. He subsequently served as Chief Medical Resident at Lankenau Hospital. Dr. Elmariah completed his fellowship in cardiovascular medicine at the Mount Sinai Hospital in New York where he also served as Chief Fellow. While a fellow, he also completed a Masters in Public Health at the Harvard School of Public Health. Dr. Elmariah completed further fellowship training in interventional cardiology and structural heart disease at the Massachusetts General Hospital.

His clinical interest is in the management of valvular heart disease, coronary artery disease, and adult congenital heart disease. He performs transcatheter valve replacement, percutaneous coronary interventions (stents), and transcatheter closure of patent foramen ovale (PFO) and atrial septal defects (ASD).

Dr. Elmariah has a specific research interest in valvular heart disease. In addition to ongoing clinical investigation of valve calcification and the progression of aortic stenosis, Dr. Elmariah is evaluating the impact of transcatheter aortic valve replacement on myocardial metabolism and myocardial remodeling. Dr. Elmariah is an MGH Heart Center Hassenfeld Research Scholar and has been awarded the Jeremiah Stamler Distinguished Young Investigator Award and an American College of Cardiology Young Investigator Award.
Websites
Education
Medicine-Internal, MD, University of Pennsylvania School of Medicine, 2002
Clinical Research, MPH, Harvard School of Public Health, 2010
Biology, BS, Emory University, 1998
Publications
Published on 5/1/2023
Kany S, Rämö JT, Hou C, Jurgens SJ, Nauffal V, Cunningham J, Lau ES, Butte AJ, Ho JE, Olgin JE, Elmariah S, Lindsay ME, Ellinor PT, Pirruccello JP. Assessment of valvular function in over 47,000 people using deep learning-based flow measurements. medRxiv. 2023 May 01. PMID: 37205587.
Published on 4/4/2023
Khan KR, Khan OA, Chen C, Liu Y, Kandanelly RR, Jamiel PJ, Tanguturi V, Hung J, Inglessis I, Passeri JJ, Langer NB, Elmariah S. Impact of Moderate Aortic Stenosis in Patients With Heart Failure With Reduced Ejection Fraction. J Am Coll Cardiol. 2023 Apr 04; 81(13):1235-1244. PMID: 36990542.
Published on 12/26/2022
Tripathi A, Chan PS, Albagdadi MS, Khan MS, Atti V, Saraswat A, Hirsch GA, Elmariah S, Drachman DE, Bhatt DL. Variation in Survival After Cardiopulmonary Arrest in Cardiac Catheterization Laboratories in the United States. JACC Cardiovasc Interv. 2022 Dec 26; 15(24):2463-2471. PMID: 36543439.
Published on 12/19/2022
Crousillat DR, Amponsah DK, Camacho A, Kandanelly RR, Bapat D, Chen C, Selberg A, Shaqdan A, Tanguturi VK, Picard MH, Hung JW, Elmariah S. Racial and Ethnic Differences in the Clinical Diagnosis of Aortic Stenosis. J Am Heart Assoc. 2022 Dec 20; 11(24):e025692. PMID: 36533618.
Published on 12/13/2022
Delling FN, Noseworthy PA, Adams DH, Basso C, Borger M, Bouatia-Naji N, Elmariah S, Evans F, Gerstenfeld E, Hung J, Le Tourneau T, Lewis J, Miller MA, Norris RA, Padala M, Perazzolo-Marra M, Shah DJ, Weinsaft JW, Enriquez-Sarano M, Levine RA. Research Opportunities in the Treatment of Mitral Valve Prolapse: JACC Expert Panel. J Am Coll Cardiol. 2022 Dec 13; 80(24):2331-2347. PMID: 36480975.
Published on 9/29/2022
Perry AS, Stein EJ, Biersmith M, Fearon WF, Elmariah S, Kim JB, Clark DE, Patel JN, Gonzales H, Baker M, Piana RN, Mallugari RR, Kapadia S, Kumbhani DJ, Gillam L, Whisenant B, Quader N, Zajarias A, Welt FG, Bavry AA, Coylewright M, Gupta DK, Vatterott A, Jackson N, Huang S, Lindman BR. Global Longitudinal Strain and Biomarkers of Cardiac Damage and Stress as Predictors of Outcomes After Transcatheter Aortic Valve Implantation. J Am Heart Assoc. 2022 Oct 04; 11(19):e026529. PMID: 36172966.
Published on 9/26/2022
Khalili H, Pibarot P, Hahn RT, Elmariah S, Pilgrim T, Bavry AA, Maini B, Okuno T, Al-Azizi K, Waggoner TE, Mack M, Rodès-Cabau J, Abbas AE. Transvalvular Pressure Gradients and All-Cause Mortality Following TAVR: A Multicenter Echocardiographic and Invasive Registry. JACC Cardiovasc Interv. 2022 Sep 26; 15(18):1837-1848. PMID: 36137687.
Published on 9/6/2022
Lima FV, Berkowitz J, Kennedy KF, Kolte D, Saad M, Elmariah S, Palacios IF, Inglessis I, Khera S, Assa EB, Gordon P, Chu AF. Incidence and Predictors of New-Onset Atrial Fibrillation After Transcatheter Edge-to-Edge Repair of the Mitral Valve (from the Nationwide Readmissions Database). Am J Cardiol. 2022 Nov 01; 182:55-62. PMID: 36075754.
Published on 9/1/2022
Kolte D, Bhardwaj B, Lu M, Alu MC, Passeri JJ, Inglessis I, Vlahakes GJ, Garcia S, Cohen DJ, Lindman BR, Kodali S, Thourani VH, Daubert MA, Douglas PS, Jaber W, Pibarot P, Clavel MA, Palacios IF, Leon MB, Smith CR, Mack MJ, Elmariah S. Association Between Early Left Ventricular Ejection Fraction Improvement After Transcatheter Aortic Valve Replacement and 5-Year Clinical Outcomes. JAMA Cardiol. 2022 Sep 01; 7(9):934-944. PMID: 35895046.
Published on 6/3/2022
Shahim B, Redfors B, Lindman BR, Chen S, Dahlen T, Nazif T, Kapadia S, Gertz ZM, Crowley AC, Li D, Thourani VH, Kodali SK, Zajarias A, Babaliaros VC, Guyton RA, Elmariah S, Herrmann HC, Cohen DJ, Mack MJ, Smith CR, Leon MB, George I. Neutrophil-to-Lymphocyte Ratios in Patients Undergoing Aortic Valve Replacement: The PARTNER Trials and Registries. J Am Heart Assoc. 2022 Jun 07; 11(11):e024091. PMID: 35656983.
View full list of 159 publications.