Sammy Elmariah MD, MPH, FACC, FAHA
Adjunct Assistant Professor, Cardiovascular Medicine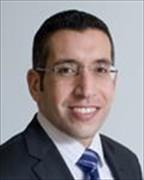 Sections
Cardiovascular Medicine
Biography
Dr. Elmariah graduated from the University of Pennsylvania School of Medicine and completed his internal medicine residency training at the Hospital of the University of Pennsylvania. He subsequently served as Chief Medical Resident at Lankenau Hospital. Dr. Elmariah completed his fellowship in cardiovascular medicine at the Mount Sinai Hospital in New York where he also served as Chief Fellow. While a fellow, he also completed a Masters in Public Health at the Harvard School of Public Health. Dr. Elmariah completed further fellowship training in interventional cardiology and structural heart disease at the Massachusetts General Hospital.

His clinical interest is in the management of valvular heart disease, coronary artery disease, and adult congenital heart disease. He performs transcatheter valve replacement, percutaneous coronary interventions (stents), and transcatheter closure of patent foramen ovale (PFO) and atrial septal defects (ASD).

Dr. Elmariah has a specific research interest in valvular heart disease. In addition to ongoing clinical investigation of valve calcification and the progression of aortic stenosis, Dr. Elmariah is evaluating the impact of transcatheter aortic valve replacement on myocardial metabolism and myocardial remodeling. Dr. Elmariah is an MGH Heart Center Hassenfeld Research Scholar and has been awarded the Jeremiah Stamler Distinguished Young Investigator Award and an American College of Cardiology Young Investigator Award.
Websites
Education
Medicine-Internal, MD, University of Pennsylvania School of Medicine, 2002
Clinical Research, MPH, Harvard School of Public Health, 2010
Biology, BS, Emory University, 1998
Publications
Published on 9/27/2021
Garcia S, Cubeddu RJ, Hahn RT, Ternacle J, Kapadia SR, Kodali SK, Thourani VH, Jaber WA, Asher CR, Elmariah S, Makkar R, Webb JG, Herrmann HC, Lu M, Devireddy CM, Malaisrie SC, Smith CR, Mack MJ, Sorajja P, Cavalcante JL, Goessl M, Shroff GR, Leon MB, Pibarot P. 5-Year Outcomes Comparing Surgical Versus Transcatheter Aortic Valve Replacement in Patients With Chronic Kidney Disease. JACC Cardiovasc Interv. 2021 Sep 27; 14(18):1995-2005. PMID: 34556273.
Published on 6/17/2021
Kolte D, Khera S, Nazir S, Butala NM, Bhatt DL, Elmariah S. Trends in Cerebral Embolic Protection Device Use and Association With Stroke Following Transcatheter Aortic Valve Implantation. Am J Cardiol. 2021 08 01; 152:106-112. PMID: 34147212.
Published on 6/16/2021
Ben-Assa E, Herrero-Garibi J, Cruz-Gonzalez I, Elmariah S, Rengifo-Moreno P, Al-Bawardy R, Sakhuja R, Lima FV, Demirjian ZN, Ning M, Buonanno FS, Inglessis I, Palacios IF. Efficacy and safety of percutaneous patent foramen ovale closure in patients with a hypercoagulable disorder. Catheter Cardiovasc Interv. 2021 Oct; 98(4):800-807. PMID: 34132472.
Published on 6/15/2021
Nazir S, Ahuja KR, Kolte D, Gupta T, Khera S, Elmariah S. Association of Acute Kidney Injury with Outcomes in Patients Undergoing Transcatheter Mitral Valve Repair. Cardiology. 2021; 146(4):501-507. PMID: 34130287.
Published on 6/8/2021
Elmariah S, Patel NK. Aortic Stenosis and LV Dysfunction: Not Everything in Moderation. J Am Coll Cardiol. 2021 Jun 08; 77(22):2804-2806. PMID: 34082910.
Published on 5/4/2021
De la Torre Hernández JM, Veiga Fernandez G, Brown J, Sainz Laso F, Lee DH, Fradejas V, Garcia Camarero T, Elmariah S, Inglessis I, Zueco J, Vazquez de Prada JA, Ben-Assa E, Edelman ER. Validation study to determine the accuracy of central blood pressure measurement using the SphygmoCor XCEL cuff device in patients with severe aortic stenosis undergoing transcatheter aortic valve replacement. J Clin Hypertens (Greenwich). 2021 06; 23(6):1165-1175. PMID: 33942487.
Published on 5/3/2021
Kolte D, Kennedy K, Wasfy JH, Jena AB, Elmariah S. Hospital Variation in 30-Day Readmissions Following Transcatheter Aortic Valve Replacement. J Am Heart Assoc. 2021 05 18; 10(10):e021350. PMID: 33938233.
Published on 4/21/2021
Kolte D, Butala NM, Kennedy KF, Wasfy JH, Jena AB, Sakhuja R, Langer N, Melnitchouk S, Sundt TM, Passeri JJ, Palacios IF, Inglessis I, Elmariah S. Association between hospital cardiovascular procedural volumes and transcatheter mitral valve repair outcomes. Cardiovasc Revasc Med. 2021 Apr 21. PMID: 33903039.
Published on 2/4/2021
Lindman BR, Gillam LD, Coylewright M, Welt FGP, Elmariah S, Smith SA, McKeel DA, Jackson N, Mukerjee K, Cloud H, Hanna N, Purpura J, Ellis H, Martinez V, Selberg AM, Huang S, Harrell FE. Effect of a pragmatic home-based mobile health exercise intervention after transcatheter aortic valve replacement: a randomized pilot trial. Eur Heart J Digit Health. 2021 Mar; 2(1):90-103. PMID: 34048509.
Published on 1/14/2021
Elgendy IY, Kolte D, Mansour MK, Sakhuja R, Elmariah S, Jaffer FA, Neilan TG, Januzzi JL, Weinberg I, Albaghdadi MS. Incidence, Predictors, and Outcomes of Thrombotic Events in Hospitalized Patients With Viral Pneumonia. Am J Cardiol. 2021 03 15; 143:164-165. PMID: 33453170.
View full list of 140 publications.