Salaheldin Elhamamsy MD
Assistant Professor, General Internal Medicine
801 Massachusetts Ave | (401) 935-2328

shamamsy@bu.edu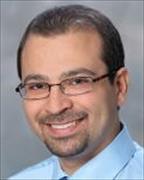 Sections
General Internal Medicine
Biography
Dr. Elhamamsy is an Assistant Professor of General Internal Medicine at Boston University's School of Medicine and is a Hospital Medical Consultant at Boston Medical Center. He received his MD from the Medical School Cairo University in Cairo, Egypt and has over 10 years of experience practicing in the United States. Previously, Dr.Elhamamsy was an Assistant Professor of Medicine at Brown University and Assistant Program Director of Internal Medicine at Memorial Hospital of Rhode Island Brown University.
Websites
Publications
Published on 6/29/2022
Bayer TA, DeVone F, McConeghy KW, Halladay CW, Quach L, Rajan A, Elhamamsy S, Cadieux M, Singh M, Sachar M, Nanda A, Gravenstein S, Rudolph JL. Dementia prevalence, a contextual factor associated with SARS-CoV-2 in veterans affairs community living centers. J Am Geriatr Soc. 2022 Oct; 70(10):2973-2979. PMID: 35767430.
Published on 1/13/2022
Sachar M, Bayer T, DeVone F, Halladay C, McConeghy K, Elhamamsy S, Rajan A, Cadieux M, Singh M, Nanda A, Rudolph JL, McNicoll L, Cizginer S, Gravenstein S. The effect of age on fever response among nursing home residents with SARS-COV-2 infection. Aging Clin Exp Res. 2022 Mar; 34(3):691-693. PMID: 35025096.
Published on 12/1/2021
Hatahet S, Khalaf K, Elhamamsy S. Valproate-induced Periorbital Edema. R I Med J (2013). 2021 Dec 01; 104(10):10-11. PMID: 34846373.
Published on 10/4/2021
Hatahet S, Yacoub MS, Farag M, Gasimova U, Elhamamsy S. Internal Bleeding Extending to the Retroperitoneum and Right Psoas With Severe Acute Respiratory Syndrome Coronavirus 2 Infection. Cureus. 2021 Oct; 13(10):e18477. PMID: 34754641.
Published on 10/1/2021
Elhamamsy S, Bayer T, Al-Kaffas M, Hatahet S, Grover M, Samdhani S, Nanda A, Gravenstein S. Rhino-Orbital Cerebral Mucormycosis in Non-Diabetic Patients with COVID-19. R I Med J (2013). 2021 Oct 01; 104(8):19-21. PMID: 34582509.
Published on 7/26/2021
Elhamamsy S, DeVone F, Bayer T, Halladay C, Cadieux M, McConeghy K, Rajan A, Sachar M, Mujahid N, Nanda A, McNicoll L, Rudolph JL, Gravenstein S. Can we clinically identify pre-symptomatic and asymptomatic COVID-19? medRxiv. 2021 Jul 26. PMID: 34341800.
Published on 3/1/2020
Gasimova U, Elhamamsy S, Joseph S, Alkhayat A. A rare case of multiple fibro-folliculomas and lung cysts: Possible Birt-Hogg-Dube syndrome. Gulhane Medical Journal. 2020; 62(1):57-59.
Published on 2/3/2020
Gasimova U, Arivudainambi G, Joseph S, Elhamamsy S. Two Recent Cases of Babesiosis in the United States With a Difference in Severity and Response to Therapy. Cureus. 2020 Feb 03; 12(2):e6853. PMID: 32181088.
Published on 3/1/2019
Gasimova U, Elhamamsy S. Medical therapy refractory salt-sensitive hypertension: Liddle's syndrome. Journal of clinical and translational endocrinology. 2019; 11:1-2.
Published on 12/1/2016
Elhamamsy SM, Al-Qadi MO, Minami T, Neill M. Right in Front of Our Eyes: Evolution of Streptococcal Toxic Shock Syndrome with Ischemic Optic Neuropathy. R I Med J (2013). 2016 Dec 01; 99(12):47-49. PMID: 27903001.
View full list of 11 publications.