Sadie Elisseou MD
Adjunct Instructor, General Internal Medicine
72 E. Concord Street | (617) 358-7492

selisseo@bu.edu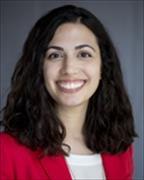 Sections
General Internal Medicine
Biography
Dr. Elisseou is a medical educator and general internist. She received her BA and MD through the eight-year Program in Liberal Medical Education (PLME) at Brown University. She then completed residency and chief residency at the Yale Internal Medicine Primary Care Residency Program. Since that time, Dr. Elisseou has been working as a primary care physician in the VA healthcare system. She recently served as Course Leader for the Doctoring clinical skills course at the Warren Alpert Medical School of Brown University. Dr. Elisseou currently has a full-time clinical practice, teaches at Harvard Medical School and Chobanian and Avedisian School of Medicine, and enjoys research, education, and consulting in the field of trauma-informed care.
Education
Medicine, MD, Brown University School of Medicine, 2010
BA, Brown University, 2006
Publications
Published on 5/19/2023
Ashworth H, Lewis-O'Connor A, Grossman S, Brown T, Elisseou S, Stoklosa H. Trauma-informed care (TIC) best practices for improving patient care in the emergency department. Int J Emerg Med. 2023 May 19; 16(1):38. PMID: 37208640.
Published on 8/30/2022
Elisseou S, Adams E, Adler M. A Trauma-Informed Approach to Peer Physical Examination. MedEdPORTAL. 2022; 18:11273. PMID: 36118916.
Published on 6/13/2022
Elisseou S, Holt SR. Effective Strategies for Planning and Facilitating Morning Report. J Grad Med Educ. 2022 06; 14(3):260-264. PMID: 35754651.
Published on 7/1/2020
Gerber MR, Elisseou S, Sager ZS, Keith JA. Trauma-Informed Telehealth in the COVID-19 Era and Beyond. Fed Pract. 2020 Jul; 37(7):302-308. PMID: 32908333.
Published on 1/25/2019
Elisseou S, Puranam S, Nandi M. A Novel, Trauma-Informed Physical Examination Curriculum for First-Year Medical Students. MedEdPORTAL. 2019 01 25; 15:10799. PMID: 30800999.
Published on 3/24/2018
Elisseou S, Puranam S, Nandi M. A novel, trauma-informed physical examination curriculum. Med Educ. 2018 05; 52(5):555-556. PMID: 29572928.
Published on 9/5/2017
Schrier MW, Rougas SC, Schrier EW, Elisseou S, Warrie S. Intimate Partner Violence Screening and Counseling: An Introductory Session for Health Care Professionals. MedEdPORTAL. 2017 09 05; 13:10622. PMID: 30800823.
View full list of 7 publications.