S. Reza Jafarzadeh DVM, MPVM, PhD
Assistant Professor, Rheumatology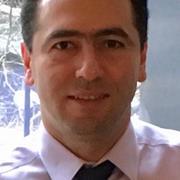 Centers
Arthritis & Autoimmune Diseases Research Center
Biography
I am interested in the application of causal inference methods in observational studies, especially in the setting of longitudinal data, where time-varying exposures, time-dependent confounding, and selection bias are often present. In particular, I am interested in the application of the variety of modern analytical techniques for estimating causal effects as well as the concepts such as direct and indirect effect decomposition (causal mediation analysis), causal interactions and sufficient causes, and causal interference and spill-over effects. These analytical techniques can be applied to broad areas of health sciences research, but I am particularly interested in the application of causal inference for comparative effectiveness research and implementation science. The methods are very useful for the development and assessment of strategies to improve population health using non-experimental data.

I am also interested in the application of Bayesian methods for evaluation of diagnostic tests and prevalence estimation in the absence of a perfect reference standard. These methods have broad applications in diagnosis and screening, and can be used to estimate true prevalence using imperfect tests.
Education
DVM, University of Tehran
MPVM, University of California, Davis
PhD, University of California, Davis
Publications
Published on 10/17/2023
Bosch NA, Myers LC, Jafarzadeh SR, Wunsch H, Stevens JP, Liu VX, Walkey AJ. Temporal Trends in Use of Opioids for Patients with Acute Respiratory Failure following "Analgesia-First" Sedation Guidelines. Ann Am Thorac Soc. 2023 Oct 17. PMID: 37847821.
Published on 10/15/2023
Liew JW, Jarraya M, Guermazi A, Lynch J, Wang N, Rabasa G, Jafarzadeh SR, Nevitt M, Torner J, Lewis CE, Felson DT, Neogi T. Relation of Intra-Articular Mineralization to Knee Pain in Knee Osteoarthritis: A Longitudinal Analysis in the MOST Study. Arthritis Rheumatol. 2023 Dec; 75(12):2161-2168. PMID: 37410792.
Published on 9/26/2023
Aoyagi K, Jafarzadeh SR, Carlesso L, Frey Law L, Lewis CE, Nevitt M, Neogi T. Mediating Effect of Pain Sensitization on the Paradoxical Relation of Opioid Use to Pain Severity in Knee Osteoarthritis: The MOST Study. Arthritis Care Res (Hoboken). 2023 Sep 26. PMID: 37750238.
Published on 5/1/2023
Bosch NA, Teja B, Law AC, Pang B, Jafarzadeh SR, Walkey AJ. Comparative Effectiveness of Fludrocortisone and Hydrocortisone vs Hydrocortisone Alone Among Patients With Septic Shock. JAMA Intern Med. 2023 May 01; 183(5):451-459. PMID: 36972033.
Published on 3/31/2023
Corrigan P, Neogi T, Frey-Law L, Jafarzadeh SR, Segal N, Nevitt MC, Lewis CE, Stefanik JJ. Relation of pain sensitization to self-reported and performance-based measures of physical functioning: the Multicenter Osteoarthritis (MOST) study. Osteoarthritis Cartilage. 2023 Jul; 31(7):966-975. PMID: 37003421.
Published on 3/3/2023
Costello KE, Felson DT, Jafarzadeh SR, Guermazi A, Roemer FW, Segal NA, Lewis CE, Nevitt MC, Lewis CL, Kolachalama VB, Kumar D. Gait, physical activity and tibiofemoral cartilage damage: a longitudinal machine learning analysis in the Multicenter Osteoarthritis Study. Br J Sports Med. 2023 Aug; 57(16):1018-1024. PMID: 36868795.
Published on 12/23/2022
Bacon KL, Felson DT, Jafarzadeh SR, Kolachalama VB, Hausdorff JM, Gazit E, Segal NA, Lewis CE, Nevitt MC, Kumar D. Relation of gait measures with mild unilateral knee pain during walking using machine learning. Sci Rep. 2022 Dec 23; 12(1):22200. PMID: 36564397.
Published on 10/15/2022
Riddle DL, Reza Jafarzadeh S. Effects of psychological distress on the general health to self-reported pain and function outcome relationship in knee arthroplasty: A causal mediation study. Osteoarthr Cartil Open. 2022 Dec; 4(4):100315. PMID: 36474788.
Published on 9/28/2022
Rose MJ, LaValley MP, Jafarzadeh SR, Costello KE, Shah N, Lee S, Borrelli B, Messier SP, Neogi T, Kumar D. Impact of COVID-19 Pandemic on Physical Activity, Pain, Mood, and Sleep in Adults with Knee Osteoarthritis. J Meas Phys Behav. 2022 Dec; 5(4):294-298. PMID: 36779003.
Published on 9/2/2022
Jafarzadeh SR, Neogi T. Causal inference from observational data and target trial emulation. Osteoarthritis Cartilage. 2022 Nov; 30(11):1415-1417. PMID: 36063988.
View full list of 56 publications.