S. Reza Jafarzadeh DVM, MPVM, PhD
Assistant Professor, Rheumatology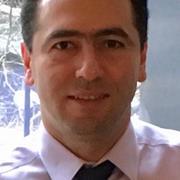 Centers
Arthritis & Autoimmune Diseases Research Center
Biography
I am interested in the application of causal inference methods in observational studies, especially in the setting of longitudinal data, where time-varying exposures, time-dependent confounding, and selection bias are often present. In particular, I am interested in the application of the variety of modern analytical techniques for estimating causal effects as well as the concepts such as direct and indirect effect decomposition (causal mediation analysis), causal interactions and sufficient causes, and causal interference and spill-over effects. These analytical techniques can be applied to broad areas of health sciences research, but I am particularly interested in the application of causal inference for comparative effectiveness research and implementation science. The methods are very useful for the development and assessment of strategies to improve population health using non-experimental data.

I am also interested in the application of Bayesian methods for evaluation of diagnostic tests and prevalence estimation in the absence of a perfect reference standard. These methods have broad applications in diagnosis and screening, and can be used to estimate true prevalence using imperfect tests.
Websites
Education
DVM, University of Tehran
MPVM, University of California, Davis
PhD, University of California, Davis
Publications
Published on 7/5/2021
Kumar D, Link TM, Jafarzadeh SR, LaValley MP, Majumdar S, Souza RB. Association of Quadriceps Adiposity With an Increase in Knee Cartilage, Meniscus, or Bone Marrow Lesions Over Three Years. Arthritis Care Res (Hoboken). 2021 08; 73(8):1134-1139. PMID: 32339414.
Published on 4/24/2021
Felson D, Rabasa G, Jafarzadeh SR, Nevitt M, Lewis CE, Segal N, White DK. Factors associated with pain resolution in those with knee pain: the MOST study. Osteoarthritis Cartilage. 2021 Apr 24. PMID: 33901642.
Published on 4/6/2021
McGrew KM, Garwe T, Jafarzadeh SR, Drevets DA, Zhao YD, Williams MB, Carabin H. Misclassification Error-Adjusted Prevalence of Injection Drug Use Among Infective Endocarditis Hospitalizations in the United States: A Serial Cross-Sectional Analysis of the 2007-2016 National Inpatient Sample. Am J Epidemiol. 2021 04 06; 190(4):588-599. PMID: 32997130.
Published on 3/25/2021
Macri EM, Neogi T, Jarraya M, Guermazi A, Roemer F, Lewis CE, Torner JC, Lynch JA, Tolstykh I, Jafarzadeh SR, Stefanik JJ. Can MRI-defined osteoarthritis features explain anterior knee pain in individuals with, or at risk for, knee osteoarthritis? The MOST Study. Arthritis Care Res (Hoboken). 2021 Mar 25. PMID: 33768706.
Published on 3/20/2021
Fawole HO, Felson DT, Frey-Law LA, Jafarzadeh SR, Dell'Isola A, Steultjens MP, Nevitt MC, Lewis CE, Riskowski JL, Chastin S. Is the association between physical activity and fatigue mediated by physical function or depressive symptoms in symptomatic knee osteoarthritis? The Multicenter Osteoarthritis Study. Scand J Rheumatol. 2021 Sep; 50(5):372-380. PMID: 33749506.
Published on 2/24/2021
Sinha P, Jafarzadeh SR, Assoumou SA, Bielick CG, Carpenter B, Garg S, Harleen S, Neogi T, Nishio MJ, Sagar M, Sharp V, Kissin EY. The Effect of IL-6 Inhibitors on Mortality Among Hospitalized COVID-19 Patients: A Multicenter Study. J Infect Dis. 2021 02 24; 223(4):581-588. PMID: 33216906.
Published on 2/8/2021
Ghaemmaghami P, Ayatollahi SMT, Bagheri Z, Jafarzadeh SR. Covariate-adjusted Bayesian estimation of the performance of a continuous diagnostic test with a limit of detection in the absence of a reference standard: a simulation study. Communications in Statistics - Simulation and Computation. 2021.
Published on 10/7/2020
Bacon K, LaValley MP, Jafarzadeh SR, Felson D. Response to: 'Relation between cartilage loss and pain in knee osteoarthritis' by Wu et al and 'Changes in synovitis and bone marrow lesions may not mediate the effect of cartilage loss on joint pain in osteoarthritis' by Cashin et al. Ann Rheum Dis. 2020 Oct 07. PMID: 33028581.
Published on 10/1/2020
Law ST, Jafarzadeh SR, Govender P, Sun X, Sanchorawala V, Kissin EY. Comparison of Ultrasound Features of Major Salivary Glands in Sarcoidosis, Amyloidosis, and Sjögren's Syndrome. Arthritis Care Res (Hoboken). 2020 10; 72(10):1466-1473. PMID: 31309727.
Published on 7/9/2020
Grammatico-Guillon L, Jafarzadeh SR, Laurent E, Shea K, Pasco J, Astagneau P, Adams W, Pelton S. Gradual decline in outpatient antibiotic prescriptions in paediatrics: A data warehouse-based 11-year cohort study. Acta Paediatr. 2021 02; 110(2):611-617. PMID: 32573837.
View full list of 41 publications.