Ryan Zitnay Chippendale MD
Assistant Professor, Geriatrics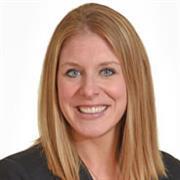 Biography
A graduate of the Loyola University Chicago Stritch School of Medicine, Dr. Chippendale completed her Internal Medicine residency, Chief Medical Residency and 2-year Geriatric Medicine clinician-educator track fellowship at Boston Medical Center (BMC). She serves as an Assistant Professor of Medicine at Chobanian and Avedisian School of Medicine and is the Geriatric Medicine Fellowship Program Director and Geriatric Oncology Fellowship Program Co-director at BMC. She has been heavily involved in Undergraduate Medical Education as a former Clerkship Director for the Advanced Internal Medicine Clerkship from 2014-19 and Course Director and creator of the Internal Medicine Bootcamp Elective at Boston University Chobanian and Avedisian School of Medicine.

An attending physician in the Section of Geriatrics at BMC, she provides care to vulnerable older adult patients in home, geriatrics assessment clinic and geriatrics inpatient service settings. She also serves as Core Faculty for the Primary Care Training Program and the Geriatrics Subspecialty Education Coordinator for the Internal Medicine Residency Program at BMC.

Her educational research focuses on studying the impact of the national geriatrics fellowship virtual learning platform, GERIAtrics Fellows Learning Online and Together (Geri-a-FLOAT), for which she is the co-founder and co-director. This innovative educational initiative was created out of the educational need for virtual learning during the early stages of the COVID-19 pandemic and has been sustained and proven efficacious and impactful for geriatrics fellows and faculty internationally, reaching 240 institutions and 17 countries. She also has a passion for creating and evaluating educational interventions around the structural and social determinants of health (SSDOH) in older adults, including building a national geriatrics fellowship health equities curriculum on the Geri-a-FLOAT platform.

She has received multiple Excellence in Teaching awards from BMC's Internal Medicine Residency Program and was awarded the Junior Faculty Mentorship Award by the Department of Medicine in recognition of her dedication to mentoring students, residents and faculty peers. She was also recently awarded with the BMC Graduate Medical Education Program Leadership Award. She has been inducted into both the Gold Humanism Society and Boston University chapter of Alpha Omega Alpha at Boston University Chobanian & Avedisian School of Medicine.
Education
MD, Loyola University Stritch School of Medicine, 2007
Biology, BS, Villanova University, 2003
Publications
Published on 3/10/2022
Robertson ML, Mushero N, Demers L, Goroncy A, Chippendale R. Inequities in the care of older adults: Identifying education gaps in geriatric medicine fellowship. Gerontol Geriatr Educ. 2023; 44(2):254-260. PMID: 35272580.
Published on 3/2/2022
Mushero N, Demers LB, Chippendale R. An Interactive Workshop on Managing Dysphagia in Older Adults With Dementia. MedEdPORTAL. 2022; 18:11223. PMID: 35309254.
Published on 3/19/2021
Chippendale RZ. Homecoming. J Am Geriatr Soc. 2021 05; 69(5):1166. PMID: 33740252.
Published on 8/17/2020
Duggan MC, Goroncy A, Christmas C, Chippendale R. Staying Afloat in the COVID-19 Storm: GERIAtrics Fellows Learning Online And Together (GERI-A-FLOAT). J Am Geriatr Soc. 2020 10; 68(10):E54-E56. PMID: 32674219.
Published on 4/16/2020
Heidemann LA, Kempner S, Walford E, Chippendale R, Fitzgerald JT, Morgan HK. Internal medicine paging curriculum to improve physician-nurse interprofessional communication: a single center pilot study. J Interprof Care. 2020 Apr 16; 1-4. PMID: 32297818.
Published on 1/1/2020
Nee J, Chippendale RZ, Feuerstein JD. Screening for Colon Cancer in Older Adults: Risks, Benefits, and When to Stop. Mayo Clin Proc. 2020 01; 95(1):184-196. PMID: 31902414.
Published on 4/19/2017
Kaufman LB, Soto A, Gascon L, Quintiliani L, Weinberg J, Joshi P, Chippendale R. Oral Health for Older Adults: An Interprofessional Workshop for Medical Students. MedEdPORTAL. 2017 Apr 19; 13:10572. PMID: 30800774.
Published on 12/1/2014
Shalaby M, Yaich S, Donnelly J, Chippendale R, DeOliveira MC, Noronha C. X + Y Scheduling Models for Internal Medicine Residency Programs-A Look Back and a Look Forward. J Grad Med Educ. 2014 Dec; 6(4):639-42. PMID: 26140111.
View full list of 8 publications.