Ricardo Cruz MD
Assistant Professor, General Internal Medicine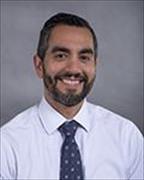 Sections
General Internal Medicine
Centers
Clinical Addiction Research and Education Unit
Biography
Ricardo Cruz, MD is an Instructor of Medicine in the department of General Internal Medicine at the Boston University School of Medicine. He completed his residency and internship at BUSM as well as earning his MPH, MA, and MD at the university. In addition to his teaching, Dr. Cruz provides career and scholarship advising to medical students at Boston Medical Center.
Education
Medicine-Internal, MD, Boston University School of Medicine, 2011
Medical Science, MA, Boston University School of Medicine, 2007
Epidemiology, MPH, Boston University School of Public Health, 2003
Physiology, BS, University of California, Los Angeles, 2001
Publications
Published on 8/17/2021
Larochelle MR, Cruz R, Kosakowski S, Gourlay DL, Alford DP, Xuan Z, Krebs EE, Yan S, Lasser KE, Samet JH, Liebschutz JM. Do Urine Drug Tests Reveal Substance Misuse Among Patients Prescribed Opioids for Chronic Pain? J Gen Intern Med. 2021 Aug 17. PMID: 34405344.
Published on 6/22/2021
Taylor JL, Johnson S, Cruz R, Gray JR, Schiff D, Bagley SM. Integrating Harm Reduction into Outpatient Opioid Use Disorder Treatment Settings : Harm Reduction in Outpatient Addiction Treatment. J Gen Intern Med. 2021 Jun 22. PMID: 34159545.
Published on 12/9/2018
Falk DE, Ryan ML, Fertig JB, Devine EG, Cruz R, Brown ES, Burns H, Salloum IM, Newport DJ, Mendelson J, Galloway G, Kampman K, Brooks C, Green AI, Brunette MF, Rosenthal RN, Dunn KE, Strain EC, Ray L, Shoptaw S, Ait-Daoud Tiouririne N, Gunderson EW, Ransom J, Scott C, Leggio L, Caras S, Mason BJ, Litten RZ. Gabapentin Enacarbil Extended-Release for Alcohol Use Disorder: A Randomized, Double-Blind, Placebo-Controlled, Multisite Trial Assessing Efficacy and Safety. Alcohol Clin Exp Res. 2019 01; 43(1):158-169. PMID: 30403402.
Published on 9/4/2018
Bickmore TW, Trinh H, Olafsson S, O'Leary TK, Asadi R, Rickles NM, Cruz R. Patient and Consumer Safety Risks When Using Conversational Assistants for Medical Information: An Observational Study of Siri, Alexa, and Google Assistant. J Med Internet Res. 2018 09 04; 20(9):e11510. PMID: 30181110.
View full list of 4 publications.