Ricardo Cruz MD
Assistant Professor, General Internal Medicine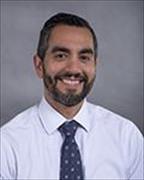 Sections
General Internal Medicine
Centers
Clinical Addiction Research and Education Unit
Biography
Ricardo Cruz, MD, MPH, MA, is an Assistant Professor of Medicine at the Chobanian and Avedisian School of Medicine and Boston Medical Center. He is primary care physician at Boston Medical Center in the Department of Medicine, Section of General Internal Medicine. He is a graduate of Chobanian and Avedisian School of Medicine (BUSM) and the Boston University School of Public Health earning his MPH in Epidemiology and Biostatistics. He completed his clinical training at BUSM/Boston Medical Center (BMC) Internal Medicine Residency Primary Care Training Program. Dr. Cruz joined BUSM faculty in 2014 and his clinical work focuses on care primary care and treatment of substance use disorders and viral hepatitis for vulnerable populations including racial and ethnic minority communities and individuals with history of criminal justice involvement. He is also a physician in the Faster Paths to Treatment, Boston Medical Center's innovative, low-barrier substance use disorder bridge clinic.

His research interests include clinical innovations to address health and treatment disparities among people with substance use disorder. He was the Principal Investigator of the Department of Health and Human Services Office of Minority Health funded Project RECOVER (Referral, Engagement, Coaching, Overdose preVention Education in Recovery), a project that utilizes peer recovery coaches to assist with engagement and retention of individuals with opioid use disorder into treatment and primary care services after completion of acute treatment services (detoxification). He has been a co-investigator on NIAAA and NIDA-funded randomized clinical trials testing medications for alcohol and cocaine use disorders.

In addition, he is a Clinician Educator and is Core Faculty of the Internal Medicine Primary Care Training Program at BUSM/BMC. He is in the BUSM Academy of Medical Educators where he teaches medical students during the pre-clinical doctoring courses with a focus on development of communication, physical exam, and clinical reasoning skills.
Education
Medicine-Internal, MD, Boston University School of Medicine, 2011
Medical Science, MA, Boston University School of Medicine, 2007
Epidemiology, MPH, Boston University School of Public Health, 2003
Physiology, BS, University of California, Los Angeles, 2001
Publications
Published on 4/5/2023
Martin AK, Perryman T, Bernstein JA, Taylor JL, Cruz R, Muroff J, Samet JH, Assoumou SA. Peer recovery coaching for comprehensive HIV, hepatitis C, and opioid use disorder management: The CHORUS pilot study. Drug Alcohol Depend Rep. 2023 Jun; 7:100156. PMID: 37113387.
Published on 8/17/2021
Larochelle MR, Cruz R, Kosakowski S, Gourlay DL, Alford DP, Xuan Z, Krebs EE, Yan S, Lasser KE, Samet JH, Liebschutz JM. Do Urine Drug Tests Reveal Substance Misuse Among Patients Prescribed Opioids for Chronic Pain? J Gen Intern Med. 2022 Aug; 37(10):2365-2372. PMID: 34405344.
Published on 6/22/2021
Taylor JL, Johnson S, Cruz R, Gray JR, Schiff D, Bagley SM. Integrating Harm Reduction into Outpatient Opioid Use Disorder Treatment Settings : Harm Reduction in Outpatient Addiction Treatment. J Gen Intern Med. 2021 12; 36(12):3810-3819. PMID: 34159545.
Published on 12/9/2018
Falk DE, Ryan ML, Fertig JB, Devine EG, Cruz R, Brown ES, Burns H, Salloum IM, Newport DJ, Mendelson J, Galloway G, Kampman K, Brooks C, Green AI, Brunette MF, Rosenthal RN, Dunn KE, Strain EC, Ray L, Shoptaw S, Ait-Daoud Tiouririne N, Gunderson EW, Ransom J, Scott C, Leggio L, Caras S, Mason BJ, Litten RZ. Gabapentin Enacarbil Extended-Release for Alcohol Use Disorder: A Randomized, Double-Blind, Placebo-Controlled, Multisite Trial Assessing Efficacy and Safety. Alcohol Clin Exp Res. 2019 01; 43(1):158-169. PMID: 30403402.
Published on 9/4/2018
Bickmore TW, Trinh H, Olafsson S, O'Leary TK, Asadi R, Rickles NM, Cruz R. Patient and Consumer Safety Risks When Using Conversational Assistants for Medical Information: An Observational Study of Siri, Alexa, and Google Assistant. J Med Internet Res. 2018 09 04; 20(9):e11510. PMID: 30181110.
View full list of 5 publications.