Rebecca Miksad MD
Associate Professor, Hematology & Oncology
820 Harrison Ave | (617) 638-7011

ramiksad@bu.edu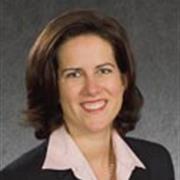 Biography
Rebecca Miksad is a medical oncologist and health outcomes researcher who serves as senior medical director at Flatiron Health. In this role, Rebecca focuses on generating real-world evidence, establishing regulatory-grade quality standards and contributing to the development of clinically-relevant methods to real-world data evaluation and analyses.

Rebecca maintains a clinical practice at Boston Medical Center. A nationally recognized clinician and researcher, Rebecca regularly publishes in leading medical journals, serves on national committees and lectures internationally.

Prior to joining Flatiron Health, Rebecca was an assistant professor at Harvard Medical School, senior scientist at the Institute for Technology Assessment at Massachusetts General Hospital, and director of gastrointestinal oncology and gastrointestinal oncology clinical trials at Beth Israel Deaconess Medical Center (BIDMC). Rebecca's academic research focused on improving cancer treatment decision-making through better characterization of patient outcomes and increasing relevance of clinical trial endpoints. Rebecca earned a BA cum laude in economics from Harvard University and an MD with honors in research from Cornell University. She was a resident in internal medicine at Cornell University/New York-Presbyterian Hospital, and completed hematology and medical oncology fellowships at Harvard Medical School/BIDMC. Rebecca earned a MMS from Harvard Medical School and an MPH in Clinical Effectiveness from the Harvard School of Public Health in clinical effectiveness (with an emphasis on decision science). She also completed a post-doctoral fellowship in the Dana-Farber/Harvard Cancer Center Program in Cancer Outcomes Research Training (PCORT).
Websites
Education
Medicine, MD, Cornell University, 2001
MMS/MMSc, Harvard University, 2011
MPH, Harvard School of Public Health, 2008
Economics, BA, Harvard University, 1996
Publications
Published on 3/21/2023
Abou-Alfa GK, Wang X, Parrinello CM, Gossai A, Kim R, Magee K, Miksad RA. Association between posttreatment a-fetoprotein reduction and outcomes in real-world US patients with advanced hepatocellular carcinoma. Cancer. 2023 Mar 21. PMID: 36942492.
Published on 3/13/2023
Liu Q, Mathur R, Xu Y, Torres AZ, Miksad RA, Liu C, Smithson H, Wang Y, Zhu H, Booth B, Huang SM, Zhi J, Sridhara R, Blumenthal GM, Larkins E, Mishra-Kalyani PS, Rivera DR, Kluetz PG, Sharon E. The Association Between Baseline Hepatic or Renal Function and Clinical Outcomes for Patients With Non-Small Cell Lung Cancer Treated With a PD-1/PD-L1 Blocking Antibody Using Real-World and Trial Data. Clin Pharmacol Ther. 2023 May; 113(5):1139-1149. PMID: 36790088.
Published on 12/1/2022
Canavan ME, Wang X, Ascha MS, Miksad RA, Calip GS, Gross CP, Adelson KB. Systemic Anticancer Therapy at the End of Life-Changes in Usage Pattern in the Immunotherapy Era. JAMA Oncol. 2022 Dec 01; 8(12):1847-1849. PMID: 36264566.
Published on 11/1/2022
Jaber Chehayeb R, Hood A, Wang X, Miksad R, Schellhorn Mougalian S, Lustberg MB, Wang SY, Greenup RA, Pusztai L, Kunst N. Treatment Sequencing Patterns and Associated Direct Medical Costs of Metastatic Breast Cancer Care in the United States, 2011 to 2021. JAMA Netw Open. 2022 Nov 01; 5(11):e2244204. PMID: 36445704.
Published on 10/4/2022
Calip GS, Cohen A, Rohrer R, Wang X, Wang X, Webster A, Wu A, Griffith SD, Showalter TN, Miksad RA. Telemedicine use among patients with metastatic breast cancer during the COVID-19 pandemic: Differences by race, age, and region. Pharmacoepidemiol Drug Saf. 2023 Jan; 32(1):66-72. PMID: 36111444.
Published on 8/16/2022
Coombs L, Orlando A, Wang X, Shaw P, Rich AS, Lakhtakia S, Titchener K, Adamson B, Miksad RA, Mooney K. A machine learning framework supporting prospective clinical decisions applied to risk prediction in oncology. NPJ Digit Med. 2022 Aug 16; 5(1):117. PMID: 35974092.
Published on 4/17/2022
Torres AZ, Nussbaum NC, Parrinello CM, Bourla AB, Bowser BE, Wagner S, Tabano DC, George D, Miksad RA. Analysis of a Real-World Progression Variable and Related Endpoints for Patients with Five Different Cancer Types. Adv Ther. 2022 Jun; 39(6):2831-2849. PMID: 35430670.
Published on 4/11/2022
Parikh RB, Takvorian SU, Vader D, Paul Wileyto E, Clark AS, Lee DJ, Goyal G, Rocque GB, Dotan E, Geynisman DM, Phull P, Spiess PE, Kim RY, Davidoff AJ, Gross CP, Neparidze N, Miksad RA, Calip GS, Hearn CM, Ferrell W, Shulman LN, Mamtani R, Hubbard RA. Impact of the COVID-19 Pandemic on Treatment Patterns for Patients With Metastatic Solid Cancer in the United States. J Natl Cancer Inst. 2022 Apr 11; 114(4):571-578. PMID: 34893865.
Published on 12/7/2021
Calip GS, Wadé NB, Guadamuz JS, Wang X, Miksad RA, Whitaker KD. Disparities in cardiovascular disease mortality after breast cancer treatment: Methodological considerations using real-world data. Cancer. 2022 02 15; 128(4):647-650. PMID: 34873685.
Published on 10/7/2021
Kelley RK, Miksad R, Cicin I, Chen Y, Klümpen HJ, Kim S, Lin ZZ, Youkstetter J, Hazra S, Sen S, Cheng AL, El-Khoueiry AB, Meyer T, Abou-Alfa GK. Efficacy and safety of cabozantinib for patients with advanced hepatocellular carcinoma based on albumin-bilirubin grade. Br J Cancer. 2022 03; 126(4):569-575. PMID: 34621044.
View full list of 88 publications.