Ravi Rasalingam MBChB
Adjunct Assistant Professor, Cardiovascular Medicine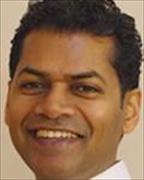 Sections
Cardiovascular Medicine
Biography
Dr. Ravi Rasalingam is a Clinical Instructor at Harvard Medical School and a staff cardiologist at VA Boston Healthcare. He received his Bachelor of Human Biology and Bachelor of Medicine and Surgery degrees from the University of Auckland, New Zealand. He completed Internal Medicine residency at the University of Rochester, New York and Cardiology Fellowship at Thomas Jefferson University, Pennsylvania. Dr. Rasalingam is a clinical educator and has been recognized for excellence by physicians training in echocardiography. While on faculty at Washington University in St. Louis, he was the inaugural editor of The Washington Manual of Echocardiography. His clinical expertise is in echocardiography, advanced cardiac imaging and valvular heart disease. His research interests are broad and primarily focus on novel application of echocardiographic techniques in early detection of coronary artery disease as well as assessment of patients with mechanical devices to support the heart when it fails. He has received a strategic alliance research grant to foster collaboration between groups of investigators across difference disciplines, departments and schools.
Education
Medicine, MBChB, Univ of Auckland, 1996
Publications
Published on 2/1/2021
Rasalingam R, Parker R, Kurgansky KE, Djousse L, Gagnon D, Joseph J. Worsening Renal Function during Index Hospitalization Does Not Predict Prognosis in Heart Failure with Preserved Ejection Fraction Patients. Cardiology. 2021; 146(2):179-186. PMID: 33524973.
Published on 3/1/2020
Rasalingam R, Novak E, Rifkin RD. Improved differential diagnosis of intracardiac and extracardiac shunts using acoustic intensity mapping of saline contrast studies. Eur Heart J Cardiovasc Imaging. 2020 03 01; 21(3):307-317. PMID: 31324917.
Published on 1/7/2020
Bloom JP, Shapeton AD, Rasalingam R, Zenati MA. Postoperative Echocardiographic Appearance of the Mitral Valve After Nonresectional Leaflet Remodeling Repair Mimicking Thrombus. Circ Cardiovasc Imaging. 2020 01; 13(1):e009853. PMID: 31906701.
Published on 3/4/2019
Carneiro H, Rasalingam R. Response: Fundamental role of echocardiographic evaluation in the diagnosis of prosthetic valve endocarditis. Echocardiography. 2019 04; 36(4):817. PMID: 30834557.
Published on 2/26/2019
Rasalingam R, Boden WE. Role of Ranolazine in Reducing Angina, Subsequent Revascularization, and Healthcare Expenditures in Stable Ischemic Heart Disease. Am J Cardiol. 2019 05 15; 123(10):1729-1731. PMID: 30922541.
Published on 2/15/2019
McGregor PC, Manning P, Raj V, Pipilas A, Zhang Y, Rasalingam R, Aragam J. Does Presence of Discrete Subaortic Stenosis Alter Diagnosis and Management of Concomitant Valvular Aortic Stenosis? CASE (Phila). 2019 Apr; 3(2):77-84. PMID: 31049485.
Published on 12/28/2018
Carneiro H, Rasalingam R. Fungal prosthetic aortic valve endocarditis and endarteritis: An unusual cause of aortic root vegetations. Echocardiography. 2019 02; 36(2):401-405. PMID: 30592783.
Published on 11/22/2015
Rasalingam R, Holland MR, Cooper DH, Novak E, Rich MW, Miller JG, Pérez JE. Patients with Diabetes and Significant Epicardial Coronary Artery Disease Have Increased Systolic Left Ventricular Apical Rotation and Rotation Rate at Rest. Echocardiography. 2016 Apr; 33(4):537-45. PMID: 26593856.
Published on 10/23/2015
Rasalingam R, Saeed IM, Woodard PK, Pérez JE. Left Ventricular Thrombus in the Setting of Normal Left Ventricular Function in Patients with Crohn's Disease. Echocardiography. 2016 Jan; 33(1):145-9. PMID: 26494118.
Published on 6/1/2014
Martinez SC, Bradley EA, Novak EL, Rasalingam R, Cedars AM, Ewald GA, Silvestry SC, Joseph SM. Slope of the anterior mitral valve leaflet: a new measurement of left ventricular unloading for left ventricular assist devices and systolic dysfunction. Tex Heart Inst J. 2014 Jun; 41(3):262-72. PMID: 24955040.
View full list of 13 publications.