Pranay Sinha MD
Assistant Professor, Infectious Diseases
801 Massachusetts Ave | (617) 638-7578

psinha@bu.edu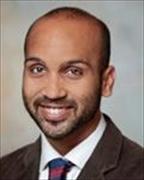 Sections
Infectious Diseases
Biography
Pranay Sinha was born and raised in India before coming to the USA for college. Pranay attended the University of Virginia School of Medicine and finished residency training at Yale-New Haven Hospital where he received a distinction in Global Health and Equity. He has been involved in TB research since 2014 and his primary interest is in the relationship between undernutrition and TB. Through epidemiological studies & health economic modeling, he hopes find ways to use nutritional policy to end TB. Pranay has field experience in India and South Africa. Clinically, he works as an Infectious Diseases physician at Boston Medical Center and treats both active and latent TB in BMC's TB clinic. He lives in Hingham with his wife and his two dogs (Doxy and Shih-Tzu-Samiasis).
Education
MD, University of Virginia School of Medicine, 2014
Biology, BS, Adelphi University, 2009
Publications
Published on 9/10/2022
Sinha P, Lakshminarayanan SL, Cintron C, Narasimhan PB, Locks LM, Kulatilaka N, Maloomian K, Prakash Babu S, Carwile ME, Liu AF, Horsburgh CR, Acuna-Villaorduna C, Linas BP, Hochberg NS. Nutritional Supplementation Would Be Cost-Effective for Reducing Tuberculosis Incidence and Mortality in India: The Ration Optimization to Impede Tuberculosis (ROTI-TB) Model. Clin Infect Dis. 2022 Sep 10; 75(4):577-585. PMID: 34910141.
Published on 6/11/2022
Barathi A, Krishnamoorthy Y, Sinha P, Horsburgh C, Hochberg N, Johnson E, Salgame P, Govindarajan S, Senbagavalli PB, Lakshinarayanan S, Roy G, Ellner J, Sarkar S. Effect of treatment adherence on the association between sex and unfavourable treatment outcomes among tuberculosis patients in Puducherry, India: a mediation analysis. J Public Health (Oxf). 2022 Jun 11. PMID: 35692180.
Published on 3/17/2022
Carwile ME, Hochberg NS, Sinha P. Undernutrition is feeding the tuberculosis pandemic: A perspective. J Clin Tuberc Other Mycobact Dis. 2022 May; 27:100311. PMID: 35313724.
Published on 3/7/2022
Sinha P, Barocas JA. Cost-effectiveness of aducanumab to prevent Alzheimer's disease progression at current list price. Alzheimers Dement (N Y). 2022; 8(1):e12256. PMID: 35282659.
Published on 2/11/2022
Goshua G, Sinha P, Kunst N, Pischel L, Lee AI, Cuker A. Cost-effectiveness of second-line therapies in adults with chronic immune thrombocytopenia. Am J Hematol. 2022 Feb 11. PMID: 35147241.
Published on 12/6/2021
Sinha P, Linas BP. Combination Therapy With Tocilizumab and Dexamethasone Cost-Effectively Reduces Coronavirus Disease 2019 Mortality. Clin Infect Dis. 2021 12 06; 73(11):2116-2118. PMID: 33956936.
Published on 10/12/2021
Cintron C, Narasimhan PB, Locks L, Babu S, Sinha P, Rajkumari N, Kaipilyawar V, Bhargava A, Maloomian K, Chandrasekaran P, Verma S, Joseph N, Johnson WE, Wanke C, Horsburgh CR, Ellner JJ, Sarkar S, Salgame P, Lakshminarayanan S, Hochberg NS. Tuberculosis-Learning the Impact of Nutrition (TB LION): protocol for an interventional study to decrease TB risk in household contacts. BMC Infect Dis. 2021 Oct 12; 21(1):1058. PMID: 34641820.
Published on 3/23/2021
Sinha P, Lönnroth K, Bhargava A, Heysell SK, Sarkar S, Salgame P, Rudgard W, Boccia D, Van Aartsen D, Hochberg NS. Food for thought: addressing undernutrition to end tuberculosis. Lancet Infect Dis. 2021 10; 21(10):e318-e325. PMID: 33770535.
Published on 3/20/2021
Sinha P, Reifler K, Rossi M, Sagar M. Coronavirus Disease 2019 Mitigation Strategies Were Associated With Decreases in Other Respiratory Virus Infections. Open Forum Infect Dis. 2021 Jun; 8(6):ofab105. PMID: 34514014.
Published on 2/24/2021
Sinha P, Jafarzadeh SR, Assoumou SA, Bielick CG, Carpenter B, Garg S, Harleen S, Neogi T, Nishio MJ, Sagar M, Sharp V, Kissin EY. The Effect of IL-6 Inhibitors on Mortality Among Hospitalized COVID-19 Patients: A Multicenter Study. J Infect Dis. 2021 02 24; 223(4):581-588. PMID: 33216906.
View full list of 26 publications.