Philip E. Knapp MD
Assistant Professor, Endocrinology, Diabetes, Nutrition & Weight Management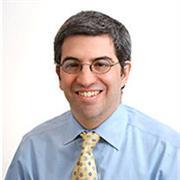 Sections
Endocrinology, Diabetes, Nutrition & Weight Management
Centers
Evans Center for Interdisciplinary Biomedical Research
Education
MD, University of Massachusetts Medical School, 1995
BA, Brown University, 1987
Publications
Published on 4/1/2023
Woods AP, Feeney T, Papageorge MV, de Geus SWL, Tseng JF, Knapp PE, McAneny D, Drake FT. Addressing diagnostic inertia following incidental adrenal mass discovery in patients with hypertension. J Hypertens. 2023 Apr 01; 41(4):680-682. PMID: 36878474.
Published on 1/5/2023
Annesi CA, Talutis SD, Goldman AL, Childs E, Knapp PE, McAneny D, Drake FT. Point-of-care access to clinical guidelines may improve management of incidental findings in the primary care setting. J Eval Clin Pract. 2023 Jun; 29(4):632-638. PMID: 36602429.
Published on 1/11/2022
Hadrava Vanova K, Pang Y, Krobova L, Kraus M, Nahacka Z, Boukalova S, Pack SD, Zobalova R, Zhu J, Huynh TT, Jochmanova I, Uher O, Hubackova S, Dvorakova S, Garrett TJ, Ghayee HK, Wu X, Schuster B, Knapp PE, Frysak Z, Hartmann I, Nilubol N, Cerny J, Taieb D, Rohlena J, Neuzil J, Yang C, Pacak K. Germline SUCLG2 Variants in Patients With Pheochromocytoma and Paraganglioma. J Natl Cancer Inst. 2022 01 11; 114(1):130-138. PMID: 34415331.
Published on 9/8/2021
Feeney T, Madiedo A, Knapp PE, Gupta A, McAneny D, Drake FT. Incidental Adrenal Masses: Adherence to Guidelines and Methods to Improve Initial Follow-Up: A Systematic Review. J Surg Res. 2022 01; 269:18-27. PMID: 34508918.
Published on 3/25/2021
Talutis SD, Childs E, Goldman AL, Knapp PE, Gupta A, Ferrao C, Feeney T, McAneny D, Drake FT. Strategies to optimize management of incidental radiographic findings in the primary care setting: A mixed methods study. Am J Surg. 2022 Feb; 223(2):297-302. PMID: 33810834.
Published on 10/28/2019
Feeney T, Talutis S, Janeway M, Sridhar P, Gupta A, Knapp PE, Moses J, McAneny D, Drake FT. Evaluation of incidental adrenal masses at a tertiary referral and trauma center. Surgery. 2020 05; 167(5):868-875. PMID: 31672517.
Published on 4/1/2018
Bhasin S, Apovian CM, Travison TG, Pencina K, Moore LL, Huang G, Campbell WW, Li Z, Howland AS, Chen R, Knapp PE, Singer MR, Shah M, Secinaro K, Eder RV, Hally K, Schram H, Bearup R, Beleva YM, McCarthy AC, Woodbury E, McKinnon J, Fleck G, Storer TW, Basaria S. Effect of Protein Intake on Lean Body Mass in Functionally Limited Older Men: A Randomized Clinical Trial. JAMA Intern Med. 2018 04 01; 178(4):530-541. PMID: 29532075.
Published on 8/11/2015
Basaria S, Harman SM, Travison TG, Hodis H, Tsitouras P, Budoff M, Pencina KM, Vita J, Dzekov C, Mazer NA, Coviello AD, Knapp PE, Hally K, Pinjic E, Yan M, Storer TW, Bhasin S. Effects of Testosterone Administration for 3 Years on Subclinical Atherosclerosis Progression in Older Men With Low or Low-Normal Testosterone Levels: A Randomized Clinical Trial. JAMA. 2015 Aug 11; 314(6):570-81. PMID: 26262795.
Published on 2/1/2015
Basaria S, Travison TG, Alford D, Knapp PE, Teeter K, Cahalan C, Eder R, Lakshman K, Bachman E, Mensing G, Martel MO, Le D, Stroh H, Bhasin S, Wasan AD, Edwards RR. Effects of testosterone replacement in men with opioid-induced androgen deficiency: a randomized controlled trial. Pain. 2015 Feb; 156(2):280-8. PMID: 25599449.
Published on 6/1/2014
Huang G, Basaria S, Travison TG, Ho MH, Davda M, Mazer NA, Miciek R, Knapp PE, Zhang A, Collins L, Ursino M, Appleman E, Dzekov C, Stroh H, Ouellette M, Rundell T, Baby M, Bhatia NN, Khorram O, Friedman T, Storer TW, Bhasin S. Testosterone dose-response relationships in hysterectomized women with or without oophorectomy: effects on sexual function, body composition, muscle performance and physical function in a randomized trial. Menopause. 2014 Jun; 21(6):612-23. PMID: 24281237.
View full list of 21 publications.