Peter C. Everett MD
Assistant Professor, Hematology & Medical Oncology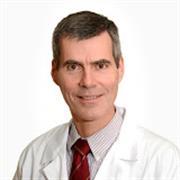 Sections
Hematology & Medical Oncology
Centers
Evans Center for Interdisciplinary Biomedical Research
Biography
Dr. Peter Everett is an Assistant Professor of Medicine at Boston University School of Medicine (BUSM) and a medical oncologist in the Section of Hematology and Medical Oncology at Boston Medical Center (BMC). He received his undergraduate degree from Cornell University and his medical degree from Boston University School of Medicine. Following that, he completed training in Internal Medicine and a fellowship in Hematology and Medical Oncology at Boston Medical Center, where he also served as the Chief Fellow. Dr. Everett specializes in head, neck and thoracic oncology.
Websites
Education
Medicine-Internal, MD, Boston University School of Medicine, 2005
Applied Physics, BS, Cornell University, 1983
Publications
Published on 8/3/2021
Freydman J, Henshaw L, Patel JV, Smith CE, Everett PC. Combination EGFR and RET Inhibition in Acquired Resistance to Osimertinib in EGFR-Mutant NSCLC. Ann Pharmacother. 2021 Aug 03; 10600280211036909. PMID: 34344199.
Published on 10/20/2020
Tapan U, Furtado VF, Qureshi MM, Everett P, Suzuki K, Mak KS. Racial and Other Healthcare Disparities in Patients With Extensive-Stage SCLC. JTO Clin Res Rep. 2021 Jan; 2(1):100109. PMID: 34589974.
Published on 1/9/2019
Shah NK, Qureshi MM, Dyer MA, Patel SA, Kim K, Everett PC, Grillone GA, Jalisi SM, Truong MT. Optimal sequencing of chemoradiotherapy for locally advanced laryngeal cancer. Laryngoscope. 2019 10; 129(10):2313-2320. PMID: 30628077.
Published on 2/8/2018
Kirke DN, Qureshi MM, Kamran SC, Ezzat W, Jalisi S, Salama A, Everett PC, Truong MT. Role of adjuvant chemoradiotherapy in T4N0 stage IV head and neck cancer: A National Cancer Database analysis. Head Neck. 2018 06; 40(6):1174-1184. PMID: 29417687.
Published on 4/25/2012
Tan JN, Kroll MH, O'Hara CJ, Everett PC, Erdogan E. Gamma heavy chain disease in a patient with underlying lymphoplasmacytic lymphoma of the thyroid. Report of a case and comparison with other reported cases with thyroid involvement. Clin Chim Acta. 2012 Oct 9; 413(19-20):1696-9. PMID: 22561184.
Published on 9/2/2010
Ren JG, Seth P, Everett P, Clish CB, Sukhatme VP. Induction of erythroid differentiation in human erythroleukemia cells by depletion of malic enzyme 2. PLoS One. 2010 Sep 02; 5(9). PMID: 20824065.
Published on 1/1/2007
Everett PC, Meyers JA, Makkinje A, Rabbi M, Lerner A. Preclinical assessment of curcumin as a potential therapy for B-CLL. Am J Hematol. 2007 Jan; 82(1):23-30. PMID: 16947318.
Published on 3/1/2005
Yeshwant K, Seldin EB, Gateno J, Everett P, White CL, Kikinis R, Kaban LB, Troulis MJ. Analysis of skeletal movements in mandibular distraction osteogenesis. J Oral Maxillofac Surg. 2005 Mar; 63(3):335-40. PMID: 15742283.
Published on 5/1/2004
Ratiu P, Talos IF, Haker S, Lieberman D, Everett P. The tale of Phineas Gage, digitally remastered. J Neurotrauma. 2004 May; 21(5):637-43. PMID: 15165371.
Published on 8/1/2002
Troulis MJ, Everett P, Seldin EB, Kikinis R, Kaban LB. Development of a three-dimensional treatment planning system based on computed tomographic data. Int J Oral Maxillofac Surg. 2002 Aug; 31(4):349-57. PMID: 12361065.
View full list of 13 publications.