Patrycja Dubielecka-Szczerba PhD
Voluntary Assistant Professor, General Internal Medicine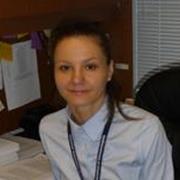 Sections
General Internal Medicine
Biography
Dr. Dubielecka is an Assistant Professor of Medicine at the Alpert Medical School of Brown University and head of the Signal Transduction Lab. She is also an Assistant Professor of Medicine at the Chobanian and Avedisian School of Medicine, and holds an adjunct appointment in the Division of Hematology/Oncology in the Department of Medicine at Rhode Island Hospital.

Dr. Dubielecka received her undergraduate and PhD degrees from the University of Wroclaw, Poland. She was a scholar of the Socrates/Erasmus Programme established by the European Commission, and trained at the University of Helsinki, Finland and at Charles University in Hradec Kralove, Czech Republic. Dr. Dubielecka did her postdoctoral training in the Lindsley F. Kimball Research Institute in New York. During her training she collaborated closely with colleagues at the University of Michigan, Ann Arbor and Helmholtz Centre for Infection Research (HZI) in Braunschweig, Germany. Dr. Dubielecka received extensive training in biochemistry, biophysics, cell biology, and protein chemistry. Prior to joining the faculty at Brown University, Dr. Dubielecka was a project leader in the NIH Center of Biomedical Research Excellence (COBRE) in Stem Cell Biology at the Roger Williams Medical Center, Chobanian and Avedisian School of Medicine. Dr. Dubielecka has mentored undergraduate students, medical students, residents, fellows, and post-doctoral fellows.
Websites
Education
PhD, University of Wroclaw, 2005
MSc, University of Wroclaw, 2001
BS, University of Wroclaw, 1999
Publications
Published on 7/9/2019
So EY, Sun C, Wu KQ, Driesman A, Leggett S, Isaac M, Spangler T, Dubielecka-Szczerba PM, Reginato AM, Liang OD. Lipid phosphatase SHIP-1 regulates chondrocyte hypertrophy and skeletal development. J Cell Physiol. 2020 02; 235(2):1425-1437. PMID: 31287165.
Published on 10/4/2018
Zhang LX, Du J, Zhao YT, Wang J, Zhang S, Dubielecka PM, Wei L, Zhuang S, Qin G, Chin YE, Zhao TC. Transgenic overexpression of active HDAC4 in the heart attenuates cardiac function and exacerbates remodeling in infarcted myocardium. J Appl Physiol (1985). 2018 12 01; 125(6):1968-1978. PMID: 30284520.
Published on 1/6/2016
Du J, Zhang L, Wang Z, Yano N, Zhao YT, Wei L, Dubielecka-Szczerba P, Liu PY, Zhuang S, Qin G, Zhao TC. Exendin-4 induces myocardial protection through MKK3 and Akt-1 in infarcted hearts. Am J Physiol Cell Physiol. 2016 Feb 15; 310(4):C270-83. PMID: 26739490.
Published on 4/4/2014
Chorzalska A, Salloum I, Shafqat H, Khan S, Marjon P, Treaba D, Schorl C, Morgan J, Bryke CR, Falanga V, Zhao TC, Reagan J, Winer E, Olszewski AJ, Al-Homsi AS, Kouttab N, Dubielecka PM. Low expression of Abelson interactor-1 is linked to acquired drug resistance in Bcr-Abl-induced leukemia. Leukemia. 2014 Nov; 28(11):2165-77. PMID: 24699303.
Published on 1/1/2014
Bartos A, Dubielecka PM. The emerging role of Bcr-Abl-induced cystoskeletal remodeling in systemic persistence of leukemic stem cells. Curr Drug Deliv. 2014; 11(5):582-91. PMID: 23517626.
Published on 4/8/2013
Toporkiewicz M, Grzybek M, Meissner J, Michalczyk I, Dubielecka PM, Korycka J, Seweryn E, Sikorski AF. Release of an ~55kDa fragment containing the actin-binding domain of ß-spectrin by caspase-8 during FND-induced apoptosis depends on the presence of protein 4.1. Arch Biochem Biophys. 2013 Jul 15; 535(2):205-13. PMID: 23578573.
Published on 11/27/2012
Michalczyk I, Sikorski AF, Kotula L, Junghans RP, Dubielecka PM. The emerging role of protein kinase C? in cytoskeletal signaling. J Leukoc Biol. 2013 Mar; 93(3):319-27. PMID: 23192428.
Published on 9/28/2012
Zhang L, Chen B, Zhao Y, Dubielecka PM, Wei L, Qin GJ, Chin YE, Wang Y, Zhao TC. Inhibition of histone deacetylase-induced myocardial repair is mediated by c-kit in infarcted hearts. J Biol Chem. 2012 Nov 16; 287(47):39338-48. PMID: 23024362.
Published on 9/3/2012
Xiong X, Chorzalska A, Dubielecka PM, White JR, Vedvyas Y, Hedvat CV, Haimovitz-Friedman A, Koutcher JA, Reimand J, Bader GD, Sawicki JA, Kotula L. Disruption of Abi1/Hssh3bp1 expression induces prostatic intraepithelial neoplasia in the conditional Abi1/Hssh3bp1 KO mice. Oncogenesis. 2012; 1:e26. PMID: 23552839.
Published on 5/1/2012
Hossain S, Dubielecka PM, Sikorski AF, Birge RB, Kotula L. Crk and ABI1: binary molecular switches that regulate abl tyrosine kinase and signaling to the cytoskeleton. Genes Cancer. 2012 May; 3(5-6):402-13. PMID: 23226578.
View full list of 24 publications.