Omar K. Siddiqi MD
Assistant Professor, Cardiovascular Medicine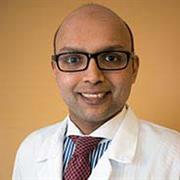 Sections
Cardiovascular Medicine
Centers
Amyloidosis Center
Biography
Omar Siddiqi, MD is an Assistant Professor of Medicine in Cardiovascular Medicine at the Chobanian and Avedisian School of Medicine, and he is the Program Director of the Cardiovascular Medicine Fellowship Program. As director of the cardiology fellowship curriculum, he is credited with developing an academic half day for cardiovascular medicine fellows, developing an echocardiography curriculum utilizing the CAE echocardiography simulator housed in the Solomont Simulation Center, and starting an Imaging Show and Tell conference. These efforts have been recognized with two Cardiovascular Medicine Fellowship Faculty Teaching Awards which he won in 2015 and 2018. At the Chobanian and Avedisian School of Medicine, he serves as co-director of the second year medical school cardiovascular pathophysiology module. His research interests in medical education include the development of simulation-based curricula and the integration of team-based learning (TBL) in teaching ECGs. His clinical interests include cardiac amyloidosis and echocardiography, and he is an attending cardiologist in the BU Amyloidosis Center. His clinical research interests are around the assessment of novel therapies for the treatment of cardiac amyloidosis. He has served as Clinical Investigator of five studies, including two currently.
Education
Medicine-Internal, MD, Washington University School of Medicine, 2007
Biology, BS, University of Rhode Island, 2003
Publications
Published on 8/24/2022
Alreshq R, Cozzolino M, Lilleness B, Pipilas A, Mendelson L, Joshi T, Muralidhar V, Guardino E, Berk JL, Siddiqi OK, Gopal DM, Sanchorawala V, Ruberg FL. Light Chain Testing Abnormalities Among Patients With Transthyretin Amyloid Cardiomyopathy Referred for Technetium-99m Pyrophosphate Imaging. Am J Cardiol. 2022 Oct 15; 181:105-112. PMID: 36028388.
Published on 7/19/2022
Schwartz B, Schou M, Ruberg FL, Rucker D, Choi J, Siddiqi O, Monahan K, Køber L, Gislason G, Torp-Pedersen C, Andersson C. Cardiovascular Morbidity in Monoclonal Gammopathy of Undetermined Significance: A Danish Nationwide Study. JACC CardioOncol. 2022 Sep; 4(3):313-322. PMID: 36213365.
Published on 7/5/2022
Gustine JN, Staron A, Szalat RE, Mendelson LM, Joshi T, Ruberg FL, Siddiqi O, Gopal DM, Edwards CV, Havasi A, Kaku M, Lau KHV, Berk JL, Sloan JM, Sanchorawala V. Predictors of hematologic response and survival with stem cell transplantation in AL amyloidosis: A 25-year longitudinal study. Am J Hematol. 2022 Sep; 97(9):1189-1199. PMID: 35731907.
Published on 5/14/2022
Prokaeva T, Joshi T, Klimtchuk ES, Gibson VM, Spencer B, Siddiqi O, Nedelkov D, Hu Y, Berk JL, Cuddy SAM, Dasari S, Chiu A, Choate LA, McPhail ED, Cui H, Chen H, Burks EJ, Sanchorawala V, Connors LH. A novel substitution of proline (P32L) destabilises ß2-microglobulin inducing hereditary systemic amyloidosis. Amyloid. 2022 Dec; 29(4):255-262. PMID: 35575118.
Published on 1/27/2022
Siddiqi OK, Mints YY, Berk JL, Connors L, Doros G, Gopal DM, Kataria S, Lohrmann G, Pipilas AR, Ruberg FL. Diflunisal treatment is associated with improved survival for patients with early stage wild-type transthyretin (ATTR) amyloid cardiomyopathy: the Boston University Amyloidosis Center experience. Amyloid. 2022 Jun; 29(2):71-78. PMID: 35083944.
Published on 10/24/2021
Alreshq R, Tugal D, Siddiqi O, Ruberg F. Conduction abnormalities and role of cardiac pacing in cardiac amyloidosis: A systematic review. Pacing Clin Electrophysiol. 2021 Dec; 44(12):2092-2099. PMID: 34632598.
Published on 5/1/2021
Benbrahim M, Norman K, Sanchorawala V, Siddiqi OK, Hughes D. A Review of Novel Agents and Clinical Considerations in Patients With ATTR Cardiac Amyloidosis. J Cardiovasc Pharmacol. 2021 05 01; 77(5):544-548. PMID: 33657048.
Published on 12/15/2020
Lohrmann G, Patel MA, Brauneis D, Sanchorawala V, Sarosiek S, Vellanki N, Siddiqi OK, Ruberg FL, Gopal DM. Left Atrial Mechanics Associates With Paroxysmal Atrial Fibrillation in Light-Chain Amyloidosis Following Stem Cell Transplantation. JACC CardioOncol. 2020 Dec; 2(5):721-731. PMID: 33511355.
Published on 10/28/2020
Ruberg FL, Siddiqi OK. In Search of the Holy Grail: Evidence of Amyloid Fibril Regression in ATTR Cardiac Amyloidosis. JACC Cardiovasc Imaging. 2021 01; 14(1):200-202. PMID: 33129738.
Published on 3/17/2020
Ruberg FL, Siddiqi OK. Hepatocyte Growth Factor and Cardiac Amyloidosis. JACC CardioOncol. 2020 Mar; 2(1):67-69. PMID: 32647833.
View full list of 26 publications.