Nina Lin MD
Assistant Professor, Infectious Diseases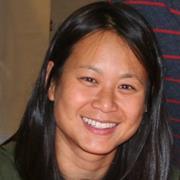 Sections
Infectious Diseases
Biography
Dr. Nina Lin is a physician scientist who is engaged in HIV translational research. Her research is focused on understanding the effect of chronic HIV infection on aging of the immune system and chronic inflammation. She is the PI on several clinical trials, including being a co-Chair of ACTG A5325 and A5220s, to evaluate interventions which may improve or alter the clinical course of chronic HIV infection. Her research while at MGH/BWH had been on understanding HIV-1 coreceptor usage in subtype C infection and the factors associated with its switching. She is the Director of the BU Infectious Disease Clinical Research Unit (CRU) where several HIV and/or infectious diseases clinical studies are being conducted.
Websites
Education
Medicine-Internal, MD, Harvard Medical School, 2000
Biology, BS, Stanford University, 1995
Publications
Published on 6/4/2021
Olson A, Coote C, Snyder-Cappione JE, Lin N, Sagar M. HIV-1 Transcription but Not Intact Provirus Levels are Associated With Systemic Inflammation. J Infect Dis. 2021 Jun 04; 223(11):1934-1942. PMID: 33075121.
Published on 6/4/2021
Kamel MH, Mahmoud H, Zhen A, Liu J, Bielick CG, Mostaghim A, Lin N, Chitalia V, Ilori T, Waikar SS, Upadhyay A. End-stage kidney disease and COVID-19 in an urban safety-net hospital in Boston, Massachusetts. PLoS One. 2021; 16(6):e0252679. PMID: 34086775.
Published on 4/9/2021
Yuen RR, Steiner D, Pihl RMF, Chavez E, Olson A, Smith EL, Baird LA, Korkmaz F, Urick P, Sagar M, Berrigan JL, Gummuluru S, Corley RB, Quillen K, Belkina AC, Mostoslavsky G, Rifkin IR, Kataria Y, Cappione AJ, Gao W, Lin NH, Bhadelia N, Snyder-Cappione JE. Novel ELISA Protocol Links Pre-Existing SARS-CoV-2 Reactive Antibodies With Endemic Coronavirus Immunity and Age and Reveals Improved Serologic Identification of Acute COVID-19 via Multi-Parameter Detection. Front Immunol. 2021; 12:614676. PMID: 33897682.
Published on 10/21/2020
Stone JH, Frigault MJ, Serling-Boyd NJ, Fernandes AD, Harvey L, Foulkes AS, Horick NK, Healy BC, Shah R, Bensaci AM, Woolley AE, Nikiforow S, Lin N, Sagar M, Schrager H, Huckins DS, Axelrod M, Pincus MD, Fleisher J, Sacks CA, Dougan M, North CM, Halvorsen YD, Thurber TK, Dagher Z, Scherer A, Wallwork RS, Kim AY, Schoenfeld S, Sen P, Neilan TG, Perugino CA, Unizony SH, Collier DS, Matza MA, Yinh JM, Bowman KA, Meyerowitz E, Zafar A, Drobni ZD, Bolster MB, Kohler M, D'Silva KM, Dau J, Lockwood MM, Cubbison C, Weber BN, Mansour MK. Efficacy of Tocilizumab in Patients Hospitalized with Covid-19. N Engl J Med. 2020 12 10; 383(24):2333-2344. PMID: 33085857.
Published on 7/25/2020
Sinha P, Mostaghim A, Bielick CG, McLaughlin A, Hamer DH, Wetzler LM, Bhadelia N, Fagan MA, Linas BP, Assoumou SA, Ieong MH, Lin NH, Cooper ER, Brade KD, White LF, Barlam TF, Sagar M. Early administration of interleukin-6 inhibitors for patients with severe COVID-19 disease is associated with decreased intubation, reduced mortality, and increased discharge. Int J Infect Dis. 2020 Oct; 99:28-33. PMID: 32721528.
Published on 1/6/2020
Registre L, Moreau Y, Ataca ST, Pulukuri S, Henrich TJ, Lin N, Sagar M. HIV-1 Coreceptor Usage and Variable Loop Contact Impact V3 Loop Broadly Neutralizing Antibody Susceptibility. J Virol. 2020 01 06; 94(2). PMID: 31694950.
Published on 9/18/2019
Asundi A, Cervantes-Arslanian AM, Lin NH, Barbosa F. Infectious Myelitis. Semin Neurol. 2019 08; 39(4):472-481. PMID: 31533188.
Published on 8/15/2019
Asundi A, Robles Y, Starr T, Landay A, Kinslow J, Ladner J, White L, Plank RM, Melbourne K, Weisholtz D, Bennett M, Pan H, Stern E, Lin A, Kuritzkes DR, Lin NH. Immunological and Neurometabolite Changes Associated With Switch From Efavirenz to an Integrase Inhibitor. J Acquir Immune Defic Syndr. 2019 08 15; 81(5):585-593. PMID: 31045650.
Published on 12/5/2018
Belkina AC, Starchenko A, Drake KA, Proctor EA, Pihl RMF, Olson A, Lauffenburger DA, Lin N, Snyder-Cappione JE. Multivariate Computational Analysis of Gamma Delta T Cell Inhibitory Receptor Signatures Reveals the Divergence of Healthy and ART-Suppressed HIV+ Aging. Front Immunol. 2018; 9:2783. PMID: 30568654.
Published on 11/1/2018
Olson A, Ragan EJ, Nakiyingi L, Lin N, Jacobson KR, Ellner JJ, Manabe YC, Sagar M. Brief Report: Pulmonary Tuberculosis Is Associated With Persistent Systemic Inflammation and Decreased HIV-1 Reservoir Markers in Coinfected Ugandans. J Acquir Immune Defic Syndr. 2018 11 01; 79(3):407-411. PMID: 30063648.
View full list of 27 publications.