Nikolaos C. Mavrogiorgos MD
Voluntary Clinical Assistant Professor, Infectious Diseases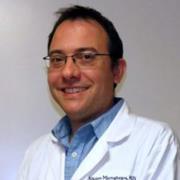 Biography
Expertise includes: Innate immunity; Host pathogen interaction.
Websites
Education
MD, National and Kapodistrian University of Athens, 2000
Publications
Published on 11/9/2017
Atsawarungruangkit A, Dominguez F, Borda G, Mavrogiorgos N. Listeria Monocytogenes Brain Abscess in Crohn's Disease Treated with Adalimumab. Case Rep Gastroenterol. 2017 Sep-Dec; 11(3):667-671. PMID: 29282389.
Published on 9/15/2016
Chopra N, Chen CK, Carlson I, Jackson CC, Mavrogiorgos N. An 11-Year-Old Boy With Sudden-Onset Abdominal Pain. Clin Infect Dis. 2016 09 15; 63(6):844-5. PMID: 27559034.
Published on 7/24/2013
Mavrogiorgos N, Mekasha S, Yang Y, Kelliher MA, Ingalls RR. Activation of NOD receptors by Neisseria gonorrhoeae modulates the innate immune response. Innate Immun. 2014 May; 20(4):377-89. PMID: 23884094.
Published on 9/21/2011
Packiam M, Wu H, Veit SJ, Mavrogiorgos N, Jerse AE, Ingalls RR. Protective role of Toll-like receptor 4 in experimental gonococcal infection of female mice. Mucosal Immunol. 2012 Jan; 5(1):19-29. PMID: 21937985.
Published on 4/14/2010
He X, Mekasha S, Mavrogiorgos N, Fitzgerald KA, Lien E, Ingalls RR. Inflammation and fibrosis during Chlamydia pneumoniae infection is regulated by IL-1 and the NLRP3/ASC inflammasome. J Immunol. 2010 May 15; 184(10):5743-54. PMID: 20393140.
Published on 8/1/2006
Mavrogiorgos N, Zaragoza O, Casadevall A, Nosanchuk JD. Efficacy of voriconazole in experimental Cryptococcus neoformans infection. Mycopathologia. 2006 Aug; 162(2):111-4. PMID: 16897589.
Published on 11/1/2003
Brilakis ES, Wright RS, Kopecky SL, Mavrogiorgos NC, Reeder GS, Rihal CS, Gersh BJ, Williams BA, Clements IP. Association of the PURSUIT risk score with predischarge ejection fraction, angiographic severity of coronary artery disease, and mortality in a nonselected, community-based population with non-ST-elevation acute myocardial infarction. Am Heart J. 2003 Nov; 146(5):811-8. PMID: 14597929.
Published on 5/1/2002
Brilakis ES, Mavrogiorgos NC, Kopecky SL, Rihal CC, Gersh BJ, Williams BA, Clements IP. Usefulness of QRS duration in the absence of bundle branch block as an early predictor of survival in non-ST elevation acute myocardial infarction. Am J Cardiol. 2002 May 1; 89(9):1013-8. PMID: 11988187.
Published on 5/1/2002
Chiou CC, Groll AH, Mavrogiorgos N, Wood LV, Walsh TJ. Esophageal candidiasis in human immunodeficiency virus-infected pediatric patients after the introduction of highly active antiretroviral therapy. Pediatr Infect Dis J. 2002 May; 21(5):388-92. PMID: 12150174.
Published on 12/1/2001
Chiou CC, Mavrogiorgos N, Tillem E, Hector R, Walsh TJ. Synergy, pharmacodynamics, and time-sequenced ultrastructural changes of the interaction between nikkomycin Z and the echinocandin FK463 against Aspergillus fumigatus. Antimicrob Agents Chemother. 2001 Dec; 45(12):3310-21. PMID: 11709302.
View full list of 10 publications.