Nikhil C. Munshi MD
Adjunct Associate Professor, Hematology & Medical Oncology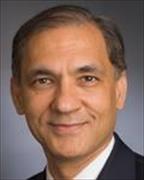 Sections
Hematology & Medical Oncology
Biography
Dr. Nikhil Munshi received his medical degree from Maharaja Sayajirao University, followed by an internship and residency in internal medicine at Shri Sayaji General Hospital and Maharaja University in India. He then completed an oncology fellowship at Johns Hopkins Ocology Center, and an hematology/oncology fellowhip at Indiana University Medical Center. Dr. Munshi is currently professor of medicine in the Department of Medicine at Harvard Medical School, as well as an attending physician at VA Boston Healthcare System and Dana-Farber Cancer Institute.

A diplomate of American Board of Internal Medicine, Dr. Munshi is also on the Board of Directors of the International Myeloma Society. He is a member of numerous professional associations including the Indian Medical Association, Physician's Association of India, Indian Association of Clinical Oncology, American Medical Association, American Society of Clinical Oncology, and the American Society of Hematology, among others. In addition, he is on the editorial board of Clinical Lymphoma and Myeloma and Personalized Medicine in Oncology and is an ad hoc reviewer for numerous professional journals.

Dr. Munshi's current laboratory research and clinical activities specialize in plasma cell disorders with a focus on understanding oncogenomic changes in myeloma and developing a translational research programs in myeloma. He has also established a Myeloma Initiative at Veterans Administration Hospitals, a comprehensive program bringing together, for the first time, all major VA hospitals across the country to focus on cutting-edge joint clinical studies.
Websites
Education
MD, Maharaja Sayajirao University, 1984
MBBS, Maharaja Sayajirao University, 1984
Publications
Published on 5/25/2023
Du T, Song Y, Ray A, Wan X, Yao Y, Samur MK, Shen C, Penailillo J, Sewastianik T, Tai YT, Fulciniti M, Munshi NC, Wu H, Carrasco RD, Chauhan D, Anderson KC. Ubiquitin receptor PSMD4/Rpn10 is a novel therapeutic target in multiple myeloma. Blood. 2023 May 25; 141(21):2599-2614. PMID: 36630605.
Published on 5/17/2023
Samur MK, Szalat R, Munshi NC. Single-Cell Profiling in Multiple Myeloma: Insights, Problems, and Promises. Blood. 2023 May 17. PMID: 37196627.
Published on 5/11/2023
Kumar S, Zhao J, Talluri S, Buon L, Mu S, Potluri B, Liao C, Shi J, Chakraborty C, Gonzalez GB, Tai YT, Patel J, Pal J, Mashimo H, Samur MK, Munshi NC, Shammas MA. Elevated APE1 dysregulates homologous recombination and cell cycle driving genomic evolution, tumorigenesis and chemoresistance in esophageal adenocarcinoma. Gastroenterology. 2023 May 11. PMID: 37178737.
Published on 4/6/2023
Samur MK, Roncador M, Aktas Samur A, Fulciniti M, Bazarbachi AH, Szalat R, Shammas MA, Sperling AS, Richardson PG, Magrangeas F, Minvielle S, Perrot A, Corre J, Moreau P, Thakurta A, Parmigiani G, Anderson KC, Avet-Loiseau H, Munshi NC. High-dose melphalan treatment significantly increases mutational burden at relapse in multiple myeloma. Blood. 2023 Apr 06; 141(14):1724-1736. PMID: 36603186.
Published on 4/3/2023
Delforge M, Otero PR, Shah N, Moshkovich O, Braverman J, Dhanda DS, Lanar S, Devlen J, Miera M, Gerould H, Campbell TB, Munshi NC. Analysis of patient-reported experiences up to 2 years after receiving idecabtagene vicleucel (ide-cel, bb2121) for relapsed or refractory multiple myeloma: Longitudinal findings from the phase 2 KarMMa trial. Leuk Res. 2023 Jun; 129:107074. PMID: 37087950.
Published on 3/30/2023
Stong N, Ortiz-Estévez M, Towfic F, Samur M, Agarwal A, Corre J, Flynt E, Munshi N, Avet-Loiseau H, Thakurta A. The location of the t(4;14) translocation breakpoint within the NSD2 gene identifies a subset of patients with high-risk NDMM. Blood. 2023 Mar 30; 141(13):1574-1583. PMID: 35984902.
Published on 3/24/2023
Tam CS, Kapoor P, Castillo JJ, Buske C, Ansell SM, Branagan AR, Kimby E, Li Y, Palomba ML, Qiu L, Shadman M, Abeykoon JP, Sarosiek S, Vos J, Yi S, Stephens D, Roos-Weil D, Roccaro AM, Morel P, Munshi NC, Anderson KC, San-Miguel J, Garcia-Sanz R, Dimopoulos MA, Treon SP, Kersten MJ. Report of consensus panel 7 from the 11th international workshop on Waldenström macroglobulinemia on priorities for novel clinical trials. Semin Hematol. 2023 Mar 24. PMID: 37099031.
Published on 3/14/2023
Merz M, Hu Q, Merz AMA, Wang J, Hutson N, Rondeau C, Celotto K, Belal A, Alberico R, Block AW, Mohammadpour H, Wallace PK, Tario J, Luce J, Glenn ST, Singh P, Samur M, Munshi N, Liu S, McCarthy PL, Wei L, Hillengass J. Spatiotemporal assessment of immunogenomic heterogeneity in multiple myeloma. Blood Adv. 2023 Mar 14; 7(5):718-733. PMID: 35868022.
Published on 3/6/2023
Yao Y, Fong Ng J, Park WD, Samur MK, Morelli E, Encinas J, Chyra Z, Xu Y, Derebail S, Epstein CB, Nabet B, Chesi M, Gray NS, Young R, Kwiatkowski N, Mitsiades CS, Anderson KC, Lin CY, Munshi NC, Fulciniti M. CDK7 controls E2F- and MYC-driven proliferative and metabolic vulnerabilities in multiple myeloma. Blood. 2023 Mar 06. PMID: 36877894.
Published on 2/28/2023
Edwards CV, Hassan H, Yildirim C, Ferri G, Verma KP, Murray Horwitz ME, Fillmore NR, Munshi NC. Peripheral blood monocyte count is a dynamic prognostic biomarker in multiple myeloma. Blood Adv. 2023 Feb 28; 7(4):482-490. PMID: 36409606.
View full list of 561 publications.