Nikhil C. Munshi MD
Adjunct Associate Professor, Hematology & Medical Oncology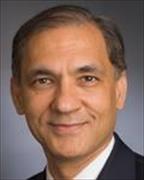 Sections
Hematology & Medical Oncology
Biography
Dr. Nikhil Munshi received his medical degree from Maharaja Sayajirao University, followed by an internship and residency in internal medicine at Shri Sayaji General Hospital and Maharaja University in India. He then completed an oncology fellowship at Johns Hopkins Ocology Center, and an hematology/oncology fellowhip at Indiana University Medical Center. Dr. Munshi is currently professor of medicine in the Department of Medicine at Harvard Medical School, as well as an attending physician at VA Boston Healthcare System and Dana-Farber Cancer Institute.

A diplomate of American Board of Internal Medicine, Dr. Munshi is also on the Board of Directors of the International Myeloma Society. He is a member of numerous professional associations including the Indian Medical Association, Physician's Association of India, Indian Association of Clinical Oncology, American Medical Association, American Society of Clinical Oncology, and the American Society of Hematology, among others. In addition, he is on the editorial board of Clinical Lymphoma and Myeloma and Personalized Medicine in Oncology and is an ad hoc reviewer for numerous professional journals.

Dr. Munshi's current laboratory research and clinical activities specialize in plasma cell disorders with a focus on understanding oncogenomic changes in myeloma and developing a translational research programs in myeloma. He has also established a Myeloma Initiative at Veterans Administration Hospitals, a comprehensive program bringing together, for the first time, all major VA hospitals across the country to focus on cutting-edge joint clinical studies.
Websites
Education
MD, Maharaja Sayajirao University, 1984
MBBS, Maharaja Sayajirao University, 1984
Publications
Published on 10/15/2021
Yan Y, Qin X, Liu J, Fan H, Yan W, Liu L, Du C, Yu Z, Xu Y, Hao M, Deng S, Sui WW, Lv R, Liu W, Wang Q, Zou D, Hu L, Wang J, Tai YT, Anderson KC, Zhang L, Cheng T, Zetterberg A, Munshi NC, Qiu L, An G. Clonal phylogeny and evolution of critical cytogenetic aberrations in multiple myeloma at single cell level by QM-FISH. Blood Adv. 2021 Oct 15. PMID: 34653241.
Published on 10/8/2021
Talluri S, Samur MK, Buon L, Kumar S, Potluri LB, Shi J, Prabhala RH, Shammas MA, Munshi NC. Dysregulated APOBEC3G causes DNA damage and promotes genomic instability in multiple myeloma. Blood Cancer J. 2021 Oct 08; 11(10):166. PMID: 34625538.
Published on 9/28/2021
Fillmore NR, Cirstea D, Munjuluri A, Yameen H, Yellapragada SV, Do NV, Brophy MT, Szalat RE, Munshi NC. Lack of differential impact of del17p on survival in African Americans compared with White patients with multiple myeloma: a VA study. Blood Adv. 2021 Sep 28; 5(18):3511-3514. PMID: 34428278.
Published on 9/13/2021
Kelly KR, Ailawadhi S, Siegel DS, Heffner LT, Somlo G, Jagannath S, Zimmerman TM, Munshi NC, Madan S, Chanan-Khan A, Lonial S, Chandwani S, Minasyan A, Ruehle M, Barmaki-Rad F, Abdolzade-Bavil A, Rharbaoui F, Herrmann-Keiner E, Haeder T, Wartenberg-Demand A, Anderson KC. Indatuximab ravtansine plus dexamethasone with lenalidomide or pomalidomide in relapsed or refractory multiple myeloma: a multicentre, phase 1/2a study. Lancet Haematol. 2021 Sep 13. PMID: 34529955.
Published on 8/10/2021
Miller PG, Sperling AS, Brea EJ, Leick MB, Fell GG, Jan M, Gohil SH, Tai YT, Munshi NC, Wu CJ, Neuberg DS, Maus MV, Jacobson C, Gibson CJ, Ebert BL. Clonal hematopoiesis in patients receiving chimeric antigen receptor T-cell therapy. Blood Adv. 2021 08 10; 5(15):2982-2986. PMID: 34342642.
Published on 8/9/2021
Derrien J, Guérin-Charbonnel C, Gaborit V, Campion L, Devic M, Douillard E, Roi N, Avet-Loiseau H, Decaux O, Facon T, Mallm JP, Eils R, Munshi NC, Moreau P, Herrmann C, Magrangeas F, Minvielle S. The DNA methylation landscape of multiple myeloma shows extensive inter- and intrapatient heterogeneity that fuels transcriptomic variability. Genome Med. 2021 Aug 09; 13(1):127. PMID: 34372935.
Published on 8/2/2021
Fillmore NR, DuMontier C, Yildirim C, La J, Epstein MM, Cheng D, Cirstea D, Yellapragada S, Abel GA, Gaziano JM, Do N, Brophy M, Kim DH, Munshi NC, Driver JA. Defining Multimorbidity and Its Impact in Older United States Veterans Newly Treated for Multiple Myeloma. J Natl Cancer Inst. 2021 Aug 02; 113(8):1084-1093. PMID: 33523236.
Published on 7/28/2021
Anderson KC, Auclair D, Adam SJ, Agarwal A, Anderson M, Avet-Loiseau H, Bustoros M, Chapman J, Connors DE, Dash A, Di Bacco A, Du L, Facon T, Flores-Montero J, Gay F, Ghobrial IM, Gormley NJ, Gupta I, Higley H, Hillengass J, Kanapuru B, Kazandjian D, Kelloff GJ, Kirsch IR, Kremer BE, Landgren O, Lightbody ED, Lomas OC, Lonial S, Mateos MV, Montes de Oca R, Mukundan L, Munshi NC, O'Donnell EK, Orfao A, Paiva B, Patel R, Pugh TJ, Ramasamy K, Ray J, Roshal M, Ross JA, Sigman CC, Thoren KL, Trudel S, Ulaner GA, Valente N, Weiss BM, Zamagni E, Kumar SK. Minimal Residual Disease in Myeloma: Application for Clinical Care and New Drug Registration. Clin Cancer Res. 2021 Jul 28. PMID: 34321279.
Published on 7/23/2021
Xing L, Wang S, Liu J, Yu T, Chen H, Wen K, Li Y, Lin L, Hsieh PA, Cho SF, An G, Qiu L, Kinneer K, Munshi N, Anderson KC, Tai YT. BCMA-Specific ADC MEDI2228 and Daratumumab Induce Synergistic Myeloma Cytotoxicity via IFN-Driven Immune Responses and Enhanced CD38 Expression. Clin Cancer Res. 2021 Jul 23. PMID: 34301753.
Published on 7/21/2021
Cavo M, San-Miguel JFF, Usmani SZ, Weisel KC, Dimopoulos MAA, Avet-Loiseau H, Paiva B, Bahlis NJ, Plesner T, Hungria VTM, Moreau P, Mateos MV, Perrot A, Iida S, Facon T, Kumar SK, van de Donk NWCJ, Sonneveld P, Spencer A, Krevvata M, Heuck C, Wang J, Ukropec J, Kobos R, Sun S, Qi M, Munshi NC. Prognostic value of minimal residual disease negativity in myeloma: combined analysis of POLLUX, CASTOR, ALCYONE, MAIA. Blood. 2021 Jul 21. PMID: 34289038.
View full list of 518 publications.