Nikhil C. Munshi MD
Adjunct Associate Professor, Hematology & Medical Oncology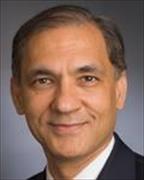 Sections
Hematology & Medical Oncology
Biography
Dr. Nikhil Munshi received his medical degree from Maharaja Sayajirao University, followed by an internship and residency in internal medicine at Shri Sayaji General Hospital and Maharaja University in India. He then completed an oncology fellowship at Johns Hopkins Ocology Center, and an hematology/oncology fellowhip at Indiana University Medical Center. Dr. Munshi is currently professor of medicine in the Department of Medicine at Harvard Medical School, as well as an attending physician at VA Boston Healthcare System and Dana-Farber Cancer Institute.

A diplomate of American Board of Internal Medicine, Dr. Munshi is also on the Board of Directors of the International Myeloma Society. He is a member of numerous professional associations including the Indian Medical Association, Physician's Association of India, Indian Association of Clinical Oncology, American Medical Association, American Society of Clinical Oncology, and the American Society of Hematology, among others. In addition, he is on the editorial board of Clinical Lymphoma and Myeloma and Personalized Medicine in Oncology and is an ad hoc reviewer for numerous professional journals.

Dr. Munshi's current laboratory research and clinical activities specialize in plasma cell disorders with a focus on understanding oncogenomic changes in myeloma and developing a translational research programs in myeloma. He has also established a Myeloma Initiative at Veterans Administration Hospitals, a comprehensive program bringing together, for the first time, all major VA hospitals across the country to focus on cutting-edge joint clinical studies.
Websites
Education
MD, Maharaja Sayajirao University, 1984
MBBS, Maharaja Sayajirao University, 1984
Publications
Published on 8/18/2022
La J, Wu JT, Branch-Elliman W, Huhmann L, Han SS, Brophy M, Do NV, Lin AY, Fillmore NR, Munshi NC. Increased COVID-19 breakthrough infection risk in patients with plasma cell disorders. Blood. 2022 Aug 18; 140(7):782-785. PMID: 35605185.
Published on 8/1/2022
Giesen N, Paramasivam N, Toprak UH, Huebschmann D, Xu J, Uhrig S, Samur M, Bähr S, Fröhlich M, Mughal SS, Mai EK, Jauch A, Müller-Tidow C, Brors B, Munshi N, Goldschmidt H, Weinhold N, Schlesner M, Raab MS. Comprehensive genomic analysis of refractory multiple myeloma reveals a complex mutational landscape associated with drug resistance and novel therapeutic vulnerabilities. Haematologica. 2022 Aug 01; 107(8):1891-1901. PMID: 35045690.
Published on 7/26/2022
Alonso Fernández R, Encinas J, Pierre-Louis L, Yao Y, Xu Y, Mu S, Martínez-López J, Primo D, Miyazaki T, Prabhala RH, Anderson KC, Overwijk WW, Munshi NC, Fulciniti M. Improving NK Cell Function in Multiple Myeloma with NKTR-255, a Novel Polymer-Conjugated Human IL-15. Blood Adv. 2022 Jul 26. PMID: 35882498.
Published on 7/22/2022
Merz M, Hu Q, Merz AMA, Wang J, Hutson N, Rondeau C, Celotto K, Belal A, Alberico R, Block A, Mohammadpour H, Wallace PK, Tario JD, Luce J, Glenn ST, Singh PK, Samur MK, Munshi NC, Liu S, McCarthy PL, Wei L, Hillengass J. Spatiotemporal assessment of immunogenomic heterogeneity in multiple myeloma. Blood Adv. 2022 Jul 22. PMID: 35868022.
Published on 6/14/2022
Munshi M, Liu X, Kofides A, Tsakmaklis N, Guerrera ML, Hunter ZR, Palomba ML, Argyropoulos KV, Patterson CJ, Canning AG, Meid K, Gustine J, Branagan AR, Flynn CA, Sarosiek S, Castillo JJ, Wang J, Buhrlage SJ, Gray NS, Munshi NC, Anderson KC, Treon SP, Yang G. A new role for the SRC family kinase HCK as a driver of SYK activation in MYD88 mutated lymphomas. Blood Adv. 2022 06 14; 6(11):3332-3338. PMID: 35255496.
Published on 6/5/2022
Richardson PG, Jacobus SJ, Weller EA, Hassoun H, Lonial S, Raje NS, Medvedova E, McCarthy PL, Libby EN, Voorhees PM, Orlowski RZ, Anderson LD, Zonder JA, Milner CP, Gasparetto C, Agha ME, Khan AM, Hurd DD, Gowin K, Kamble RT, Jagannath S, Nathwani N, Alsina M, Cornell RF, Hashmi H, Campagnaro EL, Andreescu AC, Gentile T, Liedtke M, Godby KN, Cohen AD, Openshaw TH, Pasquini MC, Giralt SA, Kaufman JL, Yee AJ, Scott E, Torka P, Foley A, Fulciniti M, Hebert K, Samur MK, Masone K, Maglio ME, Zeytoonjian AA, Nadeem O, Schlossman RL, Laubach JP, Paba-Prada C, Ghobrial IM, Perrot A, Moreau P, Avet-Loiseau H, Attal M, Anderson KC, Munshi NC. Triplet Therapy, Transplantation, and Maintenance until Progression in Myeloma. N Engl J Med. 2022 07 14; 387(2):132-147. PMID: 35660812.
Published on 6/4/2022
Martin T, Usmani SZ, Berdeja JG, Agha M, Cohen AD, Hari P, Avigan D, Deol A, Htut M, Lesokhin A, Munshi NC, O'Donnell E, Stewart AK, Schecter JM, Goldberg JD, Jackson CC, Yeh TM, Banerjee A, Allred A, Zudaire E, Deraedt W, Olyslager Y, Zhou C, Pacaud L, Madduri D, Jakubowiak A, Lin Y, Jagannath S. Ciltacabtagene Autoleucel, an Anti-B-cell Maturation Antigen Chimeric Antigen Receptor T-Cell Therapy, for Relapsed/Refractory Multiple Myeloma: CARTITUDE-1 2-Year Follow-Up. J Clin Oncol. 2022 Jun 04; JCO2200842. PMID: 35658469.
Published on 6/1/2022
Soncini D, Martinuzzi C, Becherini P, Gelli E, Ruberti S, Todoerti K, Mastracci L, Contini P, Cagnetta A, Laudisi A, Guolo F, Minetto P, Miglino M, Aquino S, Varaldo R, Reverberi D, Formica M, Passalacqua M, Nencioni A, Neri A, Samur MK, Munshi NC, Fulciniti M, Lemoli RM, Cea M. Apoptosis reprogramming triggered by splicing inhibitors sensitizes multiple myeloma cells to Venetoclax treatment. Haematologica. 2022 Jun 01; 107(6):1410-1426. PMID: 34670358.
Published on 3/31/2022
Hofste Op Bruinink D, Kuiper R, van Duin M, Cupedo T, van der Velden VHJ, Hoogenboezem R, van der Holt B, Beverloo HB, Valent ET, Vermeulen M, Gay F, Broijl A, Avet-Loiseau H, Munshi NC, Musto P, Moreau P, Zweegman S, van de Donk NWCJ, Sonneveld P. Identification of High-Risk Multiple Myeloma With a Plasma Cell Leukemia-Like Transcriptomic Profile. J Clin Oncol. 2022 Sep 20; 40(27):3132-3150. PMID: 35357885.
Published on 2/22/2022
Delforge M, Shah N, Miguel JSF, Braverman J, Dhanda DS, Shi L, Guo S, Yu P, Liao W, Campbell TB, Munshi NC. Health-related quality of life with idecabtagene vicleucel in relapsed and refractory multiple myeloma. Blood Adv. 2022 02 22; 6(4):1309-1318. PMID: 34933328.
View full list of 538 publications.