Nicole L Spartano PhD
Assistant Professor, Endocrinology, Diabetes, Nutrition & Weight Management
Graduate Faculty (Primary Mentor of Grad Students)
720 Harrison Ave | (315) 415-2040

spartano@bu.edu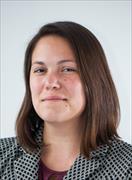 Sections
Endocrinology, Diabetes, Nutrition & Weight Management
Centers
Framingham Heart Study
Evans Center for Interdisciplinary Biomedical Research
Biography
Nicole Spartano, PhD is an Assistant Professor of Medicine in Endocrinology, Diabetes, Nutrition and Weight Management at the Chobanian and Avedisian School of Medicine. She serves as the Director of the Glucose Monitoring Station at the Framingham Heart Study. This study is funded through an R01 from the National Institute of Diabetes and Digestive and Kidney Diseases (Spartano, PI) to use continuous glucose monitors in a non-diabetic population to measure glucose patterns that may predict the development of diabetes. She also serves as the Co-Director of the Physical Activity Station at the Framingham Heart Study, overseeing data collection using accelerometers (fitness trackers). She has received funding from the American Heart Association and Alzheimer's Association to understand the impact of physical activity throughout the lifecourse on brain health and the risk for dementia and Alzheimer's disease.

Dr. Spartano also has a major research interest in using mobile health technology to improve health in underserved patient populations at Boston Medical Center. She is exploring the use of continuous glucose monitors as a tool for enhancing lifestyle interventions in patients with and without diabetes mellitus. She shares a MPI role on a Focused Research Project funded by Boston University's Hariri Institute, which facilitates collaborations of clinical and computational investigators. This team is developing a software platform that can continuously collect mobile health data from research participants and patients. The goal of creating this platform is to address challenges in privacy and in providing timely communication to medically vulnerable patients.

Dr. Spartano also teaches courses for Boston University Graduate Medical Sciences, School of Public Health, and Sargent College of Health Sciences.
Websites
Education
PhD, Tufts University, 2013
MS, Tufts University, 2009
Biology, BS, Syracuse University, 2006
Publications
Published on 3/6/2023
Shapira-Daniels A, Kornej J, Spartano NL, Wang X, Zhang Y, Pathiravasan CH, Liu C, Trinquart L, Borrelli B, McManus DD, Murabito JM, Benjamin EJ, Lin H. Step Count, Self-reported Physical Activity, and Predicted 5-Year Risk of Atrial Fibrillation: Cross-sectional Analysis. J Med Internet Res. 2023 Mar 06; 25:e43123. PMID: 36877540.
Published on 1/20/2023
Trinquart L, Liu C, McManus DD, Nowak C, Lin H, Spartano NL, Borrelli B, Benjamin EJ, Murabito JM. Increasing Engagement in the Electronic Framingham Heart Study: Factorial Randomized Controlled Trial. J Med Internet Res. 2023 Jan 20; 25:e40784. PMID: 36662544.
Published on 12/27/2022
Pathiravasan CH, Zhang Y, Wang X, Trinquart L, Benjamin EJ, Borrelli B, McManus DD, Kheterpal V, Lin H, Spartano NL, Schramm E, Liu C, Murabito JM. Factors associated with long-term use of digital devices in the electronic Framingham Heart Study. NPJ Digit Med. 2022 Dec 27; 5(1):195. PMID: 36572707.
Published on 12/20/2022
Paluch AE, Bajpai S, Ballin M, Bassett DR, Buford TW, Carnethon MR, Chernofsky A, Dooley EE, Ekelund U, Evenson KR, Galuska DA, Jefferis BJ, Kong L, Kraus WE, Larson MG, Lee IM, Matthews CE, Newton RL, Nordström A, Nordström P, Palta P, Patel AV, Pettee Gabriel K, Pieper CF, Pompeii L, Rees-Punia E, Spartano NL, Vasan RS, Whincup PH, Yang S, Fulton JE. Prospective Association of Daily Steps With Cardiovascular Disease: A Harmonized Meta-Analysis. Circulation. 2023 Jan 10; 147(2):122-131. PMID: 36537288.
Published on 9/13/2022
Spartano NL, Wang R, Yang Q, Chernofsky A, Murabito JM, Vasan RS, Levy D, Beiser AS, Seshadri S. Association of Accelerometer-Measured Physical Activity and Sedentary Time with Epigenetic Markers of Aging. Med Sci Sports Exerc. 2023 Feb 01; 55(2):264-272. PMID: 36107108.
Published on 7/27/2022
Walker ME, Spartano NL. Identifying Ultra-processed Foods in Nutrition Research: What a Proccess! Neurology. 2022 Jul 27. PMID: 35896435.
Published on 7/27/2022
Walker ME, Spartano NL. Identifying Ultraprocessed Foods in Nutrition Research: What a Process! Neurology. 2022 Sep 06; 99(10):411-412. PMID: 36219799.
Published on 6/10/2022
Almohamad M, Krall Kaye E, Mofleh D, Spartano NL. The association of sedentary behaviour and physical activity with periodontal disease in NHANES 2011-2012. J Clin Periodontol. 2022 Aug; 49(8):758-767. PMID: 35634657.
Published on 5/26/2022
Kaplan RC, Song RJ, Lin J, Xanthakis V, Hua S, Chernofsky A, Evenson KR, Walker ME, Cuthbertson C, Murabito JM, Cordero C, Daviglus M, Perreira KM, Gellman M, Sotres-Alvarez D, Vasan RS, Xue X, Spartano NL, Mossavar-Rahmani Y. Predictors of incident diabetes in two populations: framingham heart study and hispanic community health study / study of latinos. BMC Public Health. 2022 May 26; 22(1):1053. PMID: 35619100.
Published on 5/10/2022
Nayor M, Chernofsky A, Miller PE, Spartano NL, Murthy VL, Malhotra R, Houstis NE, Murabito JM, Clish CB, Larson MG, Vasan RS, Shah RV, Lewis GD. Integrative Analysis of Circulating Metabolite Levels That Correlate With Physical Activity and Cardiorespiratory Fitness. Circ Genom Precis Med. 2022 Jun; 15(3):e003592. PMID: 35536222.
View full list of 57 publications.