Nicole Mushero MD, PhD
Assistant Professor, Geriatrics
72 E. Concord Street | (617) 638-8383

musheron@bu.edu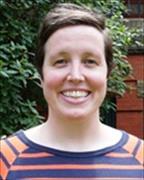 Biography
I am a geriatrician who practices primarily in the outpatient setting, including in the skilled nursing facility setting. In addition to being a clinician, I have a passion for education at all levels. My teaching includes focus on dysphagia in older adults and SDOH. More recently I have focused my energy on work around incarcerated older adults, including work on medical parole and decarceration.
Education
MD, University of Massachusetts Medical School, 2015
PhD, Brandeis University, 2008
Biochemistry/Molecular Biology, BA, Boston University, 2002
Publications
Published on 3/10/2022
Robertson ML, Mushero N, Demers L, Goroncy A, Chippendale R. Inequities in the care of older adults: Identifying education gaps in geriatric medicine fellowship. Gerontol Geriatr Educ. 2023; 44(2):254-260. PMID: 35272580.
Published on 3/2/2022
Mushero N, Demers LB, Chippendale R. An Interactive Workshop on Managing Dysphagia in Older Adults With Dementia. MedEdPORTAL. 2022; 18:11223. PMID: 35309254.
Published on 1/24/2017
Torres H, Poorman E, Tadepalli U, Schoettler C, Fung CH, Mushero N, Campbell L, Basu G, McCormick D. Coverage and Access for Americans With Chronic Disease Under the Affordable Care Act: A Quasi-Experimental Study. Ann Intern Med. 2017 Apr 04; 166(7):472-479. PMID: 28114684.
Published on 1/1/2011
Mushero N, Gershenson A. Determining serpin conformational distributions with single molecule fluorescence. Methods Enzymol. 2011; 501:351-77. PMID: 22078542.
Published on 11/1/2007
Liu L, Mushero N, Hedstrom L, Gershenson A. Short-lived protease serpin complexes: partial disruption of the rat trypsin active site. Protein Sci. 2007 Nov; 16(11):2403-11. PMID: 17962402.
Published on 9/12/2006
Liu L, Mushero N, Hedstrom L, Gershenson A. Conformational distributions of protease-serpin complexes: a partially translocated complex. Biochemistry. 2006 Sep 12; 45(36):10865-72. PMID: 16953572.
View full list of 6 publications.