Nicholas Bosch MD, MSc
Assistant Professor, Pulmonary, Allergy, Sleep & Critical Care Medicine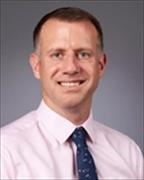 Sections
Pulmonary, Allergy, Sleep & Critical Care Medicine
Biography
Dr. Bosch is a health services researcher, epidemiologist, and critical care physician specializing in leveraging health services, quasi-experimental and causal-inference methods to inform and optimize the care of patients with critical illness. His research interests include sepsis, cardiovascular and endocrine disease during critical illness, severe alcohol withdrawal, and acute respiratory distress syndrome.
Websites
Education
Medicine, MD, New York Medical College, 2012
MS, Boston University School of Public Health, 2020
Biological Sciences, BS, University of California, Davis, 2007
Publications
Published on 5/9/2023
Bosch NA, Teja B, Law AC, Wunsch H, Walkey AJ. Arterial pressure response to an increase in norepinephrine varies depending on the baseline norepinephrine dose in patients with septic shock. Chest. 2023 May 09. PMID: 37169282.
Published on 5/8/2023
Siddiqui S, Kelly L, Bosch N, Law A, Patel LA, Perkins N, Armaignac DL, Zabolotskikh I, Christie A, Krishna Mohan S, Deo N, Bansal V, Kumar VK, Gajic O, Kashyap R, Domecq JP, Boman K, Walkey A, Banner-Goodspeed V, Schaefer MS. Discharge Disposition and Loss of Independence Among Survivors of COVID-19 Admitted to Intensive Care: Results From the SCCM Discovery Viral Infection and Respiratory Illness Universal Study (VIRUS). J Intensive Care Med. 2023 May 08; 8850666231174375. PMID: 37157813.
Published on 5/1/2023
Bosch NA, Teja B, Law AC, Pang B, Jafarzadeh SR, Walkey AJ. Comparative Effectiveness of Fludrocortisone and Hydrocortisone vs Hydrocortisone Alone Among Patients With Septic Shock. JAMA Intern Med. 2023 May 01; 183(5):451-459. PMID: 36972033.
Published on 4/18/2023
Herrera VLM, Bosch NA, Lok JJ, Nguyen MQ, Lenae KA, deKay JT, Ryzhov SV, Seder DB, Ruiz-Opazo N, Walkey AJ. Circulating neutrophil extracellular trap (NET)-forming 'rogue' neutrophil subset, immunotype [DEspR?+?CD11b?+], mediate multi-organ failure in COVID-19-an observational study. Transl Med Commun. 2023; 8(1):12. PMID: 37096233.
Published on 4/3/2023
Shankar DA, Bosch NA, Walkey AJ, Law AC. Practice Changes Among Patients Without COVID-19 Receiving Mechanical Ventilation During the Early COVID-19 Pandemic. Crit Care Explor. 2023 Apr; 5(4):e0889. PMID: 37025306.
Published on 4/3/2023
Lee SY, Modzelewski KL, Law AC, Walkey AJ, Pearce EN, Bosch NA. Comparison of Propylthiouracil vs Methimazole for Thyroid Storm in Critically Ill Patients. JAMA Netw Open. 2023 Apr 03; 6(4):e238655. PMID: 37067797.
Published on 4/1/2023
Shankar DA, Walkey AJ, Hawkins FJ, Bosch NA, Peterson D, Law AC. Hospital-level variation in practices and outcomes for patients with severe acute exacerbations of idiopathic pulmonary fibrosis: a retrospective multicentre cohort study. BMJ Open Respir Res. 2023 Apr; 10(1). PMID: 37076251.
Published on 3/10/2023
Tamlyn AL, Tjilos M, Bosch NA, Barnett KG, Perkins RB, Walkey A, Assoumou SA, Linas BP, Drainoni ML. At the intersection of trust and mistrust: A qualitative analysis of motivators and barriers to research participation at a safety-net hospital. Health Expect. 2023 Jun; 26(3):1118-1126. PMID: 36896842.
Published on 3/3/2023
Pang B, Kearney L, Maccarone J, Zhang J, Kearney C, Sangani R, Shankar DA, Gillmeyer KR, Law AC, Bosch NA. Association between Early Venous Thromboembolism Prophylaxis, Bleeding Risk, and Venous Thromboembolism among Critically Ill Patients with Thrombocytopenia. Ann Am Thorac Soc. 2023 Mar 03. PMID: 36867519.
Published on 3/1/2023
Kearney C, Lesieur M, Bosch NA, Walkey AJ. Corticosteroid Uptake For COVID-19 after Publication of RECOVERY: A Difference in Difference Model. Ann Am Thorac Soc. 2023 Mar; 20(3):473-476. PMID: 36525470.
View full list of 52 publications.