Nhan Van Do MD
Voluntary Assistant Professor, General Internal Medicine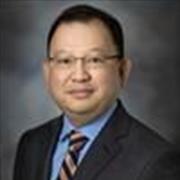 Sections
General Internal Medicine
Biography
Nhan Van Do is an Assistant Professor of Medicine at BUSM and the Director of the Informatics Center at the Massachusetts Veterans Epidemiology Research and Information Center (MAVERIC). Dr. Do completed his training in Biomedical Informatics at Stanford University. After his Informatics training and prior to joining the VA and the faculty at BU, he had served in several informatics leadership positions in the Military Health System such as Chief Medical Information Officer and Medical Informatics Consultant to Surgeon General to manage and support the design, development, implementation, and evaluation of health information technology. In his current position as the Informatics Center Director, he is responsible for developing the computing infrastructure to support the VA's Research Precision Oncology program and Point of Care Research. His research interests also include clinical decision support and predictive analytics.
Websites
Education
Medicine-Internal, MD, George Washington University School of Medicine, 1994
Biomedical Sciences/Information Sciences, MS, Stanford University, 2005
Chemistry, BS, Baylor University, 1990
Publications
Published on 5/8/2023
Placido D, Yuan B, Hjaltelin JX, Zheng C, Haue AD, Chmura PJ, Yuan C, Kim J, Umeton R, Antell G, Chowdhury A, Franz A, Brais L, Andrews E, Marks DS, Regev A, Ayandeh S, Brophy MT, Do NV, Kraft P, Wolpin BM, Rosenthal MH, Fillmore NR, Brunak S, Sander C. A deep learning algorithm to predict risk of pancreatic cancer from disease trajectories. Nat Med. 2023 May; 29(5):1113-1122. PMID: 37156936.
Published on 3/1/2023
Ganti AK, Fillmore NR, Bihn J, La J, Brophy MT, Do NV, Kelley M. Risk factors of SARS-CoV-2 infection and complications from COVID-19 in lung cancer patients. Int J Clin Oncol. 2023 Apr; 28(4):531-542. PMID: 36859565.
Published on 1/25/2023
Elbers DC, La J, Minot JR, Gramling R, Brophy MT, Do NV, Fillmore NR, Dodds PS, Danforth CM. Sentiment analysis of medical record notes for lung cancer patients at the Department of Veterans Affairs. PLoS One. 2023; 18(1):e0280931. PMID: 36696437.
Published on 1/10/2023
Li A, La J, May SB, Guffey D, da Costa WL, Amos CI, Bandyo R, Milner EM, Kurian KM, Chen DCR, Do NV, Granada C, Riaz N, Brophy MT, Chitalia V, Gaziano JM, Garcia DA, Carrier M, Flowers CR, Zakai NA, Fillmore NR. Derivation and Validation of a Clinical Risk Assessment Model for Cancer-Associated Thrombosis in Two Unique US Health Care Systems. J Clin Oncol. 2023 Jun 01; 41(16):2926-2938. PMID: 36626707.
Published on 12/14/2022
La J, Fillmore NR, Do NV, Brophy M, Monach PA, Branch-Elliman W. Factors associated with the speed and scope of diffusion of COVID-19 therapeutics in a nationwide healthcare setting: a mixed-methods investigation. Health Res Policy Syst. 2022 Dec 14; 20(1):134. PMID: 36517793.
Published on 11/7/2022
Fillmore NR, Szalat RE, La J, Branch-Elliman W, Monach PA, Nguyen V, Samur MK, Brophy MT, Do NV, Munshi NC. Recent common human coronavirus infection protects against severe acute respiratory syndrome coronavirus 2 (SARS-CoV-2) infection: A Veterans Affairs cohort study. Proc Natl Acad Sci U S A. 2022 Nov 16; 119(46):e2213783119. PMID: 36343242.
Published on 10/3/2022
Vo AD, La J, Wu JT, Strymish JM, Ronan M, Brophy M, Do NV, Branch-Elliman W, Fillmore NR, Monach PA. Factors Associated With Severe COVID-19 Among Vaccinated Adults Treated in US Veterans Affairs Hospitals. JAMA Netw Open. 2022 Oct 03; 5(10):e2240037. PMID: 36264571.
Published on 8/18/2022
La J, Wu JT, Branch-Elliman W, Huhmann L, Han SS, Brophy M, Do NV, Lin AY, Fillmore NR, Munshi NC. Increased COVID-19 breakthrough infection risk in patients with plasma cell disorders. Blood. 2022 Aug 18; 140(7):782-785. PMID: 35605185.
Published on 5/23/2022
Corrigan JK, La J, Fillmore NR, Do NV, Brophy M, Doron S, Monach PA, Branch-Elliman W. Coronavirus disease 2019 (COVID-19) hospitalization metrics that do not account for disease severity underestimate protection provided by severe acute respiratory coronavirus virus 2 (SARS-CoV-2) vaccination and boosting: A retrospective cohort study. Infect Control Hosp Epidemiol. 2023 Jan; 44(1):149-151. PMID: 35599374.
Published on 5/17/2022
Chang MS, La J, Trepanowski N, Cheng D, Bihn JR, Do N, Brophy M, Fillmore NR, Hartman RI. Increased relative proportions of advanced melanoma among veterans: A comparative analysis with the Surveillance, Epidemiology, and End Results registry. J Am Acad Dermatol. 2022 Jul; 87(1):72-79. PMID: 35595121.
View full list of 45 publications.