Nhan Van Do MD
Assistant Professor, General Internal Medicine
72 E. Concord Street | (703) 835-3843

nhando@bu.edu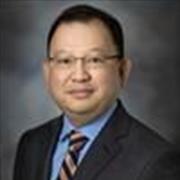 Sections
General Internal Medicine
Biography
Nhan Van Do is an Assistant Professor of Medicine at BUSM and the Director of the Informatics Center at the Massachusetts Veterans Epidemiology Research and Information Center (MAVERIC). Dr. Do completed his training in Biomedical Informatics at Stanford University. After his Informatics training and prior to joining the VA and the faculty at BU, he had served in several informatics leadership positions in the Military Health System such as Chief Medical Information Officer and Medical Informatics Consultant to Surgeon General to manage and support the design, development, implementation, and evaluation of health information technology. In his current position as the Informatics Center Director, he is responsible for developing the computing infrastructure to support the VA's Research Precision Oncology program and Point of Care Research. His research interests also include clinical decision support and predictive analytics.
Websites
Education
Medicine-Internal, MD, George Washington University School of Medicine, 1994
Biomedical Sciences, MS, Stanford University, 2005
Chemistry, BS, Baylor University, 1990
Publications
Published on 6/1/2021
Fillmore NR, La J, Szalat RE, Tuck DP, Nguyen V, Yildirim C, Do NV, Brophy MT, Munshi NC. Prevalence and Outcome of COVID-19 Infection in Cancer Patients: A National Veterans Affairs Study. J Natl Cancer Inst. 2021 06 01; 113(6):691-698. PMID: 33031532.
Published on 11/1/2020
Fillmore NR, Elbers DC, La J, Feldman TC, Sung FC, Hall RB, Nguyen V, Link N, Zwolinski R, Dipietro S, Miller SJ, Aleksanyan A, Goryachev SD, Corcoran P, Bergstrom SJ, Parenteau MA, Sprague RS, Thornton DJ, Driver JA, Strymish JM, Evans S, Colonna B, Brophy MT, Do NV. An application to support COVID-19 occupational health and patient tracking at a Veterans Affairs medical center. J Am Med Inform Assoc. 2020 11 01; 27(11):1716-1720. PMID: 33067628.
Published on 10/1/2020
La J, Cheng D, Brophy MT, Do NV, Lee JSH, Tuck D, Fillmore NR. Real-World Outcomes for Patients Treated With Immune Checkpoint Inhibitors in the Veterans Affairs System. JCO Clin Cancer Inform. 2020 10; 4:918-928. PMID: 33074743.
Published on 7/1/2020
Panayides AS, Amini A, Filipovic ND, Sharma A, Tsaftaris SA, Young A, Foran D, Do N, Golemati S, Kurc T, Huang K, Nikita KS, Veasey BP, Zervakis M, Saltz JH, Pattichis CS. AI in Medical Imaging Informatics: Current Challenges and Future Directions. IEEE J Biomed Health Inform. 2020 07; 24(7):1837-1857. PMID: 32609615.
Published on 4/28/2020
Yellapragada SV, Fillmore NR, Frolov A, Zhou Y, Dev P, Yameen H, Ifeorah C, Do NV, Brophy MT, Munshi NC. Vitamin D deficiency predicts for poor overall survival in white but not African American patients with multiple myeloma. Blood Adv. 2020 04 28; 4(8):1643-1646. PMID: 32315398.
Published on 10/30/2019
Cheng D, Ramos-Cejudo J, Tuck D, Elbers D, Brophy M, Do N, Fillmore N. External validation of a prognostic model for mortality among patients with non-small-cell lung cancer using the Veterans Precision Oncology Data Commons. Semin Oncol. 2019 Aug - Oct; 46(4-5):327-333. PMID: 31708233.
Published on 10/2/2019
Do N, Grossman R, Feldman T, Fillmore N, Elbers D, Tuck D, Dhond R, Selva L, Meng F, Fitzsimons M, Ajjarapu S, Ayandeh S, Hall R, Do S, Brophy M. The Veterans Precision Oncology Data Commons: Transforming VA data into a national resource for research in precision oncology. Semin Oncol. 2019 Aug - Oct; 46(4-5):314-320. PMID: 31629530.
Published on 8/21/2019
Fillmore N, Do N, Brophy M, Zimolzak A. Interactive Machine Learning for Laboratory Data Integration. Stud Health Technol Inform. 2019 Aug 21; 264:133-137. PMID: 31437900.
Published on 8/21/2019
Do NV, Ramos JC, Fillmore NR, Grossman RL, Fitzsimons M, Elbers DC, Meng F, Johnson BR, Ajjarapu S, DeDomenico CL, Pierce-Murray KE, Hall RB, Do AF, Gaynor K, Elkin PL, Brophy MT. Machine Learning Methods to Predict Lung Cancer Survival Using the Veterans Affairs Research Precision Oncology Data Commons. Stud Health Technol Inform. 2019 Aug 21; 264:1453. PMID: 31438177.
Published on 4/19/2019
Fillmore NR, Yellapragada SV, Ifeorah C, Mehta A, Cirstea D, White PS, Rivero G, Zimolzak A, Pyarajan S, Do N, Brophy M, Munshi NC. With equal access, African American patients have superior survival compared to white patients with multiple myeloma: a VA study. Blood. 2019 06 13; 133(24):2615-2618. PMID: 31003998.
View full list of 22 publications.