Nathanael Fillmore PhD
Adjunct Instructor, Hematology & Medical Oncology
820 Harrison Ave | (617) 638-7012

nf@bu.edu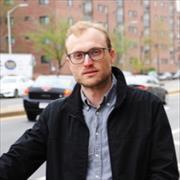 Sections
Hematology & Medical Oncology
Biography
I lead a group at the VA Boston Healthcare System and Harvard Medical School that uses VA clinical, genomic, and imaging data, together with machine learning and statistical methods, in research to improve patient care. We are also working on software and methodological improvements to support these efforts.
Websites
Education
Computer Science, PhD, University of Wisconsin Madison, 2015
Computer Science, MS, University of Wisconsin Madison, 2010
Philosophy/Classical Studies, BA, Carleton College, 2005
Publications
Published on 8/18/2022
La J, Wu JT, Branch-Elliman W, Huhmann L, Han SS, Brophy M, Do NV, Lin AY, Fillmore NR, Munshi NC. Increased COVID-19 breakthrough infection risk in patients with plasma cell disorders. Blood. 2022 Aug 18; 140(7):782-785. PMID: 35605185.
Published on 5/23/2022
Corrigan JK, La J, Fillmore NR, Do NV, Brophy M, Doron S, Monach PA, Branch-Elliman W. Coronavirus disease 2019 (COVID-19) hospitalization metrics that do not account for disease severity underestimate protection provided by severe acute respiratory coronavirus virus 2 (SARS-CoV-2) vaccination and boosting: A retrospective cohort study. Infect Control Hosp Epidemiol. 2022 May 23; 1-3. PMID: 35599374.
Published on 5/17/2022
Chang MS, La J, Trepanowski N, Cheng D, Bihn JR, Do N, Brophy M, Fillmore NR, Hartman RI. Increased relative proportions of advanced melanoma among veterans: A comparative analysis with the Surveillance, Epidemiology, and End Results registry. J Am Acad Dermatol. 2022 Jul; 87(1):72-79. PMID: 35595121.
Published on 4/26/2022
Ramos-Cejudo J, Johnson AD, Beiser A, Seshadri S, Salinas J, Berger JS, Fillmore NR, Do N, Zheng C, Kovbasyuk Z, Ardekani BA, Nunzio P, Bubu OM, Parekh A, Convit A, Betensky RA, Wisniewski TM, Osorio RS. Platelet Function Is Associated With Dementia Risk in the Framingham Heart Study. J Am Heart Assoc. 2022 May 03; 11(9):e023918. PMID: 35470685.
Published on 3/26/2022
Cheng D, Dumontier C, Sheikh AR, La J, Brophy MT, Do NV, Driver JA, Tuck DP, Fillmore NR. Prognostic value of the veterans affairs frailty index in older patients with non-small cell lung cancer. Cancer Med. 2022 Aug; 11(15):3009-3022. PMID: 35338613.
Published on 2/3/2022
Cheng D, DuMontier C, Yildirim C, Charest B, Hawley CE, Zhuo M, Paik JM, Yaksic E, Gaziano JM, Do N, Brophy M, Cho K, Kim DH, Driver JA, Fillmore NR, Orkaby AR. Corrigendum to: Updating and Validating the U.S. Veterans Affairs Frailty Index: Transitioning From ICD-9 to ICD-10. J Gerontol A Biol Sci Med Sci. 2022 Feb 03; 77(2):e107. PMID: 34272940.
Published on 2/1/2022
Wu JT, La J, Branch-Elliman W, Huhmann LB, Han SS, Parmigiani G, Tuck DP, Brophy MT, Do NV, Lin AY, Munshi NC, Fillmore NR. Association of COVID-19 Vaccination With SARS-CoV-2 Infection in Patients With Cancer: A US Nationwide Veterans Affairs Study. JAMA Oncol. 2022 02 01; 8(2):281-286. PMID: 34854921.
Published on 1/19/2022
Li LL, Zheng C, La J, Do NV, Monach PA, Strymish JM, Fillmore NR, Branch-Elliman W. Impact of prior SARS-CoV-2 infection on incidence of hospitalization and adverse events following mRNA SARS-CoV-2 vaccination: A nationwide, retrospective cohort study. Vaccine. 2022 02 16; 40(8):1082-1089. PMID: 35078665.
Published on 1/11/2022
Fillmore NR, La J, Zheng C, Doron S, Do N, Monach P, Branch-Elliman W. The COVID-19 Hospitalization Metric in the Pre- and Post-vaccination Eras as a Measure of Pandemic Severity: A Retrospective, Nationwide Cohort Study. Infect Control Hosp Epidemiol. 2022 Jan 11; 1-24. PMID: 35012694.
Published on 1/10/2022
Del Valle JP, Fillmore NR, Molina G, Fairweather M, Wang J, Clancy TE, Ashley SW, Urman RD, Whang EE, Gold JS. Socioeconomic Disparities in Pancreas Cancer Resection and Survival in the Veterans Health Administration. Ann Surg Oncol. 2022 May; 29(5):3194-3202. PMID: 35006509.
View full list of 34 publications.