Natasha S. Hochberg MD, MPH
Associate Professor, Infectious Diseases
Associate Professor, Epidemiology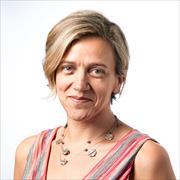 Sections
Infectious Diseases
Centers
Evans Center for Interdisciplinary Biomedical Research
Biography
Natasha Hochberg, MD, MPH is Associate Professor in the Department of Medicine (Section of Infectious Diseases) at BU School of Medicine and in the Department of Epidemiology at BU School of Public Health. She is also the Program Director for the Infectious Disease Fellowship Program. Prior to her arrival at Boston University, Dr. Hochberg was an Epidemic Intelligence Service (EIS) officer at the Centers for Disease and Prevention (CDC) in the Division of Parasitic Diseases and worked internationally on projects related to malaria, visceral leishmaniasis, guinea worm disease, and lymphatic filariasis.

Dr. Hochberg's current research focuses on tropical diseases. Particularly, she studies the impact of malnutrition and parasitic disease on tuberculosis (TB), tropical diseases in immigrant populations, and preventing diseases in international travelers. She is the principal investigator of the TB LION study (Learning the Impact Of Nutrition) in Pondicherry India. This study of household contacts of TB cases evaluates the impact of malnutrition and parasite infections on the immune response to TB and how this changes after providing a high-protein food package, multivitamin, and deworming. She is also site principal investigator of the the US-Indo RePORT study in Pondicherry, India, a cohort of 1100 TB patients and 1500 of their household contacts. The study aims to identify biomarkers that predict TB treatment failure and risk of developing TB (among exposed persons) and to identify how comorbidities (e.g., diabetes, helminth infections) modulate these profiles and risks. She is also the co-investigator of an R01 studying TB in pregnancy in India; the study looks at pharmacokinetics of TB drugs in pregnancy, assesses neonatal outcomes, and evaluates diagnostic testing for latent TB infection in pregnant women. She was the previous recipient of a K-12 BIRCWH award to study the effect of aging on the immune response to latent TB infection in Boston-area nursing home residents.

She is the co-director of the travel clinic at Boston Medical Center (BMC) where she sees travelers and patients with tropical diseases with a particular focus on Chagas disease and other parasitic infections. She serves as the co-site director for GeoSentinel, an international surveillance system of diseases in travelers and migrants, and participates in studies related to tropical medicine and travelers health. At a national level, she is part of the American Society of Tropical Medicine and Hygiene where she serves as a Councilor for the Clinical Group, as a member of the Scientific Program Committee, and as the Chair for the Subcommittee on Pneumonia, Respiratory Infections and TB. She also sees patients at the Center for Infectious Diseases and attends on the infectious disease consult service.

Dr. Hochberg has taught courses at BU School of Public Health on Infectious Disease Epidemiology (EP755) and Outbreak Investigations (EP800).
Education
Medicine, MD, Case School of Medicine, 2001
Public Health, MPH, Emory University, 2007
Classics, BA, Harvard University, 1996
Publications
Published on 8/27/2021
Eimer J, Patimeteeporn C, Jensenius M, Gkrania-Klotsas E, Duvignaud A, Barnett ED, Hochberg NS, Chen LH, Trigo-Esteban E, Gertler M, Greenaway C, Grobusch MP, Angelo KM, Hamer DH, Caumes E, Asgeirsson H. Multidrug-resistant tuberculosis imported into low-incidence countries-a GeoSentinel analysis, 2008-2020. J Travel Med. 2021 Aug 27; 28(6). PMID: 33987682.
Published on 8/27/2021
Murali S, Krishnamoorthy Y, Knudsen S, Roy G, Ellner J, Horsburgh CR, Hochberg N, Salgame P, Prakash Babu S, Sarkar S. Comparison of profile and treatment outcomes between elderly and non-elderly tuberculosis patients in Puducherry and Tamil Nadu, South India. PLoS One. 2021; 16(8):e0256773. PMID: 34449817.
Published on 8/16/2021
Nolan MS, Hochberg NS. Chagas Disease in HIV-Infected Patients: It's Time to Consider the Diagnosis. Am J Trop Med Hyg. 2021 Aug 16; 105(3):545-546. PMID: 34398814.
Published on 7/27/2021
Cozier YC, Castro-Webb N, Hochberg NS, Rosenberg L, Albert MA, Palmer JR. Lower serum 25(OH)D levels associated with higher risk of COVID-19 infection in U.S. Black women. PLoS One. 2021; 16(7):e0255132. PMID: 34314458.
Published on 7/16/2021
Reddy D, Ma Y, Lakshminarayanan S, Sahu S, White LF, Reshma A, Roy G, Salgame P, Knudsen S, Cintron C, Ellner JJ, Horsburgh CR, Sarkar S, Hochberg NS. Severe undernutrition in children affects tuberculin skin test performance in Southern India. PLoS One. 2021; 16(7):e0250304. PMID: 34270546.
Published on 7/16/2021
Stoddard M, Sarkar S, Yuan L, Nolan RP, White DE, White LF, Hochberg NS, Chakravarty A. Beyond the new normal: Assessing the feasibility of vaccine-based suppression of SARS-CoV-2. PLoS One. 2021; 16(7):e0254734. PMID: 34270597.
Published on 6/21/2021
Sinha P, Carwile ME, Cintron C, de Perez EC, Hochberg NS. Climate change and TB: the soil and seed conceptual framework. Public Health Action. 2021 Jun 21; 11(2):108. PMID: 34159072.
Published on 6/7/2021
Charoenngam N, Ilori TO, Holick MF, Hochberg NS, Apovian CM. Self-identified Race and COVID-19-Associated Acute Kidney Injury and Inflammation: a Retrospective Cohort Study of Hospitalized Inner-City COVID-19 Patients. J Gen Intern Med. 2021 Jun 07. PMID: 34100227.
Published on 4/30/2021
Stoddard M, Van Egeren D, Johnson KE, Rao S, Furgeson J, White DE, Nolan RP, Hochberg N, Chakravarty A. Individually optimal choices can be collectively disastrous in COVID-19 disease control. BMC Public Health. 2021 04 30; 21(1):832. PMID: 33931055.
Published on 4/1/2021
Roy N, Krishnamoorthy Y, Rajaa S, Ezhumalai K, Madhusudhanan S, Raghupathy K, Knudsen S, Horsburgh CR, Hochberg NS, Salgame P, Ellner J, Subitha L, Babu SP, Sarkar S. Health-related quality of life and its effect on TB treatment outcomes. Int J Tuberc Lung Dis. 2021 04 01; 25(4):318-320. PMID: 33762076.
View full list of 62 publications.