Natasha S. Hochberg MD, MPH
Associate Professor, Infectious Diseases
Associate Professor, Epidemiology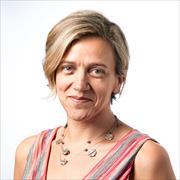 Sections
Infectious Diseases
Centers
Evans Center for Interdisciplinary Biomedical Research
Biography
Natasha Hochberg, MD, MPH is Associate Professor in the Department of Medicine (Section of Infectious Diseases) at BU School of Medicine and in the Department of Epidemiology at BU School of Public Health. She is also the Program Director for the Infectious Disease Fellowship Program. Prior to her arrival at Boston University, Dr. Hochberg was an Epidemic Intelligence Service (EIS) officer at the Centers for Disease and Prevention (CDC) in the Division of Parasitic Diseases and worked internationally on projects related to malaria, visceral leishmaniasis, guinea worm disease, and lymphatic filariasis.

Dr. Hochberg's current research focuses on tropical diseases. Particularly, she studies the impact of malnutrition and parasitic disease on tuberculosis (TB), tropical diseases in immigrant populations, and preventing diseases in international travelers. She is the principal investigator of the TB LION study (Learning the Impact Of Nutrition) in Pondicherry India. This study of household contacts of TB cases evaluates the impact of malnutrition and parasite infections on the immune response to TB and how this changes after providing a high-protein food package, multivitamin, and deworming. She is also site principal investigator of the the US-Indo RePORT study in Pondicherry, India, a cohort of 1100 TB patients and 1500 of their household contacts. The study aims to identify biomarkers that predict TB treatment failure and risk of developing TB (among exposed persons) and to identify how comorbidities (e.g., diabetes, helminth infections) modulate these profiles and risks. She is also the co-investigator of an R01 studying TB in pregnancy in India; the study looks at pharmacokinetics of TB drugs in pregnancy, assesses neonatal outcomes, and evaluates diagnostic testing for latent TB infection in pregnant women. She was the previous recipient of a K-12 BIRCWH award to study the effect of aging on the immune response to latent TB infection in Boston-area nursing home residents.

She is the co-director of the travel clinic at Boston Medical Center (BMC) where she sees travelers and patients with tropical diseases with a particular focus on Chagas disease and other parasitic infections. She serves as the co-site director for GeoSentinel, an international surveillance system of diseases in travelers and migrants, and participates in studies related to tropical medicine and travelers health. At a national level, she is part of the American Society of Tropical Medicine and Hygiene where she serves as a Councilor for the Clinical Group, as a member of the Scientific Program Committee, and as the Chair for the Subcommittee on Pneumonia, Respiratory Infections and TB. She also sees patients at the Center for Infectious Diseases and attends on the infectious disease consult service.

Dr. Hochberg has taught courses at BU School of Public Health on Infectious Disease Epidemiology (EP755) and Outbreak Investigations (EP800).
Education
Medicine, MD, Case School of Medicine, 2001
Public Health, MPH, Emory University, 2007
Classics, BA, Harvard University, 1996
Publications
Published on 9/29/2022
Kaipilyawar V, Zhao Y, Wang X, Joseph NM, Knudsen S, Prakash Babu S, Muthaiah M, Hochberg NS, Sarkar S, Horsburgh CR, Ellner JJ, Johnson WE, Salgame P. Development and Validation of a Parsimonious Tuberculosis Gene Signature Using the digital NanoString nCounter Platform. Clin Infect Dis. 2022 Sep 29; 75(6):1022-1030. PMID: 35015839.
Published on 9/10/2022
Sinha P, Lakshminarayanan SL, Cintron C, Narasimhan PB, Locks LM, Kulatilaka N, Maloomian K, Prakash Babu S, Carwile ME, Liu AF, Horsburgh CR, Acuna-Villaorduna C, Linas BP, Hochberg NS. Nutritional Supplementation Would Be Cost-Effective for Reducing Tuberculosis Incidence and Mortality in India: The Ration Optimization to Impede Tuberculosis (ROTI-TB) Model. Clin Infect Dis. 2022 Sep 10; 75(4):577-585. PMID: 34910141.
Published on 6/11/2022
Barathi A, Krishnamoorthy Y, Sinha P, Horsburgh C, Hochberg N, Johnson E, Salgame P, Govindarajan S, Senbagavalli PB, Lakshinarayanan S, Roy G, Ellner J, Sarkar S. Effect of treatment adherence on the association between sex and unfavourable treatment outcomes among tuberculosis patients in Puducherry, India: a mediation analysis. J Public Health (Oxf). 2022 Jun 11. PMID: 35692180.
Published on 6/1/2022
Sinha P, Bhargava A, Carwile M, Cintron C, Cegielski JP, Lönnroth K, Bhargava M, Carter EJ, Koura KG, Hochberg NS. Undernutrition can no longer be an afterthought for global efforts to eliminate TB. Int J Tuberc Lung Dis. 2022 Jun 01; 26(6):477-480. PMID: 35650703.
Published on 5/4/2022
Forsyth CJ, Manne-Goehler J, Bern C, Whitman J, Hochberg NS, Edwards M, Marcus R, Beatty NL, Castro-Sesquen YE, Coyle C, Stigler Granados P, Hamer D, Maguire JH, Gilman RH, Meymandi S. Recommendations for Screening and Diagnosis of Chagas Disease in the United States. J Infect Dis. 2022 May 04; 225(9):1601-1610. PMID: 34623435.
Published on 4/12/2022
Beatty NL, Forsyth CJ, Gilman RH, Hamer DH, Henao-Martínez AF, Hochberg N, Manne-Goehler J, Marcus R, Meymandi S, Reich MR, Showler A, Stigler Granados P. Neglected Testing for Neglected Tropical Diseases at the CDC. Am J Trop Med Hyg. 2022 Apr 12. PMID: 35413685.
Published on 3/21/2022
Balogun O, Brown A, Angelo KM, Hochberg NS, Barnett ED, Nicolini LA, Asgeirsson H, Grobusch MP, Leder K, Salvador F, Chen L, Odolini S, Díaz-Menéndez M, Gobbi F, Connor BA, Libman M, Hamer DH. Acute hepatitis A in international travellers: a GeoSentinel analysis, 2008-2020. J Travel Med. 2022 03 21; 29(2). PMID: 35134210.
Published on 3/17/2022
Carwile ME, Hochberg NS, Sinha P. Undernutrition is feeding the tuberculosis pandemic: A perspective. J Clin Tuberc Other Mycobact Dis. 2022 May; 27:100311. PMID: 35313724.
Published on 1/1/2022
Sinha P, White LF, Hochberg NS, Cegielski JP. Avoiding pitfalls in calculating the population attributable fraction of undernutrition for TB. Int J Tuberc Lung Dis. 2022 01 01; 26(1):80. PMID: 34969436.
Published on 10/26/2021
Krishnamoorthy Y, Ezhumalai K, Murali S, Rajaa S, Jose M, Sathishkumar A, Soundappan G, Horsburgh C, Hochberg N, Johnson WE, Knudsen S, Salgame P, Ellner J, Prakash Babu S, Sarkar S. Prevalence and risk factors associated with latent tuberculosis infection among household contacts of smear positive pulmonary tuberculosis patients in South India. Trop Med Int Health. 2021 12; 26(12):1645-1651. PMID: 34654061.
View full list of 76 publications.