Natasha S. Hochberg MD, MPH
Voluntary Associate Professor, Infectious Diseases
Director, Global Health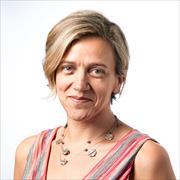 Sections
Infectious Diseases
Centers
Evans Center for Interdisciplinary Biomedical Research
Biography
Natasha Hochberg, MD, MPH is Volunteer Associate Professor in the Department of Medicine (Section of Infectious Diseases) at the Boston University Chobanian and Avedisian School of Medicine. She sees travelers and patients with tropical diseases in the Center for a infectious Diseases, with a particular focus on Chagas disease and other parasitic infections. Dr. Hochberg previously worked full-time at BU/BMC, but now her primary position is Director, Global Health Translational Medicine at Novartis Institutes for BioMedical Research.

Prior to her arrival at Boston University, Dr. Hochberg was an Epidemic Intelligence Service (EIS) officer at the Centers for Disease and Prevention (CDC) in the Division of Parasitic Diseases and worked internationally on projects related to malaria, visceral leishmaniasis, guinea worm disease, and lymphatic filariasis.

Dr. Hochberg's research focuses on tropical diseases. Particularly, she has studied the impact of malnutrition and parasitic disease on tuberculosis (TB), tropical diseases in immigrant populations, and preventing diseases in international travelers. She was the principal investigator of the TB LION study (Learning the Impact Of Nutrition) in Pondicherry India. This study of household contacts of TB cases evaluates the impact of malnutrition and parasite infections on the immune response to TB and how this changes after providing a high-protein food package, multivitamin, and deworming. She was also site principal investigator of the the US-Indo RePORT study in Pondicherry, India, a cohort of 1100 TB patients and 1500 of their household contacts. The study aimed to identify biomarkers that predict TB treatment failure and risk of developing TB (among exposed persons) and to identify how comorbidities (e.g., diabetes, helminth infections) modulate these profiles and risks. She was co-investigator of an R01 studying TB in pregnancy in IndiA and the recipient of a K-12 BIRCWH award to study the effect of aging on the immune response to latent TB infection in Boston-area nursing home residents.

Previously, she was the co-director of the travel clinic at Boston Medical Center (BMC) and Dire tor of Tropical Medicine. She served as the co-site director for GeoSentinel, an international surveillance system of diseases in travelers and migrants, and participated in studies related to tropical medicine and travelers health. At a national level, she is part of the American Society of Tropical Medicine and Hygiene where she serves as President for the Clinical Group, and previously served as a member of the Scientific Program Committee, a clinical group councilor, and as the Chair for the Subcommittee on Pneumonia, Respiratory Infections and TB.

Dr. Hochberg taught courses at BU School of Public Health on Infectious Disease Epidemiology (EP755) and Outbreak Investigations (EP800).
Education
Medicine, MD, Case School of Medicine, 2001
Public Health, MPH, Emory University, 2007
Classics, BA, Harvard University, 1996
Publications
Published on 4/17/2023
Sinha P, Ponnuraja C, Gupte N, Prakash Babu S, Cox SR, Sarkar S, Mave V, Paradkar M, Cintron C, Govindarajan S, Kinikar A, Priya N, Gaikwad S, Thangakunam B, Devarajan A, Dhanasekaran M, Tornheim JA, Gupta A, Salgame P, Christopher DJ, Kornfeld H, Viswanathan V, Ellner JJ, Horsburgh CR, Gupte AN, Padmapriyadarsini C, Hochberg NS. Impact of Undernutrition on Tuberculosis Treatment Outcomes in India: A Multicenter, Prospective, Cohort Analysis. Clin Infect Dis. 2023 Apr 17; 76(8):1483-1491. PMID: 36424864.
Published on 4/16/2023
Van Egeren D, Stoddard M, White LF, Hochberg NS, Rogers MS, Zetter B, Joseph-McCarthy D, Chakravarty A. Vaccines Alone Cannot Slow the Evolution of SARS-CoV-2. Vaccines (Basel). 2023 Apr 16; 11(4). PMID: 37112765.
Published on 4/6/2023
Stoddard M, Yuan L, Sarkar S, Mangalaganesh S, Nolan RP, Bottino D, Hather G, Hochberg NS, White LF, Chakravarty A. Heterogeneity in Vaccinal Immunity to SARS-CoV-2 Can Be Addressed by a Personalized Booster Strategy. Vaccines (Basel). 2023 Apr 06; 11(4). PMID: 37112718.
Published on 2/14/2023
Hochberg NS, Montgomery SP. Chagas Disease. Ann Intern Med. 2023 Feb; 176(2):ITC17-ITC32. PMID: 36780647.
Published on 1/30/2023
Wang X, VanValkenberg A, Odom-Mabey AR, Ellner JJ, Hochberg NS, Salgame P, Patil P, Johnson WE. Comparison of gene set scoring methods for reproducible evaluation of multiple tuberculosis gene signatures. bioRxiv. 2023 Jan 30. PMID: 36711818.
Published on 1/3/2023
DiLorenzo MA, Davis MR, Dugas JN, Nelson KP, Hochberg NS, Ingalls RR, Mishuris RG, Schechter-Perkins EM. Performance of three screening tools to predict COVID-19 positivity in emergency department patients. Emerg Med J. 2023 Mar; 40(3):210-215. PMID: 36596666.
Published on 1/1/2023
Knudsen S, Babu SP, Ramakrishnan J, Jenkins HE, Joseph N, Cintron C, Narasimhan PB, Salgame P, Hochberg NS, Hom DL, Ellner J, Horsburgh CR, Sarkar S. M. tuberculosis infection before, during and after pregnancy. Int J Tuberc Lung Dis. 2023 Jan 01; 27(1):72-74. PMID: 36853122.
Published on 12/1/2022
Van Egeren D, Stoddard M, Malakar A, Ghosh D, Acharya A, Mainuddin S, Majumdar B, Luo D, Nolan RP, Joseph-McCarthy D, White LF, Hochberg NS, Basu S, Chakravarty A. No magic bullet: Limiting in-school transmission in the face of variable SARS-CoV-2 viral loads. Front Public Health. 2022; 10:941773. PMID: 36530725.
Published on 11/30/2022
Kalva J, Babu SP, Narasimhan PB, Raghupathy K, Ezhumalai K, Knudsen S, Horsburgh CR, Hochberg N, Salgame P, Roy G, Ellner J, Sarkar S. Predictors of weight loss during the intensive phase of tuberculosis treatment in patients with drug-susceptible pulmonary tuberculosis in South India. J Public Health (Oxf). 2022 Nov 30. PMID: 36451280.
Published on 10/20/2022
VanValkenburg A, Kaipilyawar V, Sarkar S, Lakshminarayanan S, Cintron C, Babu SP, Knudsen S, Joseph NM, Horsburgh CR, Sinha P, Ellner JJ, Narasimhan PB, Johnson WE, Hochberg NS, Salgame P. Corrigendum: Malnutrition leads to increased inflammation and expression of tuberculosis risk signatures in recently exposed household contacts of pulmonary tuberculosis. Front Immunol. 2022; 13:1064883. PMID: 36341454.
View full list of 91 publications.