Natalia E. Morone MD, MS
Associate Professor, General Internal Medicine
801 Massachusetts Ave | (617) 414-7399

moronen@bu.edu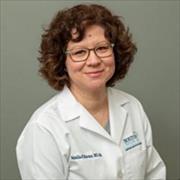 Sections
General Internal Medicine
Biography
Natalia E. Morone, MD, MS received her BA at Barnard College, Columbia University, her MD at Michigan State University College of Human Medicine, and her Master of Science in Clinical Research at University of Pittsburgh. She is an Associate Professor of Medicine at Boston University and is a clinical general internist at Boston Medical Center. She is author of over 50 peer-reviewed publications that focus on integrative approaches for chronic pain, mindfulness, chronic low back pain, integration of mindfulness into clinical practice, and diversifying the biomedical research workforce. She is currently Principal Investigator of a UH3 award pragmatic clinical trial to evaluate telehealth delivered group mindfulness for chronic low back pain, multi-Principal Investigator of a 25-site randomized trial of a year-long professional development intervention to retain historically underrepresented groups in research, and Principal Investigator of a K24 midcareer development award to mentor early investigators in mind and body medicine and pain.

In addition to her research, she is co-Director of the CTSI Pathways to Research Independence and Mentoring Excellence (PRIME) program and is a member of the CTSI Workforce Development Group. She started an integrated acupuncture clinic within the Boston Medical Center General Internal Medicine Clinic. She received the University of Pittsburgh Chancellor's Affirmative Action Award for the Career Education and enhancement for Health Care Research Diversity (CEED) Program and was named a Faculty Honoree.

Committed to mentoring, she mentors medical students, residents, fellows, post-docs, and junior faculty. Mentees have gone on to receive federal grant funding, have published their work in peer-reviewed journals and have presented their work both locally and nationally.
Websites
Education
Medicine, MD, Michigan State University, 1993
Publications
Published on 12/19/2022
Roseen EJ, Smith CN, Essien UR, Cozier YC, Joyce C, Morone NE, Phillips RS, Barnett KG, Patterson CG, Wegener ST, Brennan GP, Delitto A, Saper RB, Beneciuk JM, Stevans JM. Racial and ethnic disparities in the incidence of high-impact chronic pain among primary care patients with acute low back pain: A cohort study. Pain Med. 2022 Dec 19. PMID: 36534910.
Published on 9/14/2022
Binda DD, Weinberg JM, Nguyen T, Morone NE. Characterizing Interprofessional Collaboration and Referral to Mindfulness-Based Stress Reduction Programs. Glob Adv Health Med. 2022; 11:2164957X221126484. PMID: 36118601.
Published on 8/30/2022
White GE, Proulx CN, Morone NE, Thakar MS, Murrell AJ, Althouse AD, Rubio DM. A Mixed-Methods Analysis of Gender and Career Status Differences in the Impact of the COVID-19 Pandemic on Underrepresented Postdoctoral Fellows and Early-Career Faculty. Acad Med. 2022 Dec 01; 97(12):1824-1831. PMID: 36449920.
Published on 8/19/2022
White GE, Proulx CN, Rubio DM, Thakar MS, Morone NE, Mitchell-Miland C, Althouse AD, Murrell AJ. The impact of social unrest due to systemic racism on underrepresented post-doctoral fellows and early-career faculty. J Clin Transl Sci. 2022; 6(1):e112. PMID: 36285023.
Published on 4/19/2022
Binda DD, Greco CM, Morone NE. What Are Adverse Events in Mindfulness Meditation? Glob Adv Health Med. 2022; 11:2164957X221096640. PMID: 35464906.
Published on 3/1/2022
DiNardo MM, Greco C, Phares AD, Beyer NM, Youk AO, Obrosky DS, Morone NE, Owen JE, Saba SK, Suss SJ, Siminerio L. Effects of an integrated mindfulness intervention for veterans with diabetes distress: a randomized controlled trial. BMJ Open Diabetes Res Care. 2022 Mar; 10(2). PMID: 35346971.
Published on 11/1/2021
Morone NE, Herbeck BB, Huang Y, Abebe KZ, Rollman BL, Jonassaint CR. The Impact of Optimism and Pain Interference on Response to Online Behavioral Treatment for Mood and Anxiety Symptoms. Psychosom Med. 2021 Nov-Dec 01; 83(9):1067-1074. PMID: 34267085.
Published on 9/14/2021
Doyle JM, Morone NE, Proulx CN, Althouse AD, Rubio DM, Thakar MS, Murrell AJ, White GE. The impact of the COVID-19 pandemic on underrepresented early-career PhD and physician scientists. J Clin Transl Sci. 2021; 5(1):e174. PMID: 34721892.
Published on 8/27/2021
Greco CM, Gaylord SA, Faurot K, Weinberg JM, Gardiner P, Roth I, Barnhill JL, Thomas HN, Dhamne SC, Lathren C, Baez JE, Lawrence S, Neogi T, Lasser KE, Castro MG, White AM, Simmons SJ, Ferrao C, Binda DD, Elhadidy N, Eason KM, McTigue KM, Morone NE. The design and methods of the OPTIMUM study: A multisite pragmatic randomized clinical trial of a telehealth group mindfulness program for persons with chronic low back pain. Contemp Clin Trials. 2021 10; 109:106545. PMID: 34455111.
Published on 8/25/2021
White GE, Proulx CN, Morone NE, Murrell AJ, Rubio DM. Recruiting underrepresented individuals in a double pandemic: Lessons learned in a randomized control trial. J Clin Transl Sci. 2021; 5(1):e185. PMID: 34849260.
View full list of 56 publications.