Naomi M. Hamburg MD, MS
Section Chief, Vascular Biology
Joseph A. Vita, MD Professor, Cardiovascular Medicine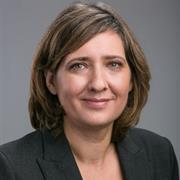 Sections
Vascular Biology
Cardiovascular Medicine
Centers
Whitaker Cardiovascular Institute
Framingham Heart Study
Boston Nutrition Obesity Research Center
Evans Center for Interdisciplinary Biomedical Research
Biography
Expertise and interests include:
Cardiovascular impact of tobacco products
Assessment of Vascular Function in Humans.
Vascular consequences of insulin resistance and diabetes mellitus.
Measurement of microvascular function.
Genetic determinants of vascular function.
Endothelial cell inflammatory activation.
Endothelial determinants of clinical outcomes in peripheral artery disease.
Effects of physical inactivity on vascular function.
Patient oriented research in vascular biology.
Comparative effectiveness in peripheral artery disease.
Epidemiology of cardiovascular disease.
Risk factors and cardiovascular disease.
Education
MD, Harvard Medical School, 2000
AB, Harvard University, 1993
Publications
Published on 10/6/2021
Creager MA, Hamburg NM. Smoking Cessation Improves Outcomes in Patients With Peripheral Artery Disease. JAMA Cardiol. 2021 Oct 06. PMID: 34613351.
Published on 9/28/2021
Bubb KJ, Harmer JA, Finemore M, Aitken SJ, Ali ZS, Billot L, Chow C, Golledge J, Mister R, Gray MP, Grieve SM, Hamburg N, Keech AC, Patel S, Puttaswamy V, Figtree GA. Protocol for the Stimulating ß3-Adrenergic Receptors for Peripheral Artery Disease (STAR-PAD) trial: a double-blinded, randomised, placebo-controlled study evaluating the effects of mirabegron on functional performance in patients with peripheral arterial disease. BMJ Open. 2021 Sep 28; 11(9):e049858. PMID: 34588252.
Published on 9/17/2021
Zhou Y, Wan X, Seidel K, Zhang M, Goodman JB, Seta F, Hamburg N, Han J. Aging and Hypercholesterolemia Differentially Affect the Unfolded Protein Response in the Vasculature of ApoE-/- Mice. J Am Heart Assoc. 2021 Sep 21; 10(18):e020441. PMID: 34533042.
Published on 8/9/2021
Cooper LL, Rong J, Larson MG, Benjamin EJ, Hamburg NM, Vasan RS, Mitchell GF. Discrepancies in Observed and Predicted Longitudinal Change in Central Hemodynamic Measures: The Framingham Heart Study. Hypertension. 2021 Sep; 78(4):973-982. PMID: 34365810.
Published on 8/4/2021
Lawler PR, Goligher EC, Berger JS, Neal MD, McVerry BJ, Nicolau JC, Gong MN, Carrier M, Rosenson RS, Reynolds HR, Turgeon AF, Escobedo J, Huang DT, Bradbury CA, Houston BL, Kornblith LZ, Kumar A, Kahn SR, Cushman M, McQuilten Z, Slutsky AS, Kim KS, Gordon AC, Kirwan BA, Brooks MM, Higgins AM, Lewis RJ, Lorenzi E, Berry SM, Berry LR, Aday AW, Al-Beidh F, Annane D, Arabi YM, Aryal D, Baumann Kreuziger L, Beane A, Bhimani Z, Bihari S, Billett HH, Bond L, Bonten M, Brunkhorst F, Buxton M, Buzgau A, Castellucci LA, Chekuri S, Chen JT, Cheng AC, Chkhikvadze T, Coiffard B, Costantini TW, de Brouwer S, Derde LPG, Detry MA, Duggal A, Džavík V, Effron MB, Estcourt LJ, Everett BM, Fergusson DA, Fitzgerald M, Fowler RA, Galanaud JP, Galen BT, Gandotra S, García-Madrona S, Girard TD, Godoy LC, Goodman AL, Goossens H, Green C, Greenstein YY, Gross PL, Hamburg NM, Haniffa R, Hanna G, Hanna N, Hegde SM, Hendrickson CM, Hite RD, Hindenburg AA, Hope AA, Horowitz JM, Horvat CM, Hudock K, Hunt BJ, Husain M, Hyzy RC, Iyer VN, Jacobson JR, Jayakumar D, Keller NM, Khan A, Kim Y, Kindzelski AL, King AJ, Knudson MM, Kornblith AE, Krishnan V, Kutcher ME, Laffan MA, Lamontagne F, Le Gal G, Leeper CM, Leifer ES, Lim G, Lima FG, Linstrum K, Litton E, Lopez-Sendon J, Lopez-Sendon Moreno JL, Lother SA, Malhotra S, Marcos M, Saud Marinez A, Marshall JC, Marten N, Matthay MA, McAuley DF, McDonald EG, McGlothlin A, McGuinness SP, Middeldorp S, Montgomery SK, Moore SC, Morillo Guerrero R, Mouncey PR, Murthy S, Nair GB, Nair R, Nichol AD, Nunez-Garcia B, Pandey A, Park PK, Parke RL, Parker JC, Parnia S, Paul JD, Pérez González YS, Pompilio M, Prekker ME, Quigley JG, Rost NS, Rowan K, Santos FO, Santos M, Olombrada Santos M, Satterwhite L, Saunders CT, Schutgens REG, Seymour CW, Siegal DM, Silva DG, Shankar-Hari M, Sheehan JP, Singhal AB, Solvason D, Stanworth SJ, Tritschler T, Turner AM, van Bentum-Puijk W, van de Veerdonk FL, van Diepen S, Vazquez-Grande G, Wahid L, Wareham V, Wells BJ, Widmer RJ, Wilson JG, Yuriditsky E, Zampieri FG, Angus DC, McArthur CJ, Webb SA, Farkouh ME, Hochman JS, Zarychanski R. Therapeutic Anticoagulation with Heparin in Noncritically Ill Patients with Covid-19. N Engl J Med. 2021 Aug 26; 385(9):790-802. PMID: 34351721.
Published on 7/28/2021
Mustafa Rizvi SH, Shao D, Tsukahara Y, Pimentel DR, Weisbrod RM, Hamburg NM, McComb ME, Matsui R, Bachschmid MM. Oxidized GAPDH transfers S-glutathionylation to a nuclear protein Sirtuin-1 leading to apoptosis. Free Radic Biol Med. 2021 10; 174:73-83. PMID: 34332079.
Published on 7/21/2021
Tyagi S, Friedland DR, Rein L, Tarima SS, Mueller C, Benjamin EJ, Vasan RS, Hamburg NM, Widlansky ME. Abnormal hearing patterns are not associated with endothelium-dependent vasodilation and carotid intima-media thickness: The Framingham Heart Study. Vasc Med. 2021 Jul 21; 1358863X211025087. PMID: 34286655.
Published on 7/1/2021
Cooper LL, Wang N, Beiser AS, Romero JR, Aparicio HJ, Lioutas VA, Benjamin EJ, Larson MG, Vasan RS, Mitchell GF, Seshadri S, Hamburg NM. Digital Peripheral Arterial Tonometry and Cardiovascular Disease Events: The Framingham Heart Study. Stroke. 2021 Aug; 52(9):2866-2873. PMID: 34192894.
Published on 7/1/2021
Gokce N, Karki S, Dobyns A, Zizza E, Sroczynski E, Palmisano JN, Mazzotta C, Hamburg NM, Pernar LI, Carmine B, Carter CO, LaValley M, Hess DT, Apovian CM, Farb MG. Association of Bariatric Surgery With Vascular Outcomes. JAMA Netw Open. 2021 Jul 01; 4(7):e2115267. PMID: 34251443.
Published on 6/19/2021
Ko D, Preis SR, Johnson AD, Vasan RS, Benjamin EJ, Hamburg NM, Mitchell GF. Relations of arterial stiffness and endothelial dysfunction with incident venous thromboembolism. Thromb Res. 2021 08; 204:108-113. PMID: 34175748.
View full list of 175 publications.