Naomi M. Hamburg MD, MS
Section Chief, Vascular Biology
Joseph A. Vita, MD Professor, Cardiovascular Medicine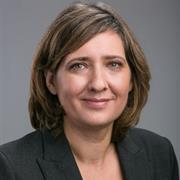 Sections
Vascular Biology
Cardiovascular Medicine
Centers
Whitaker Cardiovascular Institute
Framingham Heart Study
Boston Nutrition Obesity Research Center
Evans Center for Interdisciplinary Biomedical Research
Biography
Dr. Hamburg is the inaugural Joseph A. Vita Professor of Medicine, Chief of the Vascular Biology Section, interim Director of the Whitaker Cardiovascular Institute at Boston University School of Medicine and an Attending in the Cardiovascular Medicine Section at Boston Medical Center. Dr. Hamburg is a recognized expert in the field of Vascular Medicine and the clinical translation of Vascular Biology. Her research work seeks to understand approaches to restore vascular health in patients with cardiometabolic disorders, peripheral artery disease, and to evaluate the impact of novel tobacco products and long COVID. Her work has been continuously funded by the National Institutes of Health and foundations since 2006. Dr. Hamburg has held multiple leadership positions in the field of Vascular Medicine including as the Chair of the Peripheral Vascular Disease Council of the American Heart Association, and as a member of the Board of the Society of Vascular Medicine, the American Society of Echocardiography and the Vascular Testing Division of the Intersocietal Accreditation Commission. She co-Chaired the Advanced Training Statement for Vascular Medicine from the American College of Cardiology and the Society of Vascular Medicine. Dr. Hamburg has authored more than 150 scientific papers in the peer reviewed literature and has served on guideline writing committees. She is a past Associate Editor of the journal Vascular Medicine, and current Associate Editor for Circulation Research. She is passionate about improving the care of vascular diseases and reducing the burden of PAD through education. When not working, she enjoys spending time in the mountains hiking and skiing with her husband and two teenage sons.
Websites
Education
MD, Harvard Medical School, 2000
AB, Harvard University, 1993
Publications
Published on 4/21/2023
Siddiqi TJ, Rashid AM, Siddiqi AK, Anwer A, Usman MS, Sakhi H, Bhatnagar A, Hamburg NM, Hirsch GA, Rodriguez CJ, Blaha MJ, DeFilippis AP, Benjamin EJ, Hall ME. Association of Electronic Cigarette Exposure on Cardiovascular Health: A Systematic Review and Meta-Analysis. Curr Probl Cardiol. 2023 Apr 21; 101748. PMID: 37088177.
Published on 1/26/2023
Majid S, Weisbrod RM, Fetterman JL, Keith RJ, Rizvi SHM, Zhou Y, Behrooz L, Robertson RM, Bhatnagar A, Conklin DJ, Hamburg NM. Pod-based e-liquids impair human vascular endothelial cell function. PLoS One. 2023; 18(1):e0280674. PMID: 36701344.
Published on 1/11/2023
Sarma AA, Paniagua SM, Lau ES, Wang D, Liu EE, Larson MG, Hamburg NM, Mitchell GF, Kizer J, Psaty BM, Allen NB, Lely AT, Gansevoort RT, Rosenberg E, Mukamal K, Benjamin EJ, Vasan RS, Cheng S, Levy D, Boer RA, Gottdiener JS, Shah SJ, Ho JE. Multiple Prior Live Births Are Associated With Cardiac Remodeling and Heart Failure Risk in Women. J Card Fail. 2023 Jan 11. PMID: 36638956.
Published on 12/11/2022
Amraotkar AR, Owolabi US, Malovichko MV, Majid S, Weisbrod RM, Benjamin EJ, Fetterman JL, Hirsch GA, Srivastava S, Poudel R, Robertson RM, Bhatnagar A, Hamburg NM, Keith RJ. Association of electronic cigarette use with circulating angiogenic cell levels in healthy young adults: Evidence for chronic systemic injury. Vasc Med. 2023 Feb; 28(1):18-27. PMID: 36503365.
Published on 11/1/2022
Cooper LL, Rong J, Maillard P, Beiser A, Hamburg NM, Larson MG, DeCarli C, Vasan RS, Seshadri S, Mitchell GF. Relations of postural change in blood pressure with hypertension-mediated organ damage in middle-aged adults of the Framingham heart study: A cross-sectional study. Front Cardiovasc Med. 2022; 9:1013876. PMID: 36386360.
Published on 10/26/2022
Mohammadi L, Han DD, Xu F, Huang A, Derakhshandeh R, Rao P, Whitlatch A, Cheng J, Keith RJ, Hamburg NM, Ganz P, Hellman J, Schick SF, Springer ML. Chronic E-Cigarette Use Impairs Endothelial Function on the Physiological and Cellular Levels. Arterioscler Thromb Vasc Biol. 2022 Nov; 42(11):1333-1350. PMID: 36288290.
Published on 7/15/2022
Poudel R, Daniels LB, DeFilippis AP, Hamburg NM, Khan Y, Keith RJ, Kumar RS, Strokes AC, Robertson RM, Bhatnagar A. Smoking is associated with increased risk of cardiovascular events, disease severity, and mortality among patients hospitalized for SARS-CoV-2 infections. PLoS One. 2022; 17(7):e0270763. PMID: 35839264.
Published on 7/1/2022
Cooper LL, O'Donnell A, Beiser AS, Thibault EG, Sanchez JS, Benjamin EJ, Hamburg NM, Vasan RS, Larson MG, Johnson KA, Mitchell GF, Seshadri S. Association of Aortic Stiffness and Pressure Pulsatility With Global Amyloid-ß and Regional Tau Burden Among Framingham Heart Study Participants Without Dementia. JAMA Neurol. 2022 Jul 01; 79(7):710-719. PMID: 35666520.
Published on 6/21/2022
Wold LE, Tarran R, Crotty Alexander LE, Hamburg NM, Kheradmand F, St Helen G, Wu JC. Cardiopulmonary Consequences of Vaping in Adolescents: A Scientific Statement From the American Heart Association. Circ Res. 2022 Jul 22; 131(3):e70-e82. PMID: 35726609.
Published on 6/1/2022
Hallak A, Barnett ME, Hamburg N, Ratchford EV. SVM Communications: Finding a job after fellowship - a conversation with (gainfully employed) experts. Vasc Med. 2022 Jun; 27(3):317-319. PMID: 35681272.
View full list of 195 publications.