Nana Addo-Tabiri MD
Assistant Professor, Hematology & Medical Oncology
820 Harrison Ave | (617) 638-7523

natabiri@bu.edu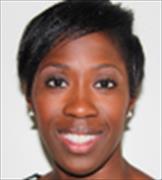 Sections
Hematology & Medical Oncology
Biography
Dr. Nana Addo-Tabiri is an Assistant Professor at Chobanian and Avedisian School of Medicine (BUSM) and the Ambulatory Medical Director for the Section of Hematology and Medical Oncology. Dr. Addo-Tabiri received her medical and doctorate degrees from the University of Hamburg/ University Medical Center Hamburg-Eppendorf | UKE in Germany.

She completed a residency in Obstetrics and Gynecology in Germany and a residency in Internal Medicine at Yale-New Haven Medical Center/Yale School of Medicine. Following that, she completed fellowship training in Hematology and Medical Oncology at Boston University Medical Center, where she also served as the Chief Fellow. As a medical oncologist at Boston Medical Center, she is focused on gastrointestinal malignancies and cancer health disparities research. She is passionate about potential adverse differences in cancer incidence, prevalence, outcome and mortality that exist among racial/ethnic and socioeconomically diverse populations.
Publications
Published on 2/1/2020
Addo-Tabiri NO, Chudasama R, Vasudeva R, Leiva O, Garcia B, Ravid JD, Bunze T, Rosen L, Belghasem M, Francis J, Brophy M, Johnson B, Ferguson R, Weinberg J, Chitalia VC. Black Patients Experience Highest Rates of Cancer-associated Venous Thromboembolism. Am J Clin Oncol. 2020 02; 43(2):94-100. PMID: 31809329.
Published on 5/1/2018
Shih AF, Addo-Tabiri NO, Sofair AN. Patients' Perceptions of Bedside Rounding. South Med J. 2018 05; 111(5):281-287. PMID: 29767220.
View full list of 2 publications.