Monica Crespo-Bosque MD
Assistant Professor, Rheumatology
650 Albany St | (617) 358-9650

mcrespo@bu.edu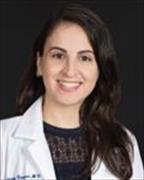 Centers
Arthritis & Autoimmune Diseases Research Center
Publications
Published on 6/25/2019
Timlin H, Wu M, Crespo-Bosque M, Geetha D, Ingolia A, Haque U, Towns MC, Grader-Beck T. Clinical Characteristics of Hydralazine-induced Lupus. Cureus. 2019 Jun 25; 11(6):e4996. PMID: 31497427.
Published on 10/18/2018
DiRenzo D, Crespo-Bosque M, Gould N, Finan P, Nanavati J, Bingham CO. Systematic Review and Meta-analysis: Mindfulness-Based Interventions for Rheumatoid Arthritis. Curr Rheumatol Rep. 2018 10 18; 20(12):75. PMID: 30338418.
Published on 7/24/2018
Dein EJ, Crespo-Bosque M, Timlin H, Geetha D. Double-positive with positive anti-glomerular basement membrane antibody and ANCA-positive disease in a patient with dermatomyositis. BMJ Case Rep. 2018 Jul 24; 2018. PMID: 30042104.
View full list of 3 publications.