Monica Ahluwalia MD
Assistant Professor, Cardiovascular Medicine
72 E. Concord Street | (617) 638-8771

mwalia@bu.edu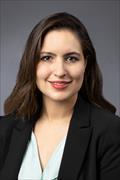 Sections
Cardiovascular Medicine
Biography
Inherited Cardiovascular Disease
Heart Failure/Cardiomyopathy
Heart Transplantation
Mechanical Circulatory Support
Publications
Published on 11/10/2020
Ahluwalia M, Ho CY. Cardiovascular genetics: the role of genetic testing in diagnosis and management of patients with hypertrophic cardiomyopathy. Heart. 2021 02; 107(3):183-189. PMID: 33172912.
Published on 10/7/2020
Ahluwalia M, Givertz MM, Mehra MR. A proposed strategy for management of immunosuppression in heart transplant patients with COVID-19. Clin Transplant. 2020 11; 34(11):e14032. PMID: 32621523.
Published on 7/12/2020
Vani A, Ahluwalia M, Donnino R, Jung A, Vaynblat M, Latson L, Saric M. A case of nonvalvular endocarditis with biventricular apical infected thrombi. Echocardiography. 2020 07; 37(7):1072-1076. PMID: 32654168.
Published on 6/4/2020
Almufleh A, Ahluwalia M, Givertz MM, Weintraub J, Young M, Cooper I, Shea EL, Mehra MR, Desai AS. Short-term Outcomes in Ambulatory Heart Failure during the COVID-19 Pandemic: Insights from Pulmonary Artery Pressure Monitoring. J Card Fail. 2020 07; 26(7):633-634. PMID: 32505815.
Published on 3/29/2020
Ahluwalia M, Givertz MM, Mehra MR. Bariatric surgery and heart transplantation outcomes: A note of caution. J Heart Lung Transplant. 2020 09; 39(9):986-987. PMID: 32307249.
Published on 3/7/2020
Li B, Ahluwalia M, Narula N, Moreira AL, Swistel DG, Massera D, Sherrid MV. Cardiac AA amyloidosis in a patient with obstructive hypertrophic cardiomyopathy. Cardiovasc Pathol. 2020 Sep - Oct; 48:107218. PMID: 32388447.
Published on 3/5/2020
Sherrid MV, Riedy K, Rosenzweig B, Massera D, Saric M, Swistel DG, Ahluwalia M, Arabadjian M, DeFonte M, Stepanovic A, Serrato S, Xia Y, Zhong H, Maron MS, Maron BJ, Reynolds HR. Distinctive Hypertrophic Cardiomyopathy Anatomy and Obstructive Physiology in Patients Admitted With Takotsubo Syndrome. Am J Cardiol. 2020 06 01; 125(11):1700-1709. PMID: 32278461.
Published on 6/27/2019
Ahluwalia M, Sehgal S, Vainrib AF, Applebaum R, Latson L, Williams MR, Saric M. Klippel-Feil syndrome: A very unusual cause of severe aortic regurgitation visualized by multimodality imaging. Echocardiography. 2019 08; 36(8):1586-1589. PMID: 31246314.
Published on 6/7/2019
Ahluwalia M, Pan S, Ghesani M, Phillips LM. A new era of imaging for diagnosis and management of cardiac sarcoidosis: Hybrid cardiac magnetic resonance imaging and positron emission tomography. J Nucl Cardiol. 2019 12; 26(6):1996-2004. PMID: 31175626.
Published on 4/5/2019
Ahluwalia M, Jessup M, Forde KA, Sehgal S, Katz ST, Quiaoit YAA, Hornsby N, Owens AT, McLean RC. Clinical utility of surveillance and clinically prompted right heart catheterization in patients listed for heart transplantation. Catheter Cardiovasc Interv. 2020 01; 95(1):28-34. PMID: 30953421.
View full list of 17 publications.