Mollie E Barnard ScD
Assistant Professor, Hematology & Medical Oncology
Center Faculty Member, Slone Epidemiology Center
72 E. Concord Street | (617) 734-6006

barnard@bu.edu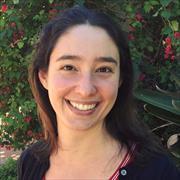 Sections
Hematology & Medical Oncology
Biography
Dr. Barnard is a molecular and genetic epidemiologist whose research focuses on the epidemiology of breast and ovarian cancers. She is especially interested in identifying modifiable factors that contribute to racial and ethnic disparities in breast cancer risk and survival, and characterizing the molecular and genetic etiology of ovarian cancer.
Education
Epidemiology, ScD, Harvard School of Public Health
Biology, BA, Swarthmore College
Epidemiology, SM/ScM, Harvard School of Public Health
Publications
Published on 10/21/2023
Petrick JL, Joslin CE, Johnson CE, Camacho TF, Peres LC, Bandera EV, Barnard ME, Beeghly A, Bethea TN, Dempsey LF, Guertin K, Harris HR, Moorman PG, Myers ER, Ochs-Balcom HM, Rosenow W, Setiawan VW, Wu AH, Schildkraut JM, Rosenberg L. Menopausal hormone therapy use and risk of ovarian cancer by race: the ovarian cancer in women of African ancestry consortium. Br J Cancer. 2023 Oct 21. PMID: 37865688.
Published on 10/3/2023
McCarty RD, Barnard ME, Lawson-Michod KA, Owens M, Green SE, Derzon S, Karabegovic L, Akerley WL, Watt MH, Doherty JA, Grieshober L. Pathways to lung cancer diagnosis among individuals who did not receive lung cancer screening: a qualitative study. BMC Prim Care. 2023 Oct 03; 24(1):203. PMID: 37789288.
Published on 8/25/2023
Chen N, Cheng D, Sodipo MO, Barnard ME, DuPre NC, Tamimi RM, Warner ET. Impact of age, race, and family history on COVID-19-related changes in breast cancer screening among the Boston mammography cohort study. Breast Cancer Res Treat. 2023 Nov; 202(2):335-343. PMID: 37624552.
Published on 8/15/2023
Stolarova L, Kleiblova P, Zemankova P, Stastna B, Janatova M, Soukupova J, Achatz MI, Ambrosone C, Apostolou P, Arun BK, Auer P, Barnard M, Bertelsen B, Blok MJ, Boddicker N, Brunet J, Burnside ES, Calvello M, Campbell I, Chan SH, Chen F, Chiang JB, Coppa A, Cortesi L, Crujeiras-González A, De Leeneer K, De Putter R, DePersia A, Devereux L, Domchek S, Efremidis A, Engel C, Ernst C, Evans DGR, Feliubadaló L, Fostira F, Fuentes-Ríos O, Gómez-García EB, González S, Haiman C, Hansen TVO, Hauke J, Hodge J, Hu C, Huang H, Ishak NDB, Iwasaki Y, Konstantopoulou I, Kraft P, Lacey J, Lázaro C, Li N, Lim WK, Lindstrom S, Lori A, Martinez E, Martins A, Matsuda K, Matullo G, McInerny S, Michailidou K, Montagna M, Monteiro ANA, Mori L, Nathanson K, Neuhausen SL, Nevanlinna H, Olson JE, Palmer J, Pasini B, Patel A, Piane M, Poppe B, Radice P, Renieri A, Resta N, Richardson ME, Rosseel T, Ruddy KJ, Santamariña M, Dos Santos ES, Teras L, Toland AE, Trentham-Dietz A, Vachon CM, Volk AE, Weber-Lassalle N, Weitzel JN, Wiesmuller L, Winham S, Yadav S, Yannoukakos D, Yao S, Zampiga V, Zethoven M, Zhang ZW, Zima T, Spurdle AB, Vega A, Rossing M, Del Valle J, De Nicolo A, Hahnen E, Claes KBM, Ngeow J, Momozawa Y, James PA, Couch FJ, Macurek L, Kleibl Z. ENIGMA CHEK2gether Project: A Comprehensive Study Identifies Functionally Impaired CHEK2 Germline Missense Variants Associated with Increased Breast Cancer Risk. Clin Cancer Res. 2023 Aug 15; 29(16):3037-3050. PMID: 37449874.
Published on 11/4/2022
Lawson-Michod KA, Watt MH, Grieshober L, Green SE, Karabegovic L, Derzon S, Owens M, McCarty RD, Doherty JA, Barnard ME. Pathways to ovarian cancer diagnosis: a qualitative study. BMC Womens Health. 2022 Nov 04; 22(1):430. PMID: 36333689.
Published on 7/19/2022
Blair LK, Warner ET, James P, Hart JE, VoPham T, Barnard ME, Newton JD, Murthy DJ, Laden F, Tamimi RM, DuPre NC. Exposure to natural vegetation in relation to mammographic density in a Massachusetts-based clinical cohort. Environ Epidemiol. 2022 Aug; 6(4):e216. PMID: 35975164.
Published on 7/1/2022
Barnard ME, Martheswaran T, Van Meter M, Buys SS, Curtin K, Doherty JA. Body Mass Index and Mammographic Density in a Multiracial and Multiethnic Population-Based Study. Cancer Epidemiol Biomarkers Prev. 2022 Jul 01; 31(7):1313-1323. PMID: 35511751.
Published on 5/9/2022
Barnard ME, Meeks H, Jarboe EA, Albro J, Camp NJ, Doherty JA. Familial risk of epithelial ovarian cancer after accounting for gynaecological surgery: a population-based study. J Med Genet. 2023 Feb; 60(2):119-127. PMID: 35534206.
Published on 10/8/2019
Manichaikul A, Peres LC, Wang XQ, Barnard ME, Chyn D, Sheng X, Du Z, Tyrer J, Dennis J, Schwartz AG, Cote ML, Peters E, Moorman PG, Bondy M, Barnholtz-Sloan JS, Terry P, Alberg AJ, Bandera EV, Funkhouser E, Wu AH, Pearce CL, Pike M, Setiawan VW, Haiman CA, Palmer JR, LeMarchand L, Wilkens LR, Berchuck A, Doherty JA, Modugno F, Ness R, Moysich K, Karlan BY, Whittemore AS, McGuire V, Sieh W, Lawrenson K, Gayther S, Sellers TA, Pharoah P, Schildkraut JM. Identification of novel epithelial ovarian cancer loci in women of African ancestry. Int J Cancer. 2020 06 01; 146(11):2987-2998. PMID: 31469419.
Published on 8/6/2019
Barnard ME, Beeghly-Fadiel A, Milne GL, Akam EY, Chan AT, Eliassen AH, Rosner BA, Shu XO, Terry KL, Xiang YB, Zheng W, Tworoger SS. Urinary PGE-M Levels and Risk of Ovarian Cancer. Cancer Epidemiol Biomarkers Prev. 2019 11; 28(11):1845-1852. PMID: 31387969.
View full list of 23 publications.