Miriam Harris MD, MSc
Assistant Professor, General Internal Medicine
801 Massachusetts Ave | (617) 414-6625

mharris3@bu.edu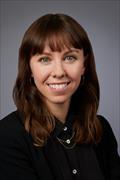 Sections
General Internal Medicine
Centers
Clinical Addiction Research and Education Unit
Biography
Dr. Harris is an Assistant Professor of Medicine at Chobanian and Avedisian School of Medicine and an addiction expert at Boston Medical Center. She attended McMaster University for medical school and completed her internal medicine residency at the University of British Columbia. Dr. Harris completed an academic general Internal medicine fellowship at McGill University, where she undertook a masters in epidemiology. Following this, she completed an addiction medicine fellowship at Boston University. Dr. Harris's research interests focus on the intersection of women's health and substance use that include increasing sexual, reproductive, and HIV prevention services in substance use treatment spaces, substance use treatment while pregnant and parenting, and gender-responsive harm reduction.

Clinically, she provides primary care and office-based addiction treatment in the Women's Health Unit at Boston Medical Center and attends on the General Medicine units and the Addiction Consult Service at Boston Medical Center.
Education
Medicine, MD, McMaster University, 2010
Publications
Published on 1/13/2023
Harris MT, Goldenberg S, Cui Z, Fairbairn N, Milloy MS, Hayashi K, Samet JH, Walley AY, Nolan S. Association of sex work and social-structural factors with non-fatal overdose among women who use drugs in Vancouver, Canada. Int J Drug Policy. 2023 Feb; 112:103950. PMID: 36640591.
Published on 1/9/2023
Laks J, Walley AY, Bagley SM, Barber CM, Gaeta JM, Neville LA, Peterkin AF, Rosenthal E, Saia KA, Weinstein ZM, Harris MTH. Developing a Women's Health track within addiction medicine fellowship: reflections and inspirations. Addict Sci Clin Pract. 2023 Jan 09; 18(1):3. PMID: 36617557.
Published on 2/27/2022
Gunn CM, Pankowska M, Harris M, Helsing E, Battaglia TA, Bagley SM. The representation of females in clinical trials for substance use disorder conducted in the United States (2010-19). Addiction. 2022 Oct; 117(10):2583-2590. PMID: 35165969.
Published on 2/4/2022
Peterkin AF, Abraham R, Harris MTH. A Case of Phenibut Directed Detoxification Leading to Toxicity During the COVID-19 Pandemic. J Addict Med. 2022 Sep-Oct 01; 16(5):602-605. PMID: 35120058.
Published on 1/1/2022
Harris MTH, Laks J, Stahl N, Bagley SM, Saia K, Wechsberg WM. Gender Dynamics in Substance Use and Treatment: A Women's Focused Approach. Med Clin North Am. 2022 Jan; 106(1):219-234. PMID: 34823732.
Published on 11/4/2021
Harris MTH, Lambert AM, Maschke AD, Bagley SM, Walley AY, Gunn CM. "No home to take methadone to": Experiences with addiction services during the COVID-19 pandemic among survivors of opioid overdose in Boston. J Subst Abuse Treat. 2022 04; 135:108655. PMID: 34772604.
Published on 8/30/2021
Harris MT, Seliga RK, Fairbairn N, Nolan S, Walley AY, Weinstein ZM, Turnbull J. Outcomes of Ottawa, Canada's Managed Opioid Program (MOP) where supervised injectable hydromorphone was paired with assisted housing. Int J Drug Policy. 2021 12; 98:103400. PMID: 34469781.
Published on 7/16/2021
Harris MTH, Young S, Barocas J, Bayoumi AM, Caudarella A, Laurence G, Tomanovich M, Komaromy M. A Descriptive Comparison of Substance Use Services in Recovery and Isolation Sites for People Experiencing Homelessness During the COVID-19 Pandemic, Boston and Toronto. Public Health Rep. 2021 Sep-Oct; 136(5):532-537. PMID: 34269625.
Published on 7/1/2021
Harris M, Joseph K, Hoeppner B, Wachman EM, Gray JR, Saia K, Wakeman S, Bair-Merritt MH, Schiff DM. A Retrospective Cohort Study Examining the Utility of Perinatal Urine Toxicology Testing to Guide Breastfeeding Initiation. J Addict Med. 2021 Jul-Aug 01; 15(4):311-317. PMID: 33060464.
Published on 5/10/2021
Ogden SN, Harris MT, Childs E, Valente PK, Edeza A, Collins AB, Drainoni ML, Mimiaga MJ, Biello KB, Bazzi AR. "You need money to get high, and that's the easiest and fastest way:" A typology of sex work and health behaviours among people who inject drugs. Int J Drug Policy. 2021 10; 96:103285. PMID: 33985886.
View full list of 20 publications.