Michael R. York MD
Assistant Professor, Rheumatology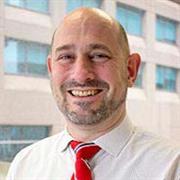 Centers
Arthritis & Autoimmune Diseases Research Center
Evans Center for Interdisciplinary Biomedical Research
Biography
Our group is currently investigating the role of the innate immune system on the development of systemic sclerosis (scleroderma). This disease is characterized by thick skin and scarring of internal organs such as the lungs as well as vascular problems such as Raynaud's phenomenon, pulmonary hypertension and gangrene. We are trying to determine how the immune system causes these problems and develop new therapeutics to treat this disease.

We are currently focusing on how dysfunction of the patient's immune system occurs and how this leads to vascular and fibrotic disease. We are focusing on receptors of the innate immune system called toll-like receptors that typically recognize viral or bacterial DNA or RNA. Recently it has been found that immune complexes found in patients with Systemic Lupus Erythematosus or Scleroderma can trigger these receptors by allowing self-DNA or RNA to enter cells, thereby overcoming some of the protective mechanisms preventing the host to develop an immune response against itself.
Education
MD, University of Massachusetts Amherst, 1999
BS, University of New Hampshire, 1992
Publications
Published on 4/19/2021
Farina A, Rosato E, York M, Gewurz BE, Trojanowska M, Farina GA. Innate Immune Modulation Induced by EBV Lytic Infection Promotes Endothelial Cell Inflammation and Vascular Injury in Scleroderma. Front Immunol. 2021; 12:651013. PMID: 33953718.
Published on 1/4/2019
Bonegio RG, Lin JD, Beaudette-Zlatanova B, York MR, Menn-Josephy H, Yasuda K. Lupus-Associated Immune Complexes Activate Human Neutrophils in an Fc?RIIA-Dependent but TLR-Independent Response. J Immunol. 2019 02 01; 202(3):675-683. PMID: 30610165.
Published on 2/28/2017
Farina A, Peruzzi G, Lacconi V, Lenna S, Quarta S, Rosato E, Vestri AR, York M, Dreyfus DH, Faggioni A, Morrone S, Trojanowska M, Farina GA. Epstein-Barr virus lytic infection promotes activation of Toll-like receptor 8 innate immune response in systemic sclerosis monocytes. Arthritis Res Ther. 2017 Feb 28; 19(1):39. PMID: 28245863.
Published on 6/22/2015
Rice LM, Padilla CM, McLaughlin SR, Mathes A, Ziemek J, Goummih S, Nakerakanti S, York M, Farina G, Whitfield ML, Spiera RF, Christmann RB, Gordon JK, Weinberg J, Simms RW, Lafyatis R. Fresolimumab treatment decreases biomarkers and improves clinical symptoms in systemic sclerosis patients. J Clin Invest. 2015 Jul 1; 125(7):2795-807. PMID: 26098215.
Published on 12/18/2013
van Bon L, Affandi AJ, Broen J, Christmann RB, Marijnissen RJ, Stawski L, Farina GA, Stifano G, Mathes AL, Cossu M, York M, Collins C, Wenink M, Huijbens R, Hesselstrand R, Saxne T, DiMarzio M, Wuttge D, Agarwal SK, Reveille JD, Assassi S, Mayes M, Deng Y, Drenth JP, de Graaf J, den Heijer M, Kallenberg CG, Bijl M, Loof A, van den Berg WB, Joosten LA, Smith V, de Keyser F, Scorza R, Lunardi C, van Riel PL, Vonk M, van Heerde W, Meller S, Homey B, Beretta L, Roest M, Trojanowska M, Lafyatis R, Radstake TR. Proteome-wide analysis and CXCL4 as a biomarker in systemic sclerosis. N Engl J Med. 2014 Jan 30; 370(5):433-43. PMID: 24350901.
Published on 10/11/2013
Farina A, Cirone M, York M, Lenna S, Padilla C, McLaughlin S, Faggioni A, Lafyatis R, Trojanowska M, Farina GA. Epstein-Barr virus infection induces aberrant TLR activation pathway and fibroblast-myofibroblast conversion in scleroderma. J Invest Dermatol. 2014 Apr; 134(4):954-64. PMID: 24129067.
Published on 10/1/2013
Kissin EY, Garg A, Grayson PC, Dubreuil M, Vradii D, York M, Simms RW. Ultrasound assessment of subcutaneous compressibility: a potential adjunctive diagnostic tool in eosinophilic fasciitis. J Clin Rheumatol. 2013 Oct; 19(7):382-5. PMID: 24048117.
Published on 11/1/2011
York M, Farber HW. Pulmonary hypertension: screening and evaluation in scleroderma. Curr Opin Rheumatol. 2011 Nov; 23(6):536-44. PMID: 21934501.
Published on 7/1/2011
York MR. Novel insights on the role of the innate immune system in systemic sclerosis. Expert Rev Clin Immunol. 2011 Jul; 7(4):481-9. PMID: 21790291.
Published on 4/1/2011
Buhaescu I, Rhee S, York MR, McDonnell M, Merkel PA. A woman with severe lupus nephritis and difficult to control diabetes mellitus. Arthritis Care Res (Hoboken). 2011 Apr; 63(4):623-9. PMID: 21452274.
View full list of 21 publications.