Michael Orlov M.D., Ph.D., FACC
Adjunct Professor, General Internal Medicine
736 Cambridge street | (617) 789-3187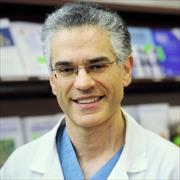 Sections
General Internal Medicine
Education
Biology, BS, University of Maryland University College, 2006
MD/PhD, University of Massachusetts Worcester, 2017
Publications
Published on 9/21/2022
Orlov MV, Nikolaychuk M, Koulouridis I, Goldman A, Natan S, Armstrong J, Bhattacharya A, Hicks A, King M, Wylie J. Left bundle area pacing: Guiding implant depth by ring measurements. Heart Rhythm. 2022 Sep 21. PMID: 36152975.
Published on 4/19/2022
Srivatsa UN, Orlov M, Crawford T, Olshansky B. Global voices: Providing medical care in a war-torn country. Heart Rhythm O2. 2022 Jun; 3(3):221-222. PMID: 35734301.
Published on 7/30/2020
Orlov MV, Olshansky B, Benditt DG, Kotler G, McIntyre T, Fujian Qu, Turkel M, Gorev M, Poghosyan H, Waldo AL. Is competitive atrial pacing a possible trigger for atrial fibrillation? Observations from the RATE registry. Heart Rhythm. 2021 Jan; 18(1):3-9. PMID: 32738404.
Published on 7/23/2020
Orlov MV, Jahangir A, McKelvey D, Armstrong J, Maslov M, Monin AJ, Koulouridis I, Casavant D, Wylie JV. His bundle pacing insights from electroanatomical mapping: Topography and pacing targets. J Cardiovasc Electrophysiol. 2020 10; 31(10):2737-2743. PMID: 32666617.
Published on 9/17/2019
Maslov MY, Foianini S, Mayer D, Orlov MV, Lovich MA. Interaction Between Sacubitril and Valsartan in Preventing Heart Failure Induced by Aortic Valve Insufficiency in Rats. J Card Fail. 2019 Nov; 25(11):921-931. PMID: 31539619.
Published on 8/16/2019
Orlov MV, Casavant D, Koulouridis I, Maslov M, Erez A, Hicks A, Jahangir A, Aoun J, Wylie JV. Permanent His-bundle pacing using stylet-directed, active-fixation leads placed via coronary sinus sheaths compared to conventional lumen-less system. Heart Rhythm. 2019 12; 16(12):1825-1831. PMID: 31425775.
Published on 2/1/2019
Orlov MV, Koulouridis I, Monin AJ, Casavant D, Maslov M, Erez A, Hicks A, Aoun J, Wylie JV. Direct Visualization of the His Bundle Pacing Lead Placement by 3-Dimensional Electroanatomic Mapping: Technique, Anatomy, and Practical Considerations. Circ Arrhythm Electrophysiol. 2019 02; 12(2):e006801. PMID: 30739495.
Published on 11/21/2018
Maslov MY, Foianini S, Mayer D, Orlov MV, Lovich MA. Synergy between sacubitril and valsartan leads to hemodynamic, antifibrotic, and exercise tolerance benefits in rats with preexisting heart failure. Am J Physiol Heart Circ Physiol. 2019 Feb 01; 316(2):H289-H297. PMID: 30461302.
Published on 10/19/2018
Maslov MY, Foianini S, Orlov MV, Januzzi JL, Lovich MA. A Novel Paradigm for Sacubitril/Valsartan: Beta-Endorphin Elevation as a Contributor to Exercise Tolerance Improvement in Rats With Preexisting Heart Failure Induced by Pressure Overload. J Card Fail. 2018 Nov; 24(11):773-782. PMID: 30347271.
Published on 11/1/2016
Orlov MV, Kosowsky JM, Pastore JO. In Memoriam-Dr. Bernard Kosowsky. Heart Rhythm. 2016 Nov; 13(11):e325. PMID: 27776792.
View full list of 63 publications.