Michael D. Klein MD
Professor, Cardiovascular Medicine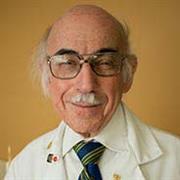 Sections
Cardiovascular Medicine
Biography
Expertise includes: Atrial Fibrillation; Heart Failure; Coronary disease.
Education
MD, New York University School of Medicine, 1961
AB, Harvard University, 1957
Publications
Published on 2/17/2009
Tadros TM, Klein MD, Shapira OM. Ascending aortic dilatation associated with bicuspid aortic valve: pathophysiology, molecular biology, and clinical implications. Circulation. 2009 Feb 17; 119(6):880-90. PMID: 19221231.
Published on 11/15/1991
Klein MD. Atrial fibrillation: new findings about an old nemesis. Hosp Pract (Off Ed). 1991 Nov 15; 26(11):75-8, 81-2, 85-8. PMID: 1682330.
Published on 8/1/1990
Fogel RI, Balady GJ, Klein MD, Rajaii-Khorasani A. Metastatic renal cell carcinoma. An unusual cause of syncope. Chest. 1990 Aug; 98(2):481-2. PMID: 2376180.
Published on 10/19/1988
Podrid PJ, Venditti FJ, Levine PA, Klein MD. The role of exercise testing in evaluation of arrhythmias. Am J Cardiol. 1988 Oct 19; 62(12):24H-33H. PMID: 3052006.
View full list of 4 publications.