Meredith Rees Halpin MD
Assistant Professor, Hematology & Medical Oncology
820 Harrison Ave | (617) 638-7012

mhalpin@bu.edu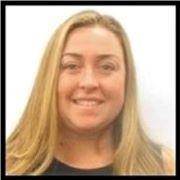 Sections
Hematology & Medical Oncology
Biography
I am a medical oncologist who has clinical and research expertise in genitourinary medical oncology as well as geriatric oncology. My clinical practice is at Boston Medical Center and includes adult patients with cancers of the prostate, kidney, bladder, testicles and penis, as well as other solid cancers. My treatment expertise is in hormonal agents, chemotherapy, immunotherapy, targeted therapies, radioactive pharmaceuticals, bone targeted therapies, supportive and palliative care. I am also an educator in the Chobanian and Avedisian School of Medicine and am the Associate Program Director of the Boston Medical Center Hematology and Oncology Fellowship Program.
Websites
Education
MD, St. George's University School of Medicine, 2013
Biology, BS, Boston College, 2005
Publications
Published on 11/4/2022
Jafari N, Chen A, Kolla M, Pompa IR, Qiu Y, Yu R, Llevenes P, Ennis CS, Mori J, Mahdaviani K, Halpin M, Gignac GA, Heaphy CM, Monti S, Denis GV. Novel plasma exosome biomarkers for prostate cancer progression in co-morbid metabolic disease. Adv Cancer Biol Metastasis. 2022 Dec; 6. PMID: 36644690.
Published on 12/1/2020
Dokmak A, Radwan A, Halpin M, Jaber BL, Nader C. Design and implementation of an academic enrichment program to improve performance on the internal medicine in-training exam. Med Educ Online. 2020 Dec; 25(1):1686950. PMID: 31707925.
Published on 7/25/2019
Doolin JW, Halpin M, Berry JL, Hshieh T, Zerillo JA. Why focus on patient-reported outcome measures in older colorectal cancer patients? Eur J Surg Oncol. 2020 03; 46(3):394-401. PMID: 31377032.
Published on 4/13/2017
Halpin M, Kozyreva O, Bijol V, Jaber BL. Plasmapheresis for treatment of immune complex-mediated glomerulonephritis in infective endocarditis: a case report and literature review. Clin Nephrol Case Stud. 2017; 5:26-31. PMID: 29043144.
View full list of 4 publications.