Melissa G. Farb PhD
Assistant Professor, Cardiovascular Medicine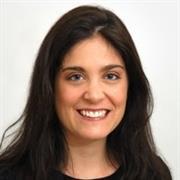 Sections
Cardiovascular Medicine
Centers
Whitaker Cardiovascular Institute
Biography
Melissa Farb, PhD is an Assistant Professor of Cardiovascular Medicine at the Chobanian and Avedisian School of Medicine. For her research, she has received two grants and since 2011 she has been a member of both the American Heart Association and the Boston Nutrition Obesity Research Center. Throughout her career, she has trained research assistants, mentored graduate students, and taught courses. She has received the Warren Palmer Award for Outstanding PhD student in College of Applied Health Sciences at the University of Illinois, multiple travel grants, and was a finalist for the Samuel A. Levine Young Clinical Investigator Award.
Websites
Education
Nutrition/Food Science, PhD, University of Illinois, 2009
Nutrition/Food Science, BSc, University of Vermont, 2003
Publications
Published on 11/2/2022
Moreira JD, Gower AC, Xue L, Alekseyev Y, Smith KK, Choi SH, Ayalon N, Farb MG, Tenan K, LeClerc A, Levy D, Benjamin EJ, Lenburg ME, Mitchell RN, Padera RF, Fetterman JL, Gopal DM. Systematic dissection, preservation, and multiomics in whole human and bovine hearts. Cardiovasc Pathol. 2023; 63:107495. PMID: 36334690.
Published on 7/1/2021
Gokce N, Karki S, Dobyns A, Zizza E, Sroczynski E, Palmisano JN, Mazzotta C, Hamburg NM, Pernar LI, Carmine B, Carter CO, LaValley M, Hess DT, Apovian CM, Farb MG. Association of Bariatric Surgery With Vascular Outcomes. JAMA Netw Open. 2021 07 01; 4(7):e2115267. PMID: 34251443.
Published on 1/28/2021
Mazzotta C, Basu S, Gower AC, Karki S, Farb MG, Sroczynski E, Zizza E, Sarhan A, Pande AN, Walsh K, Dobrilovic N, Gokce N. Perivascular Adipose Tissue Inflammation in Ischemic Heart Disease. Arterioscler Thromb Vasc Biol. 2021 03; 41(3):1239-1250. PMID: 33504180.
Published on 6/1/2019
Karki S, Farb MG, Sharma VM, Jash S, Zizza EJ, Hess DT, Carmine B, Carter CO, Pernar LI, Apovian CM, Puri V, Gokce N. Fat-Specific Protein 27 Regulation of Vascular Function in Human Obesity. J Am Heart Assoc. 2019 06 04; 8(11):e011431. PMID: 31433737.
Published on 12/21/2018
Ngo DTM, Sverdlov AL, Karki S, Macartney-Coxson D, Stubbs RS, Farb MG, Carmine B, Hess DT, Colucci WS, Gokce N. Oxidative modifications of mitochondrial complex II are associated with insulin resistance of visceral fat in obesity. Am J Physiol Endocrinol Metab. 2019 02 01; 316(2):E168-E177. PMID: 30576243.
Published on 12/11/2017
Zuriaga MA, Fuster JJ, Farb MG, MacLauchlan S, Bretón-Romero R, Karki S, Hess DT, Apovian CM, Hamburg NM, Gokce N, Walsh K. Activation of non-canonical WNT signaling in human visceral adipose tissue contributes to local and systemic inflammation. Sci Rep. 2017 12 11; 7(1):17326. PMID: 29229927.
Published on 9/29/2017
Farb MG, Park SY, Karki S, Gokce N. Assessment of Human Adipose Tissue Microvascular Function Using Videomicroscopy. J Vis Exp. 2017 Sep 29; (127). PMID: 28994775.
Published on 4/14/2017
Karki S, Ngo DTM, Farb MG, Park SY, Saggese SM, Hamburg NM, Carmine B, Hess DT, Walsh K, Gokce N. WNT5A regulates adipose tissue angiogenesis via antiangiogenic VEGF-A165b in obese humans. Am J Physiol Heart Circ Physiol. 2017 Jul 01; 313(1):H200-H206. PMID: 28411232.
Published on 9/28/2016
Farb MG, Karki S, Park SY, Saggese SM, Carmine B, Hess DT, Apovian C, Fetterman JL, Bretón-Romero R, Hamburg NM, Fuster JJ, Zuriaga MA, Walsh K, Gokce N. WNT5A-JNK regulation of vascular insulin resistance in human obesity. Vasc Med. 2016 Dec; 21(6):489-496. PMID: 27688298.
Published on 2/13/2016
Fetterman JL, Holbrook M, Flint N, Feng B, Bret?n-Romero R, Linder EA, Berk BD, Duess MA, Farb MG, Gokce N, Shirihai OS, Hamburg NM, Vita JA. Restoration of autophagy in endothelial cells from patients with diabetes mellitus improves nitric oxide signaling. Atherosclerosis. 2016 Apr; 247:207-17. PMID: 26926601.
View full list of 27 publications.