Maureen Dubreuil MD, MSc.
Assistant Professor, Rheumatology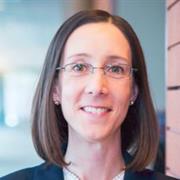 Centers
Arthritis & Autoimmune Diseases Research Center
Biography
Dr. Dubreuil is a rheumatologist in Boston, specializing in Spondyloarthritis. She works within the Rheumatology section at Chobanian and Avedisian School of Medicine, where her research focuses on comorbidities and pharmacoepidemiology of spondyloarthritis. In 2013, she was awarded the Arthritis Foundation Clinical to Research Transition Award and 2016, she began work on a K23-funded project to study patient preferences, and the cost-effectiveness of treatment modalities for spondyloarthritis, to inform both clinical care and policy decisions. She serves as Education Chair and Board Member for the Spondyloarthritis Research and Treatment Network (SPARTAN), is a Medical Advisor for the Spondylitis Association of America, and is a member of the Assessment of Spondyloarthritis International Society (ASAS). She is a site investigator for the international CLASSIC study and the PULSAR spondyloarthritis registry.
Education
Medicine-Internal, MD, University of Connecticut School of Medicine, 2006
MSc, Boston University School of Public Health, 2017
Biology, BS, Rochester Institute of Technology, 2002
Publications
Published on 4/10/2023
Beaudette-Zlatanova B, Lew RA, Otis JD, Branch-Elliman W, Bacorro E, Dubreuil M, Eyvazzadeh C, Kaur M, Lazzari AA, Libbey C, Monach PA. Pilot Study of Low-Dose Naltrexone for the Treatment of Chronic Pain Due to Arthritis: A Randomized, Double-blind, Placebo-Controlled, Crossover Clinical Trial. Clin Ther. 2023 Apr 10. PMID: 37045708.
Published on 2/23/2023
Kumar D, Neogi T, Peloquin C, Marinko L, Camarinos J, Aoyagi K, Felson DT, Dubreuil M. Delayed timing of physical therapy initiation increases the risk of future opioid use in individuals with knee osteoarthritis: a real-world cohort study. Br J Sports Med. 2023 Feb 23. PMID: 36822841.
Published on 2/14/2023
Machado PM, Schäfer M, Mahil SK, Liew J, Gossec L, Dand N, Pfeil A, Strangfeld A, Regierer AC, Fautrel B, Alonso CG, Saad CGS, Griffiths CEM, Lomater C, Miceli-Richard C, Wendling D, Alpizar Rodriguez D, Wiek D, Mateus EF, Sirotich E, Soriano ER, Ribeiro FM, Omura F, Rajão Martins F, Santos H, Dau J, Barker JN, Hausmann J, Hyrich KL, Gensler L, Silva L, Jacobsohn L, Carmona L, Pinheiro MM, Zelaya MD, Severina MLÁ, Yates M, Dubreuil M, Gore-Massy M, Romeo N, Haroon N, Sufka P, Grainger R, Hasseli R, Lawson-Tovey S, Bhana S, Pham T, Olofsson T, Bautista-Molano W, Wallace ZS, Yiu ZZN, Yazdany J, Robinson PC, Smith CH. Characteristics associated with poor COVID-19 outcomes in people with psoriasis, psoriatic arthritis and axial spondyloarthritis: data from the COVID-19 PsoProtect and Global Rheumatology Alliance physician-reported registries. Ann Rheum Dis. 2023 May; 82(5):698-709. PMID: 36787993.
Published on 1/10/2023
Kwan YH, Phang JK, Woon TH, Liew JW, Dubreuil M, Proft F, Ramiro S, Molto A, Navarro-Compán V, de Hooge M, Meghnathi B, Ziade N, Zhao SS, Llop M, Baraliakos X, Fong W. Social Media Use Among Members of the Assessment of Spondyloarthritis International Society: Results of a Web-Based Survey. J Med Internet Res. 2023 Jan 10; 25:e39155. PMID: 36626201.
Published on 7/30/2022
Liew JW, Dubreuil M. Upadacitinib for the treatment of active non-radiographic axial spondyloarthritis. Lancet. 2022 Jul 30; 400(10349):340-341. PMID: 35908562.
Published on 12/13/2021
Yau MS, Dubreuil M, Li S, Inamdar V, Peloquin C, Felson DT. Validation of knee osteoarthritis case identification algorithms in a large electronic health record database. Osteoarthr Cartil Open. 2022 Mar; 4(1). PMID: 35601472.
Published on 12/1/2021
Stovall R, Peloquin C, Felson D, Neogi T, Dubreuil M. Relation of NSAIDs, DMARDs, and TNF Inhibitors for Ankylosing Spondylitis and Psoriatic Arthritis to Risk of Total Hip and Knee Arthroplasty. J Rheumatol. 2021 Dec; 48(12):1892. PMID: 34853165.
Published on 12/1/2021
Liew JW, Jafarzadeh SR, Dubreuil M, Heckbert SR, Mooney SJ, Brown MA, Ishimori ML, Reveille JD, Ward MM, Weisman MH, Gensler LS. The Association of Tumor Necrosis Factor Inhibitor Use With Incident Hypertension in Ankylosing Spondylitis: Data From the PSOAS Cohort. J Rheumatol. 2022 03; 49(3):274-280. PMID: 34853088.
Published on 11/30/2021
Calivà F, Namiri NK, Dubreuil M, Pedoia V, Ozhinsky E, Majumdar S. Studying osteoarthritis with artificial intelligence applied to magnetic resonance imaging. Nat Rev Rheumatol. 2022 02; 18(2):112-121. PMID: 34848883.
Published on 11/1/2021
Bekele DI, Cheng E, Reimold A, Geier C, Ganuthula K, Walsh JA, Clegg DO, Dubreuil M, Kaushik P, Ng B, Chang E, Duong R, Park J, Kerr GS. Tumor necrosis factor inhibitor (TNFi) persistence and reasons for discontinuation in a predominantly male cohort with axial spondyloarthritis. Rheumatol Int. 2022 11; 42(11):1925-1937. PMID: 34724089.
View full list of 56 publications.