Maureen Dubreuil MD, MSc.
Assistant Professor, Rheumatology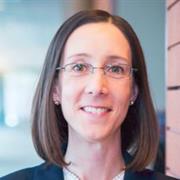 Centers
Arthritis & Autoimmune Diseases Research Center
Biography
Dr. Dubreuil is a rheumatologist in Boston, specializing in Spondyloarthritis. She works within the Rheumatology section at Boston University School of Medicine, where her research focuses on comorbidities and pharmacoepidemiology of spondyloarthritis. In 2013, she was awarded the Arthritis Foundation Clinical to Research Transition Award and 2016, she began work on a K23-funded project to study patient preferences, and the cost-effectiveness of treatment modalities for spondyloarthritis, to inform both clinical care and policy decisions. She serves as Education Chair and Board Member for the Spondyloarthritis Research and Treatment Network (SPARTAN), is a Medical Advisor for the Spondylitis Association of America, and is a member of the Assessment of Spondyloarthritis International Society (ASAS). She is a site investigator for the international CLASSIC study and the PULSAR spondyloarthritis registry.
Websites
Education
Medicine-Internal, MD, University of Connecticut School of Medicine, 2006
MSc, Boston University School of Public Health, 2017
Biology, BS, Rochester Institute of Technology, 2002
Publications
Published on 8/1/2021
Meer E, Thrastardottir T, Wang X, Dubreuil M, Chen Y, Gelfand JM, Love TJ, Ogdie A. Risk factors for diagnosis of psoriatic arthritis, psoriasis, rheumatoid arthritis, and ankylosing spondylitis: A set of parallel case-control studies. J Rheumatol. 2021 Aug 01. PMID: 34334358.
Published on 7/29/2021
Stovall R, Peloquin C, Felson D, Neogi T, Dubreuil M. Relation of therapies for ankylosing spondylitis and psoriatic arthritis to risk of myocardial infarction: a nested case control study. BMC Rheumatol. 2021 Jul 29; 5(1):36. PMID: 34321112.
Published on 7/1/2021
Kumthekar A, Bittar M, Dubreuil M. Educational needs and challenges in axial spondyloarthritis. Curr Opin Rheumatol. 2021 07 01; 33(4):313-318. PMID: 33973547.
Published on 4/15/2021
Jinno S, Onishi A, Dubreuil M, Hashimoto M, Yamamoto W, Murata K, Takeuchi T, Kotani T, Maeda Y, Ebina K, Son Y, Amuro H, Hara R, Katayama M, Saegusa J. Comparison of the drug retention and reasons for discontinuation of tumor necrosis factor inhibitors and interleukin-6 inhibitors in Japanese patients with elderly-onset rheumatoid arthritis-the ANSWER cohort study. Arthritis Res Ther. 2021 04 15; 23(1):116. PMID: 33858490.
Published on 1/15/2021
Stovall R, Peloquin C, Felson D, Neogi T, Dubreuil M. Relation of NSAIDs, DMARDs, and TNF Inhibitors for Ankylosing Spondylitis and Psoriatic Arthritis to Risk of Total Hip and Knee Arthroplasty. J Rheumatol. 2021 Jul; 48(7):1007-1013. PMID: 33452168.
Published on 11/10/2020
Karmacharya P, Shahukhal R, Crowson CS, Murad MH, Davis JM, Shrestha P, Bekele D, Wright K, Chakradhar R, Dubreuil M. Effects of Therapies on Cardiovascular Events in Ankylosing Spondylitis: A Systematic Review and Meta-Analysis. Rheumatol Ther. 2020 Dec; 7(4):993-1009. PMID: 33170493.
Published on 10/3/2020
Karmacharya P, Duarte-Garcia A, Murad MH, Dubreuil M, Shahukhal R, Shrestha P, Myasoedova E, Crowson CS, Wright K, Davis JM. Reply. Arthritis Rheumatol. 2020 12; 72(12):2164-2165. PMID: 32686914.
Published on 9/1/2020
Fraenkel L, Buta E, Suter L, Dubreuil M, Levy C, Najem C, Brennan M, Corn B, Kerns R, Goulet J. Nonsteroidal Anti-inflammatory Drugs vs Cognitive Behavioral Therapy for Arthritis Pain: A Randomized Withdrawal Trial. JAMA Intern Med. 2020 09 01; 180(9):1194-1202. PMID: 32702101.
Published on 7/29/2020
Jinno S, Onishi A, Dubreuil M, Akashi K, Hashimoto M, Yamamoto W, Murata K, Takeuchi T, Kotani T, Maeda Y, Ebina K, Son Y, Amuro H, Hara R, Katayama M, Saegusa J, Morinobu A. Comparison of the efficacy and safety of biologic agents between elderly-onset and young-onset RA patients: the ANSWER cohort study. Rheumatol Int. 2020 Dec; 40(12):1987-1995. PMID: 32728836.
Published on 5/1/2020
Liew JW, Dubreuil M. Treat to Target in Axial Spondyloarthritis: Pros, Cons, and Future Directions. Rheum Dis Clin North Am. 2020 05; 46(2):343-356. PMID: 32340706.
View full list of 43 publications.