Matthew H Kulke MD
Zoltan Kohn Professor, Hematology & Medical Oncology
Section Chief, Hematology & Medical Oncology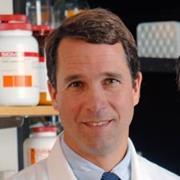 Sections
Hematology & Medical Oncology
Centers
BU-BMC Cancer Center
Evans Center for Interdisciplinary Biomedical Research
Biography
Matthew Kulke MD is the Chief of Hematology/Oncology, Co-Director of the BU/BMC Cancer Center and Zoltan Kohn Professor at the Chobanian and Avedisian School of Medicine. Dr. Kulke is an internationally recognized for his work in the field of neuroendocrine tumors. He has led or co-led both early and late stage clinical trials leading to the development of telotristat ethyl, temozolomide, sunitinib, everolimus and peptide receptor radiotherapy for the treatment of neuroendocrine tumors. His work has additionally included characterization of neuroendocrine tumors at the molecular level, and has resulted in over 200 peer-reviewed publications.

Dr. Kulke received his undergraduate degree in molecular biology from Princeton University magna cum laude, and his medical degree with a thesis honors award from the University of California, San Francisco School of Medicine where he also was a Regent's scholar and received a research training fellowship from the Howard Hughes Medical Institute. He performed his internship and residency at Brigham and Women's Hospital, a medical oncology fellowship at Dana-Farber Cancer Institute, and received a Masters in Medical Science Degree from Harvard Medical School.

Prior to coming to Boston University he was a Professor of Medicine at Harvard Medical School and Director of the Neuroendocrine Tumor Program at Dana-Farber Cancer Institute. He has served as principal investigator for NCI cooperative group trials in both neuroendocrine tumors and pancreatic cancer, served as chair of the National Cancer Institute's Neuroendocrine Tumor Clinical Trial Task Force, chair of the North American Neuroendocrine Tumor Society, and chair of the National Comprehensive Cancer Network's neuroendocrine tumor guidelines committee.
Websites
Education
Medicine, MD, University of California, San Francisco
Medicine, MMS/MMSc, Harvard Medical School
Molecular Biochemistry, BA, Princeton University
Publications
Published on 4/23/2023
Hernando J, Roca-Herrera M, García-Álvarez A, Raymond E, Ruszniewski P, Kulke MH, Grande E, García-Carbonero R, Castellano D, Salazar R, Ibrahim T, Teule A, Alonso V, Fazio N, Valle JW, Tafuto S, Carmona A, Navarro V, Capdevila J. Sex differences on multikinase inhibitors toxicity in patients with advanced gastroenteropancreatic neuroendocrine tumours. Eur J Cancer. 2023 Jul; 188:39-48. PMID: 37196483.
Published on 10/19/2022
Kunz PL, Graham NT, Catalano PJ, Nimeiri HS, Fisher GA, Longacre TA, Suarez CJ, Martin BA, Yao JC, Kulke MH, Hendifar AE, Shanks JC, Shah MH, Zalupski MM, Schmulbach EL, Reidy-Lagunes DL, Strosberg JR, O'Dwyer PJ, Benson AB. Randomized Study of Temozolomide or Temozolomide and Capecitabine in Patients With Advanced Pancreatic Neuroendocrine Tumors (ECOG-ACRIN E2211). J Clin Oncol. 2023 Mar 01; 41(7):1359-1369. PMID: 36260828.
Published on 8/1/2022
Perez K, Kulke MH, Horick NK, Regan E, Graham C, Scheutz S, Stonely D, Enzinger PC, Fuchs CS, Allen JN, Enzinger AC, Clark JW, Chan JA. A Phase II Study of Ziv-Aflibercept in Patients With Advanced Extrapancreatic Neuroendocrine Tumors. Pancreas. 2022 Aug 01; 51(7):763-768. PMID: 36395401.
Published on 7/19/2022
Perez K, Jacene H, Hornick JL, Ma C, Vaz N, Brais LK, Alexander H, Baddoo W, Astone K, Esplin ED, Garcia J, Halperin DM, Kulke MH, Chan JA. SDHx mutations and temozolomide in malignant pheochromocytoma and paraganglioma. Endocr Relat Cancer. 2022 Sep 01; 29(9):533-544. PMID: 35731023.
Published on 5/9/2022
Kulke MH, Ou FS, Niedzwiecki D, Huebner L, Kunz P, Kennecke HF, Wolin EM, Chan JA, O'Reilly EM, Meyerhardt JA, Venook A. Everolimus with or without bevacizumab in advanced pNET: CALGB 80701 (Alliance). Endocr Relat Cancer. 2022 May 09; 29(6):335-344. PMID: 35324465.
Published on 11/1/2021
Perez K, Kulke MH, Chittenden A, Ukaegbu C, Astone K, Alexander H, Brais L, Zhang J, Garcia J, Esplin ED, Yang S, Da Silva A, Nowak JA, Yurgelun MB, Garber J, Syngal S, Chan J. Clinical Implications of Pathogenic Germline Variants in Small Intestine Neuroendocrine Tumors (SI-NETs). JCO Precis Oncol. 2021 11; 5:808-816. PMID: 34994613.
Published on 10/1/2021
Nadjarian A, LeClair J, Mahoney TF, Awtry EH, Bhatia JS, Caruso LB, Clay A, Greer D, Hingorani KS, Horta LFB, Ibrahim M, Ieong MH, James T, Kulke MH, Lim R, Lowe RC, Moses JM, Murphy J, Nozari A, Patel AD, Silver B, Theodore AC, Wang RS, Weinstein E, Wilson SA, Cervantes-Arslanian AM. Validation of a Crisis Standards of Care Model for Prioritization of Limited Resources During the Coronavirus Disease 2019 Crisis in an Urban, Safety-Net, Academic Medical Center. Crit Care Med. 2021 10 01; 49(10):1739-1748. PMID: 34115635.
Published on 9/28/2021
Srirajaskanthan R, Pavel M, Kulke M, Clement D, Houchard A, Keeber L, Weickert MO. Weight Maintenance up to 48 Weeks in Patients With Carcinoid Syndrome Treated With Telotristat Ethyl: Pooled Data From the Open-Label Extensions of the Phase III Clinical Trials TELESTAR and TELECAST. Clin Ther. 2021 10; 43(10):1779-1785. PMID: 34598813.
Published on 9/27/2021
Kulke MH, Kennecke HF, Murali K, Joish VN. Changes in Carcinoid Syndrome Symptoms Among Patients Receiving Telotristat Ethyl in US Clinical Practice: Findings from the TELEPRO-II Real-World Study. Cancer Manag Res. 2021; 13:7439-7446. PMID: 34611437.
Published on 5/3/2021
Hörsch D, Anthony L, Gross DJ, Valle JW, Welin S, Benavent M, Caplin M, Pavel M, Bergsland E, Öberg K, Kassler-Taub KB, Binder P, Banks P, Lapuerta P, Kulke MH. Long-Term Treatment with Telotristat Ethyl in Patients with Carcinoid Syndrome Symptoms: Results from the TELEPATH Study. Neuroendocrinology. 2022; 112(3):298-310. PMID: 33940581.
View full list of 226 publications.