Matthew R. Jones PhD
Associate Professor, Pulmonary, Allergy, Sleep & Critical Care Medicine
Member, Genome Science Institute
72 E. Concord Street | (617) 638-4860

mattj@bu.edu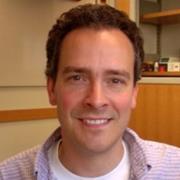 Sections
Pulmonary, Allergy, Sleep & Critical Care Medicine
Centers
Pulmonary Center
Evans Center for Interdisciplinary Biomedical Research
Biography
I have expertise in innate immunology, pulmonary epithelial and lymphatic biology and post-transcriptional mechanisms of gene expression.
Other Positions
Education
Pharmacology, PhD, Boston University School of Medicine
Chemistry, BA, University of Delaware
Publications
Published on 3/8/2022
Arafa EI, Shenoy AT, Barker KA, Etesami NS, Martin IM, Lyon De Ana C, Na E, Odom CV, Goltry WN, Korkmaz FT, Wooten AK, Belkina AC, Guillon A, Forsberg EC, Jones MR, Quinton LJ, Mizgerd JP. Recruitment and training of alveolar macrophages after pneumococcal pneumonia. JCI Insight. 2022 Mar 08; 7(5). PMID: 35133985.
Published on 2/9/2022
Na E, Allen E, Baird LA, Odom CV, Korkmaz FT, Shenoy AT, Matschulat AM, Jones MR, Kotton DN, Mizgerd JP, Varelas X, Traber KE, Quinton LJ. Epithelial LIF signaling limits apoptosis and lung injury during bacterial pneumonia. Am J Physiol Lung Cell Mol Physiol. 2022 Apr 01; 322(4):L550-L563. PMID: 35137631.
Published on 2/7/2022
Sanders NL, Martin IMC, Sharma A, Jones MR, Quinton LJ, Bosmann M, Mizgerd JP. Neutrophil Extracellular Traps as an Exacerbating Factor in Bacterial Pneumonia. Infect Immun. 2022 03 17; 90(3):e0049121. PMID: 35130455.
Published on 10/5/2021
Shenoy AT, Lyon De Ana C, Arafa EI, Salwig I, Barker KA, Korkmaz FT, Ramanujan A, Etesami NS, Soucy AM, Martin IMC, Tilton BR, Hinds A, Goltry WN, Kathuria H, Braun T, Jones MR, Quinton LJ, Belkina AC, Mizgerd JP. Antigen presentation by lung epithelial cells directs CD4+ TRM cell function and regulates barrier immunity. Nat Commun. 2021 10 05; 12(1):5834. PMID: 34611166.
Published on 9/1/2021
Odom CV, Kim Y, Burgess CL, Baird LA, Korkmaz FT, Na E, Shenoy AT, Arafa EI, Lam TT, Jones MR, Mizgerd JP, Traber KE, Quinton LJ. Liver-Dependent Lung Remodeling during Systemic Inflammation Shapes Responses to Secondary Infection. J Immunol. 2021 10 01; 207(7):1891-1902. PMID: 34470857.
Published on 3/31/2020
Wooten AK, Shenoy AT, Arafa EI, Akiyama H, Martin IMC, Jones MR, Quinton LJ, Gummuluru S, Bai G, Mizgerd JP. Unique Roles for Streptococcus pneumoniae Phosphodiesterase 2 in Cyclic di-AMP Catabolism and Macrophage Responses. Front Immunol. 2020; 11:554. PMID: 32300347.
Published on 2/27/2020
Guillon A, Arafa EI, Barker KA, Belkina AC, Martin I, Shenoy AT, Wooten AK, Lyon De Ana C, Dai A, Labadorf A, Hernandez Escalante J, Dooms H, Blasco H, Traber KE, Jones MR, Quinton LJ, Mizgerd JP. Pneumonia recovery reprograms the alveolar macrophage pool. JCI Insight. 2020 02 27; 5(4). PMID: 31990682.
Published on 11/20/2019
Shenoy AT, Wasserman GA, Arafa EI, Wooten AK, Smith NMS, Martin IMC, Jones MR, Quinton LJ, Mizgerd JP. Lung CD4+ resident memory T cells remodel epithelial responses to accelerate neutrophil recruitment during pneumonia. Mucosal Immunol. 2020 03; 13(2):334-343. PMID: 31748706.
Published on 11/19/2019
Wang W, Cohen JA, Wallrapp A, Trieu KG, Barrios J, Shao F, Krishnamoorthy N, Kuchroo VK, Jones MR, Fine A, Bai Y, Ai X. Age-Related Dopaminergic Innervation Augments T Helper 2-Type Allergic Inflammation in the Postnatal Lung. Immunity. 2019 12 17; 51(6):1102-1118.e7. PMID: 31757673.
Published on 8/15/2019
Traber KE, Dimbo EL, Symer EM, Korkmaz FT, Jones MR, Mizgerd JP, Quinton LJ. Roles of interleukin-11 during acute bacterial pneumonia. PLoS One. 2019; 14(8):e0221029. PMID: 31415618.
View full list of 47 publications.