Matthew R. Jones PhD
Associate Professor, Pulmonary, Allergy, Sleep & Critical Care Medicine
Member, Genome Science Institute
72 E. Concord Street | (617) 638-4860

mattj@bu.edu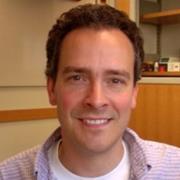 Sections
Pulmonary, Allergy, Sleep & Critical Care Medicine
Centers
Pulmonary Center
Evans Center for Interdisciplinary Biomedical Research
Biography
I have expertise in the post-transcriptional mechanisms of cytokine expression during acute bacterial pneumonia
Other Positions
Education
Pharmacology, PhD, Boston University School of Medicine, 2003
Chemistry, BA, University of Delaware, 1996
Publications
Published on 9/1/2021
Odom CV, Kim Y, Burgess CL, Baird LA, Korkmaz FT, Na E, Shenoy AT, Arafa EI, Lam TT, Jones MR, Mizgerd JP, Traber KE, Quinton LJ. Liver-Dependent Lung Remodeling during Systemic Inflammation Shapes Responses to Secondary Infection. J Immunol. 2021 Oct 01; 207(7):1891-1902. PMID: 34470857.
Published on 3/31/2020
Wooten AK, Shenoy AT, Arafa EI, Akiyama H, Martin IMC, Jones MR, Quinton LJ, Gummuluru S, Bai G, Mizgerd JP. Unique Roles for Streptococcus pneumoniae Phosphodiesterase 2 in Cyclic di-AMP Catabolism and Macrophage Responses. Front Immunol. 2020; 11:554. PMID: 32300347.
Published on 2/27/2020
Guillon A, Arafa EI, Barker KA, Belkina AC, Martin I, Shenoy AT, Wooten AK, Lyon De Ana C, Dai A, Labadorf A, Hernandez Escalante J, Dooms H, Blasco H, Traber KE, Jones MR, Quinton LJ, Mizgerd JP. Pneumonia recovery reprograms the alveolar macrophage pool. JCI Insight. 2020 02 27; 5(4). PMID: 31990682.
Published on 11/20/2019
Shenoy AT, Wasserman GA, Arafa EI, Wooten AK, Smith NMS, Martin IMC, Jones MR, Quinton LJ, Mizgerd JP. Lung CD4+ resident memory T cells remodel epithelial responses to accelerate neutrophil recruitment during pneumonia. Mucosal Immunol. 2020 03; 13(2):334-343. PMID: 31748706.
Published on 11/19/2019
Wang W, Cohen JA, Wallrapp A, Trieu KG, Barrios J, Shao F, Krishnamoorthy N, Kuchroo VK, Jones MR, Fine A, Bai Y, Ai X. Age-Related Dopaminergic Innervation Augments T Helper 2-Type Allergic Inflammation in the Postnatal Lung. Immunity. 2019 12 17; 51(6):1102-1118.e7. PMID: 31757673.
Published on 8/15/2019
Traber KE, Dimbo EL, Symer EM, Korkmaz FT, Jones MR, Mizgerd JP, Quinton LJ. Roles of interleukin-11 during acute bacterial pneumonia. PLoS One. 2019; 14(8):e0221029. PMID: 31415618.
Published on 7/23/2019
Kim Y, Allen E, Baird LA, Symer EM, Korkmaz FT, Na E, Odom CV, Jones MR, Mizgerd JP, Traber KE, Quinton LJ. NF-?B RelA Is Required for Hepatoprotection during Pneumonia and Sepsis. Infect Immun. 2019 08; 87(8). PMID: 31160364.
Published on 10/1/2017
Willinger CM, Rong J, Tanriverdi K, Courchesne PL, Huan T, Wasserman GA, Lin H, Dupuis J, Joehanes R, Jones MR, Chen G, Benjamin EJ, O'Connor GT, Mizgerd JP, Freedman JE, Larson MG, Levy D. MicroRNA Signature of Cigarette Smoking and Evidence for a Putative Causal Role of MicroRNAs in Smoking-Related Inflammation and Target Organ Damage. Circ Cardiovasc Genet. 2017 Oct; 10(5). PMID: 29030400.
Published on 9/18/2017
Wasserman GA, Szymaniak AD, Hinds AC, Yamamoto K, Kamata H, Smith NM, Hilliard KL, Carrieri C, Labadorf AT, Quinton LJ, Ai X, Varelas X, Chen F, Mizgerd JP, Fine A, O'Carroll D, Jones MR. Expression of Piwi protein MIWI2 defines a distinct population of multiciliated cells. J Clin Invest. 2017 Oct 02; 127(10):3866-3876. PMID: 28920925.
Published on 8/15/2017
Coleman FT, Blahna MT, Kamata H, Yamamoto K, Zabinski MC, Kramnik I, Wilson AA, Kotton DN, Quinton LJ, Jones MR, Pelton SI, Mizgerd JP. Capacity of Pneumococci to Activate Macrophage Nuclear Factor ?B: Influence on Necroptosis and Pneumonia Severity. J Infect Dis. 2017 Aug 15; 216(4):425-435. PMID: 28368460.
View full list of 43 publications.