Martin H. Steinberg MD
Professor, Hematology & Medical Oncology
Professor, Pathology & Laboratory Medicine
75 E. Newton St | (617) 414-1020

mhsteinb@bu.edu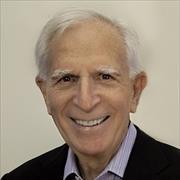 Sections
Hematology & Medical Oncology
Centers
Center of Excellence in Sickle Cell Disease
Center for Regenerative Medicine
Evans Center for Interdisciplinary Biomedical Research
Biography
Martin H Steinberg, MD, is a hematologist/internist whose clinical and research focus has been on disorders of the red blood cell with special emphasis on sickle cell disease. He has published 450 articles and 3 textbooks on the science and clinical features of sickle cell disease and related disorders. A graduate of Cornell University and Tufts University School of Medicine he completed post-graduate training in New York and Boston. He conducts basic, translational and clinical studies devoted to understanding the pathophysiology and genetic basis of sickle cell phenotypic heterogeneity. He modeled the HbF concentration among red blood cells showing that only patients with very high HbF levels were likely to have major benefit, therefor setting a standard for HbF induction therapies. He identified cis- and trans-acting elements that help explain the high HbF levels of Saudi patients from the Eastern Province whose sickle hemoglobin gene is associated with the Arab-Indian haplotype. Using candidate gene, genome-wide association studies and next-generation sequencing to understand the genetic determinants of sickle cell disease heterogeneity, Dr. Steinberg and his coworkers modeled disease severity and selected subphenotypes of disease to discover hitherto unsuspected genetic associations. He has also reimagined the pathophysiologic features of sickle cell anemia, establishing with his collaborators a new widely accepted paradigm that the pathophysiology of sickle cell disease is a combination of both sickle vasoocclusion and intravascular hemolysis that has important prognostic and therapeutic implications. He also reported the first of a new class of hemoglobin disorders, the thalassemic hemoglobinopathies, wherein a single exonic mutation causes both a variant hemoglobin but also phenotype of thalassemia because of hemoglobin hyper-instability and catabolism.
Other Positions
Professor, Pediatrics
Websites
Education
MD, Tufts University School of Medicine, 1962
AB, Cornell University, 1958
Publications
Published on 9/8/2021
Patrinos GP, Chui DHK, Hardison RC, Steinberg MH. Strategies to improve pharmacogenomic-guided treatment options for patients with ß-hemoglobinopathies. Expert Rev Hematol. 2021 Oct; 14(10):883-885. PMID: 34490838.
Published on 6/1/2021
Steinberg MH. HbA2 induction: the merit of pancellularity in sickle cell disease. Br J Haematol. 2021 06; 193(6):1032-1033. PMID: 34060070.
Published on 5/26/2021
Alnafie AN, Alateeq SA, Al-Muhanna FA, Alsulaiman AM, Alfarhan M, Buali W, Vatte CB, Cyrus C, Keating B, Al-Ali AK, Steinberg MH. Exome sequencing in high and low fetal haemoglobin Arab-Indian haplotype sickle cell disease. Br J Haematol. 2021 Jul; 194(2):e61-e64. PMID: 34041755.
Published on 1/28/2021
Al-Ali AK, Alsulaiman A, Alfarhan M, Safaya S, Vatte CB, Albuali WM, Qutub HO, Alzahrani AJ, Milton JN, Steinberg MH. Sickle cell disease in the Eastern Province of Saudi Arabia: Clinical and laboratory features. Am J Hematol. 2021 04 01; 96(4):E117-E121. PMID: 33460474.
Published on 12/5/2020
Frangoul H, Altshuler D, Cappellini MD, Chen YS, Domm J, Eustace BK, Foell J, de la Fuente J, Grupp S, Handgretinger R, Ho TW, Kattamis A, Kernytsky A, Lekstrom-Himes J, Li AM, Locatelli F, Mapara MY, de Montalembert M, Rondelli D, Sharma A, Sheth S, Soni S, Steinberg MH, Wall D, Yen A, Corbacioglu S. CRISPR-Cas9 Gene Editing for Sickle Cell Disease and ß-Thalassemia. N Engl J Med. 2021 01 21; 384(3):252-260. PMID: 33283989.
Published on 11/23/2020
Steinberg MH. Fetal Hemoglobin in Sickle Hemoglobinopathies: High HbF Genotypes and Phenotypes. J Clin Med. 2020 Nov 23; 9(11). PMID: 33238542.
Published on 11/19/2020
Steinberg MH. Fetal hemoglobin in sickle cell anemia. Blood. 2020 11 19; 136(21):2392-2400. PMID: 32808012.
Published on 5/25/2020
Al-Ali AK, Alsulaiman A, Alzahrani AJ, Obeid OT, Vatte CB, Cyrus C, Alnafie AN, Alali RA, Alfarhan M, Mozeleski B, Steinberg MH. Prevalence and Diversity of Haplotypes of Sickle Cell Disease in the Eastern Province of Saudi Arabia. Hemoglobin. 2020 Mar; 44(2):78-81. PMID: 32448003.
Published on 5/6/2020
Kanchan K, Iyer K, Yanek LR, Carcamo-Orive I, Taub MA, Malley C, Baldwin K, Becker LC, Broeckel U, Cheng L, Cowan C, D'Antonio M, Frazer KA, Quertermous T, Mostoslavsky G, Murphy G, Rabinovitch M, Rader DJ, Steinberg MH, Topol E, Yang W, Knowles JW, Jaquish CE, Ruczinski I, Mathias RA. Genomic integrity of human induced pluripotent stem cells across nine studies in the NHLBI NextGen program. Stem Cell Res. 2020 07; 46:101803. PMID: 32442913.
Published on 1/30/2020
Willen SM, McNeil JB, Rodeghier M, Kerchberger VE, Shaver CM, Bastarache JA, Steinberg MH, DeBaun MR, Ware LB. Haptoglobin genotype predicts severe acute vaso-occlusive pain episodes in children with sickle cell anemia. Am J Hematol. 2020 04; 95(4):E92-E95. PMID: 31919880.
View full list of 349 publications.