Martin Englund MD, PhD
Adjunct Associate Professor, Rheumatology
72 E. Concord Street | (617) 638-5300

englund@bu.edu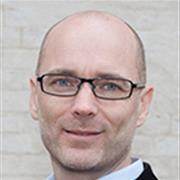 Biography
Musculoskeletal diseases are a rapidly growing cause of disability, chronic pain, and reduced quality of life in an ageing population. My research aims to gain novel insights into these diseases, osteoarthritis in particular – their etiology, occurrence, natural history, treatments, prediction, disease monitoring, and disease burden – to allow for better healthcare decision-making and disease prevention. I also have a particular interest in the role of meniscus in osteoarthritis. I use a multidisciplinary approach to study osteoarthritis, including tissue biobanking and proteomics, structural imaging, and population-wide register based studies of epidemiology and health economics.
Education
MD, Lund University, 1998
Medicine, PhD, Lund University, 2004
Epidemiology, MSc, Boston University School of Public Health, 2007
Publications
Published on 5/9/2023
Brown JS, Mogianos K, Roemer FW, Isacsson A, Kumm J, Frobell R, Olsson O, Englund M. Clinical, patient-reported, radiographic and magnetic resonance imaging findings 11 years after acute posterior cruciate ligament injury treated non-surgically. BMC Musculoskelet Disord. 2023 May 09; 24(1):365. PMID: 37161445.
Published on 4/18/2023
Battista S, Kiadaliri A, Jönsson T, Gustafsson K, Englund M, Testa M, Dell'Isola A. Factors Associated With Adherence to a Supervised Exercise Intervention for Osteoarthritis: Data From the Swedish Osteoarthritis Registry. Arthritis Care Res (Hoboken). 2023 Apr 18. PMID: 37070612.
Published on 4/13/2023
Magnusson K, Turkiewicz A, Flottorp SA, Englund M. Prevalence of long COVID complaints in persons with and without COVID-19. Sci Rep. 2023 Apr 13; 13(1):6074. PMID: 37055494.
Published on 4/2/2023
Englund M. Osteoarthritis, part of life or a curable disease? A bird's-eye view. J Intern Med. 2023 Jun; 293(6):681-693. PMID: 37004213.
Published on 3/5/2023
Velek P, de Schepper E, Schiphof D, Evert van Spil W, Englund M, Magnusson K, Kiadaliri A, Dell'Isola A, Licher S, Bierma-Zeinstra S, Runhaar J. Changes to consultations and diagnosis of osteoarthritis in primary care during the COVID-19 pandemic. Osteoarthritis Cartilage. 2023 Jun; 31(6):829-838. PMID: 36878380.
Published on 3/1/2023
Rathmann J, Segelmark M, Englund M, Mohammad AJ. Stable incidence but increase in prevalence of ANCA-associated vasculitis in southern Sweden: a 23-year study. RMD Open. 2023 Mar; 9(1). PMID: 36894194.
Published on 2/27/2023
Emin S, Oei EHG, Englund M, Peterson P. Imaging-based assessment of fatty acid composition in human bone marrow adipose tissue at 7 T: Method comparison and in vivo feasibility. Magn Reson Med. 2023 Jul; 90(1):240-249. PMID: 37119515.
Published on 2/9/2023
Englund M, Turkiewicz A. The emperor's new clothes? Osteoarthritis Cartilage. 2023 May; 31(5):549-551. PMID: 36764354.
Published on 2/7/2023
Isacsson A, Olsson O, Englund M, Frobell RB. Incidence and concomitant chondral injuries in a consecutive cohort of primary traumatic patellar dislocations examined with sub-acute MRI. Int Orthop. 2023 Apr; 47(4):973-981. PMID: 36749375.
Published on 1/28/2023
Lindéus M, Turkiewicz A, Magnusson K, Englund M, Kiadaliri A. Does lower educational attainment increase the risk of osteoarthritis surgery? a Swedish twin study. BMC Musculoskelet Disord. 2023 Jan 28; 24(1):72. PMID: 36707830.
View full list of 236 publications.