Martin Englund MD, PhD
Adjunct Associate Professor, Rheumatology
72 E. Concord Street | (617) 638-5300

englund@bu.edu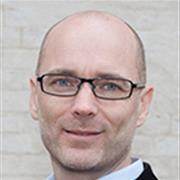 Biography
Musculoskeletal diseases are a rapidly growing cause of disability, chronic pain, and reduced quality of life in an ageing population. My research aims to gain novel insights into these diseases, osteoarthritis in particular – their etiology, occurrence, natural history, treatments, prediction, disease monitoring, and disease burden – to allow for better healthcare decision-making and disease prevention. I also have a particular interest in the role of meniscus in osteoarthritis. I use a multidisciplinary approach to study osteoarthritis, including tissue biobanking and proteomics, structural imaging, and population-wide register based studies of epidemiology and health economics.
Education
MD, Lund University, 1998
Medicine, PhD, Lund University, 2004
Epidemiology, MSc, Boston University School of Public Health, 2007
Publications
Published on 10/6/2021
Möllestam K, Englund M, Atroshi I. Association of clinically relevant carpal tunnel syndrome with type of work and level of education: a general-population study. Sci Rep. 2021 Oct 06; 11(1):19850. PMID: 34615920.
Published on 9/1/2021
Wolf JM, Turkiewicz A, Englund M, Karlsson J, Arner M, Atroshi I. What Are the Patient-reported Outcomes of Trapeziectomy and Tendon Suspension at Long-term Follow-up? Clin Orthop Relat Res. 2021 09 01; 479(9):2009-2018. PMID: 34014846.
Published on 9/1/2021
Swain S, Coupland C, Mallen C, Kuo CF, Sarmanova A, Bierma-Zeinstra SMA, Englund M, Prieto-Alhambra D, Doherty M, Zhang W. Temporal relationship between osteoarthritis and comorbidities: a combined case control and cohort study in the UK primary care setting. Rheumatology (Oxford). 2021 09 01; 60(9):4327-4339. PMID: 33506862.
Published on 9/1/2021
Kiadaliri A, Englund M. Osteoarthritis and risk of hospitalization for ambulatory care-sensitive conditions: a general population-based cohort study. Rheumatology (Oxford). 2021 09 01; 60(9):4340-4347. PMID: 33590848.
Published on 8/31/2021
Mahmoudian A, Lohmander LS, Mobasheri A, Englund M, Luyten FP. Early-stage symptomatic osteoarthritis of the knee - time for action. Nat Rev Rheumatol. 2021 Oct; 17(10):621-632. PMID: 34465902.
Published on 8/13/2021
Dell'Isola A, Kiadaliri A, Turkiewicz A, Hughes V, Magnusson K, Runhaar J, Bierma-Zeinstra S, Englund M. The impact of first and second wave of COVID-19 on knee and hip surgeries in Sweden. J Exp Orthop. 2021 Aug 13; 8(1):60. PMID: 34389919.
Published on 8/2/2021
Ebrahimi M, Finnilä MAJ, Turkiewicz A, Englund M, Saarakkala S, Korhonen RK, Tanska P. Elastic, Dynamic Viscoelastic and Model-Derived Fibril-Reinforced Poroelastic Mechanical Properties of Normal and Osteoarthritic Human Femoral Condyle Cartilage. Ann Biomed Eng. 2021 Sep; 49(9):2622-2634. PMID: 34341898.
Published on 7/16/2021
Stamatis P, Turkiewicz A, Englund M, Turesson C, Mohammad AJ. Comment on: EPIDEMIOLOGY OF BIOPSY-CONFIRMED GIANT CELL ARTERITIS IN SOUTHERN SWEDEN-AN UPDATE ON INCIDENCE AND FIRST PREVALENCE ESTIMATE: Reply. Rheumatology (Oxford). 2021 Jul 16. PMID: 34270676.
Published on 7/15/2021
Kiadaliri A, Englund M. Variability in end-of-life healthcare use in patients with osteoarthritis: a population-based matched cohort study. Osteoarthritis Cartilage. 2021 Oct; 29(10):1418-1425. PMID: 34273532.
Published on 6/9/2021
Brown JS, Frobell RB, Isacsson A, Englund M, Olsson O. Agreement Between Clinical Examination and Magnetic Resonance Imaging in Acute Knee Trauma With Hemarthrosis. Clin J Sport Med. 2021 Jun 09. PMID: 34117155.
View full list of 196 publications.