Markus Bosmann MD
Associate Professor, Pulmonary, Allergy, Sleep & Critical Care Medicine
Assistant Professor, Pathology & Laboratory Medicine
72 E. Concord Street | (617) 358-1225

mbosmann@bu.edu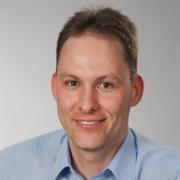 Sections
Pulmonary, Allergy, Sleep & Critical Care Medicine
Centers
Pulmonary Center
Evans Center for Interdisciplinary Biomedical Research
Biography
Dr. Bosmann is an assistant professor at the Boston University School of Medicine. His research interests include pulmonary disorders and their connections to innate immunity, host-pathogen interactions, and inflammation.
Other Positions
Education
Medicine, MD, Goethe University Frankfurt, 2004
Publications
Published on 9/28/2021
Sharma A, Kontodimas K, Bosmann M. The MAVS Immune Recognition Pathway in Viral Infection and Sepsis. Antioxid Redox Signal. 2021 Sep 28. PMID: 34348482.
Published on 7/23/2021
Helmstädter J, Keppeler K, Aust F, Küster L, Frenis K, Filippou K, Vujacic-Mirski K, Tsohataridis S, Kalinovic S, Kröller-Schön S, Oelze M, Bosmann M, Münzel T, Daiber A, Steven S. GLP-1 Analog Liraglutide Improves Vascular Function in Polymicrobial Sepsis by Reduction of Oxidative Stress and Inflammation. Antioxidants (Basel). 2021 Jul 23; 10(8). PMID: 34439423.
Published on 7/7/2021
Subramaniam S, Ruf W, Bosmann M. Advocacy of targeting protease-activated receptors in severe coronavirus disease 2019. Br J Pharmacol. 2021 Jul 07. PMID: 34235728.
Published on 6/4/2021
Sharma A, Kontodimas K, Bosmann M. Nanomedicine: A Diagnostic and Therapeutic Approach to COVID-19. Front Med (Lausanne). 2021; 8:648005. PMID: 34150793.
Published on 5/25/2021
Bosmann M. Complement control for COVID-19. Sci Immunol. 2021 05 25; 6(59). PMID: 34035117.
Published on 3/11/2021
Leister H, Luu M, Staudenraus D, Lopez Krol A, Mollenkopf HJ, Sharma A, Schmerer N, Schulte LN, Bertrams W, Schmeck B, Bosmann M, Steinhoff U, Visekruna A. Pro- and Antitumorigenic Capacity of Immunoproteasomes in Shaping the Tumor Microenvironment. Cancer Immunol Res. 2021 06; 9(6):682-692. PMID: 33707310.
Published on 1/15/2021
Carossino M, Montanaro P, O'Connell A, Kenney D, Gertje H, Grosz KA, Kurnick SA, Bosmann M, Saeed M, Balasuriya UBR, Douam F, Crossland NA. Fatal neuroinvasion of SARS-CoV-2 in K18-hACE2 mice is partially dependent on hACE2 expression. bioRxiv. 2021 Jan 15. PMID: 33469581.
Published on 12/23/2020
Ascher S, Wilms E, Pontarollo G, Kiouptsi K, Malinarich F, Kittner JM, Bosmann M, Jurk K, Reinhardt C. Response by Ascher et al to Letter Regarding Article, "Gut Microbiota Restricts NETosis in Acute Mesenteric Ischemia-Reperfusion Injury". Arterioscler Thromb Vasc Biol. 2021 01; 41(1):e74-e75. PMID: 33356371.
Published on 9/18/2020
Hansen M, Peltier J, Killy B, Amin B, Bodendorfer B, Härtlova A, Uebel S, Bosmann M, Hofmann J, Büttner C, Ekici AB, Kuttke M, Franzyk H, Foged C, Beer-Hammer S, Schabbauer G, Trost M, Lang R. Macrophage Phosphoproteome Analysis Reveals MINCLE-dependent and -independent Mycobacterial Cord Factor Signaling. Mol Cell Proteomics. 2019 Apr; 18(4):669-685. PMID: 33451650.
Published on 9/18/2020
Huang J, Hume AJ, Abo KM, Werder RB, Villacorta-Martin C, Alysandratos KD, Beermann ML, Simone-Roach C, Lindstrom-Vautrin J, Olejnik J, Suder EL, Bullitt E, Hinds A, Sharma A, Bosmann M, Wang R, Hawkins F, Burks EJ, Saeed M, Wilson AA, Mühlberger E, Kotton DN. SARS-CoV-2 Infection of Pluripotent Stem Cell-Derived Human Lung Alveolar Type 2 Cells Elicits a Rapid Epithelial-Intrinsic Inflammatory Response. Cell Stem Cell. 2020 12 03; 27(6):962-973.e7. PMID: 32979316.
View full list of 61 publications.