Markus Bosmann MD
Associate Professor, Pulmonary, Allergy, Sleep & Critical Care Medicine
Associate Professor, Pathology & Laboratory Medicine
72 E. Concord Street | (617) 358-1225

mbosmann@bu.edu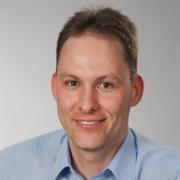 Sections
Pulmonary, Allergy, Sleep & Critical Care Medicine
Centers
Pulmonary Center
Evans Center for Interdisciplinary Biomedical Research
Biography
Dr. Bosmann is an assistant professor at the Chobanian and Avedisian School of Medicine. His research interests include pulmonary disorders and their connections to innate immunity, host-pathogen interactions, and inflammation.
Other Positions
Education
Medicine, MD, Goethe University Frankfurt, 2004
Publications
Published on 6/7/2022
Chaudhary N, Jayaraman A, Reinhardt C, Campbell JD, Bosmann M. A single-cell lung atlas of complement genes identifies the mesothelium and epithelium as prominent sources of extrahepatic complement proteins. Mucosal Immunol. 2022 May; 15(5):927-939. PMID: 35672453.
Published on 4/4/2022
Kenney DJ, O'Connell AK, Turcinovic J, Montanaro P, Hekman RM, Tamura T, Berneshawi AR, Cafiero TR, Al Abdullatif S, Blum B, Goldstein SI, Heller BL, Gertje HP, Bullitt E, Trachtenberg AJ, Chavez E, Nono ET, Morrison C, Tseng AE, Sheikh A, Kurnick S, Grosz K, Bosmann M, Ericsson M, Huber BR, Saeed M, Balazs AB, Francis KP, Klose A, Paragas N, Campbell JD, Connor JH, Emili A, Crossland NA, Ploss A, Douam F. Humanized mice reveal a macrophage-enriched gene signature defining human lung tissue protection during SARS-CoV-2 infection. Cell Rep. 2022 Apr 19; 39(3):110714. PMID: 35421379.
Published on 3/30/2022
Sharma A, Noon JB, Kontodimas K, Garo LP, Platten J, Quinton LJ, Urban JF, Reinhardt C, Bosmann M. IL-27 Enhances ?d T Cell-Mediated Innate Resistance to Primary Hookworm Infection in the Lungs. J Immunol. 2022 Apr 15; 208(8):2008-2018. PMID: 35354611.
Published on 3/5/2022
Carossino M, Kenney D, O'Connell AK, Montanaro P, Tseng AE, Gertje HP, Grosz KA, Ericsson M, Huber BR, Kurnick SA, Subramaniam S, Kirkland TA, Walker JR, Francis KP, Klose AD, Paragas N, Bosmann M, Saeed M, Balasuriya UBR, Douam F, Crossland NA. Fatal Neurodissemination and SARS-CoV-2 Tropism in K18-hACE2 Mice Is Only Partially Dependent on hACE2 Expression. Viruses. 2022 03 05; 14(3). PMID: 35336942.
Published on 2/7/2022
Sanders NL, Martin IMC, Sharma A, Jones MR, Quinton LJ, Bosmann M, Mizgerd JP. Neutrophil Extracellular Traps as an Exacerbating Factor in Bacterial Pneumonia. Infect Immun. 2022 03 17; 90(3):e0049121. PMID: 35130455.
Published on 9/28/2021
Sharma A, Kontodimas K, Bosmann M. The MAVS Immune Recognition Pathway in Viral Infection and Sepsis. Antioxid Redox Signal. 2021 12; 35(16):1376-1392. PMID: 34348482.
Published on 7/23/2021
Helmstädter J, Keppeler K, Aust F, Küster L, Frenis K, Filippou K, Vujacic-Mirski K, Tsohataridis S, Kalinovic S, Kröller-Schön S, Oelze M, Bosmann M, Münzel T, Daiber A, Steven S. GLP-1 Analog Liraglutide Improves Vascular Function in Polymicrobial Sepsis by Reduction of Oxidative Stress and Inflammation. Antioxidants (Basel). 2021 Jul 23; 10(8). PMID: 34439423.
Published on 7/7/2021
Subramaniam S, Ruf W, Bosmann M. Advocacy of targeting protease-activated receptors in severe coronavirus disease 2019. Br J Pharmacol. 2022 May; 179(10):2086-2099. PMID: 34235728.
Published on 6/4/2021
Sharma A, Kontodimas K, Bosmann M. Nanomedicine: A Diagnostic and Therapeutic Approach to COVID-19. Front Med (Lausanne). 2021; 8:648005. PMID: 34150793.
Published on 5/25/2021
Bosmann M. Complement control for COVID-19. Sci Immunol. 2021 05 25; 6(59). PMID: 34035117.
View full list of 66 publications.